Earlier this year, legendary sky runner and ski mountaineer Kilian Jornet announced that he was leaving Suunto for Coros. Regular readers of ADAPT will know that I'm a big fan of Coros. In my Vertix 1 adventure GPS watch review, I highlighted why this brand stands out from the competition. However, Kilian's Coros companion of choice was the Apex Pro because it squeezed the same mountain features into a smaller and lighter package.
With the launch of the Vertix 2 then, it's no wonder that Coros also wanted to update the Apex line with matching trickle-down features.
"We know that this is the most anticipated product launch in the history of Coros, but we are confident that it was worth the wait." said Coros CEO Lewis Wu. "Our development team worked diligently to find the best hardware and corresponding design to offer our users the greatest possible accuracy in these new watches."
Coros Apex 2 and Apex 2 Pro
Both Coros watches are initially available in Black and Grey. The Apex 2 retails for £419 (UK) / $399 (US) and can also be purchased in a characteristic Coral colour. While the Apex 2 Pro alternatively sports Green garb and is priced at £499 (UK) / $499 (US).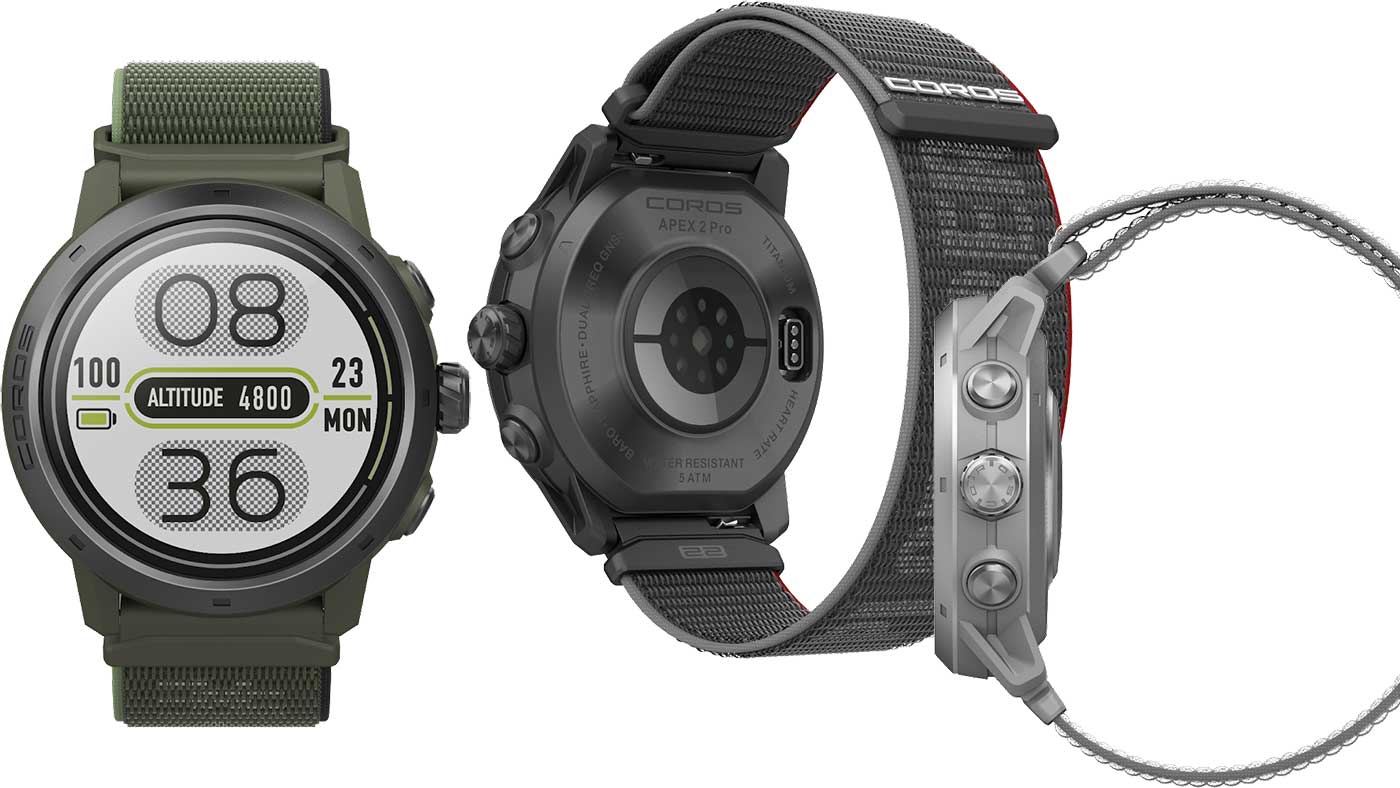 Built to last, each watch features a high-grade fibre body sandwiched between a burly titanium bezel and cover. Sapphire glass protects the 1.2 inch display of the Apex 2 and 1.3 inch screen of the Apex 2 Pro. Users of either watch will appreciate the extra screen space when navigating with full topographical maps.
Updated 8-LED optical heart rate monitor
One of the major upgrades to the Coros Apex 2 and Apex 2 Pro is the brand-new optical heart rate sensor. This features an 8-LED system in a customised layout, protected by a smooth, scratch-resistant cover. Combined with advanced signal noise removal algorithms, Coros claims the new sensor can deliver better heart rate accuracy for activity, everyday wear, and sleep tracking.
After extensively reviewing the press release Coros sent us, I can also confirm that the new sensor array still includes a pulse oximeter. So improved heart rate monitoring doesn't come at the cost of SpO2 measurement. Additionally, like the Vertix 2, an electrocardiogram (ECG) is also incorporated. This improves accuracy when measuring heart rate, but also enables overall stress to be measured via heart rate variability (HRV).
New GPS chipset
Coros has upgraded the GPS chipsets of both the Apex 2 and Apex 2 Pro to allow simultaneous connections to all five major global satellite systems. However, like the Vertix 2, the Apex 2 Pro comes equipped with a dual-frequency GNSS chipset to allow GPS connections in two concurrent frequencies.
This significantly boosts GPS accuracy in complex environments—where you have limited satellite visibility or where there is interference from large walls or buildings. When rock climbing, for example, Coros says that the 'wall reflection' is significantly reduced. As such, the Apex 2 Pro also includes the same 'multi-pitch climb' mode as the Vertix 2.
Improved battery life
These new GPS accuracy features are very power hungry. So, to compensate, Coros has beefed up the battery in both Apex 2 models. With all satellite systems enabled, the Apex 2 should last 28 hours, while the Apex 2 Pro will last 45 hours. With dual-frequency mode enabled on the Apex Pro, you'll still get 25 hours of battery life—just 15 hours less than the original Apex Pro in regular GPS mode. To put that into perspective, the Apex 2 Pro manages an impressive 75 hours in full GPS mode, 150 hours in UltraMax GPS mode, and 30 days of regular use. While we've come to expect insane battery specs from Coros, these are still head-turning numbers!
| | | |
| --- | --- | --- |
| | Apex 2 | Apex 2 Pro |
| Standard Full GPS (every second) (GPS/QZSS) | 45 hours | 75 hours |
| All Systems On (GPS/QZSS+GLONASS+Galileo+BeiDou) | 28 hours | 45 hours |
| Dual Frequency + All systems | n/a | 25 hours |
| Daily Use / 'Smartwatch' mode | 17 days | 30 days |
| Charging time | < 2h | < 2h |
32GB internal storage & onboard music
Like the Vertix 2, onboard music is ready to go for both watches. Mp3 files can be added by connecting the watch to a computer via USB and played back by pairing it to a pair of Bluetooth earbuds. Podcast subscribers may prefer the larger 32GB of internal storage in the Apex 2 Pro, which can also be utilised to hold more data, workouts and navigation routes. However, the 8GB internal storage of the Coros Apex 2 will be ample for most.
Coros has also added internal hardware to allow for the future inclusion of music streaming services—something that's currently being worked on for a planned 2023 launch! I'm hoping that this will also be added to the Vertix 2.
Summary of features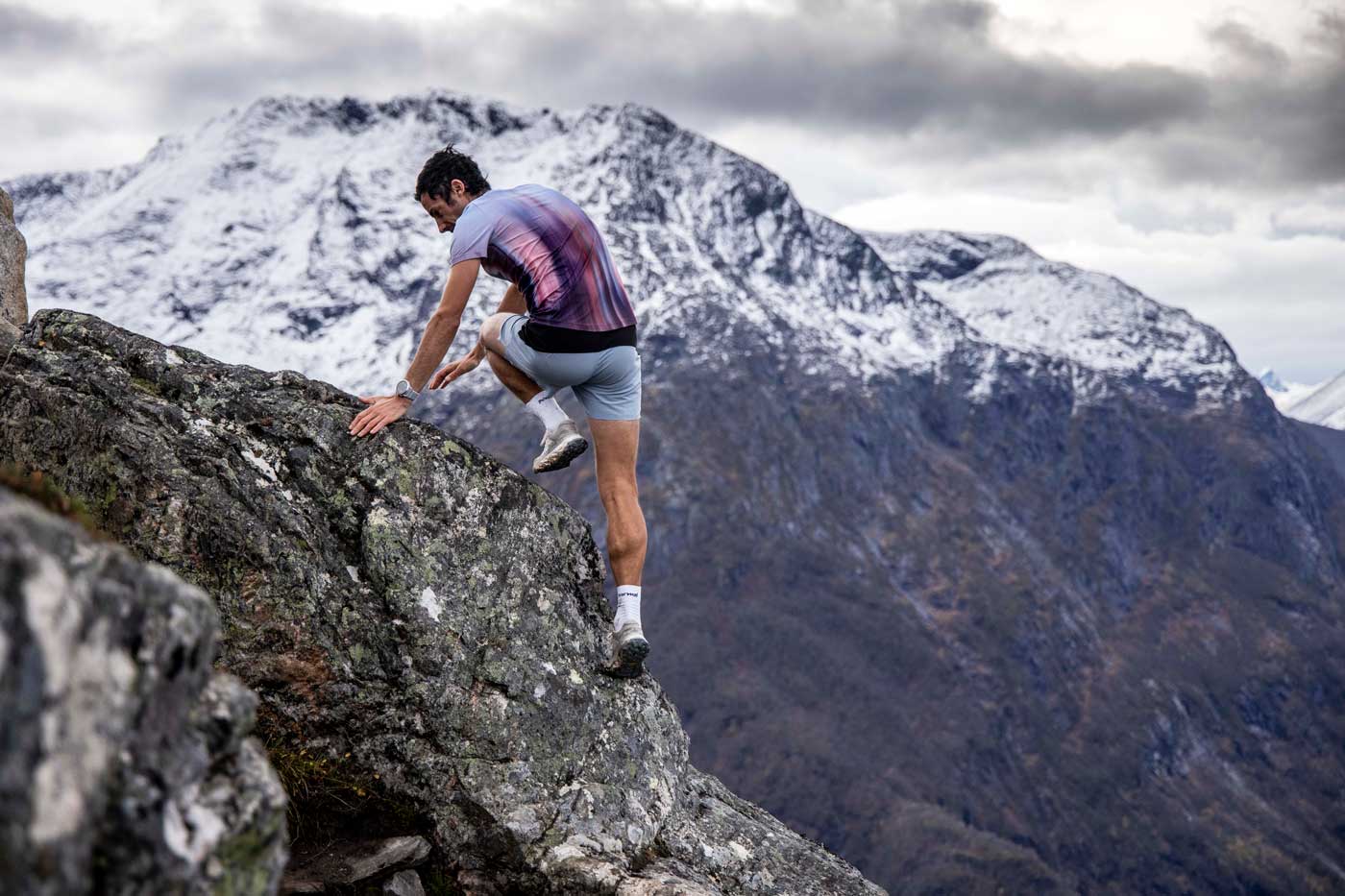 Updated features of Coros Apex 2 and Apex 2 Pro
Redesigned optical HR sensor with 'Wear Detection' offers next level accuracy for aerobic training
Heart rate variability support (electrocardiogram sensor ECG / HRV)
Redesigned GPS antenna for 50% higher performance
Simple button design with a large digital dial for operation with gloves on
Full touchscreen experience from launch, Mp3, music support for future firmware updates
WiFi, Dual Mode, Bluetooth 5.0
Global offline Landscape and Topographical map navigation with checkpoint support
A new titanium bezel with 2x scratch resistance
Support for All Systems satellites for maximizing signal quantity
Blood oxygen sensor monitors your status at altitude
Night mode turns the watch face on at a dimmed light that can last for the entire night, and it automatically shuts off at sunrise
Coros Apex 2 Pro additional features
Support for All Systems Dual Frequency GNSS Chipset that reduces the GPS reflection from steep walls
Larger screen (1.3 inches)
'Multi-Pitch Climbing' activity mode
Longer battery life
Larger on-board storage of 32GB
So, there are a lot of features to consider here. I would say that the Coros Apex 2 Pro is essentially a lighter weight version of the Vertix 2, ideal for ultra running events in the mountains. While the Apex 2 is a feature-packed all-round sports GPS watch for general use. Let me know which watch is your favourite in the comments below.
Featured image: Created using photos from Coros