Regular readers of ADAPT will know that I'm a big fan of Coros. In a market still dominated by the likes of Garmin and Suunto, it can be hard to stand out from the competition. But that's exactly what Coros has managed to do. This brand cares about its existing user base and if something can be improved or added in a software update, then it will be—so you don't have to fork out for new hardware unnecessarily.
In fact, when I published my review of the Coros Vertix 1 GPS adventure watch, I was impressed by the new features still being added to the device. Now, almost four years on from its initial launch, the watch continues to be updated with trickle-down features from its bigger brother, the Coros Vertix 2.
Perhaps the most notable of these is a new single-pitch rock climbing mode that tracks climbing-specific data unique to Coros watches. Combining this with a multi-pitch climbing mode—developed alongside legendary rock climber Tommy Caldwell—and some special hardware that makes tracking big-wall climbing possible, means that the Coros Vertix 2 might be the most rock climbing capable GPS watch on the market.
To find out, I've been putting the Vertix 2 through its paces over the last year, testing out a variety of sports tracking modes and lifestyle features—both on and off the climbing wall.
Coros Vertix 2: Design & build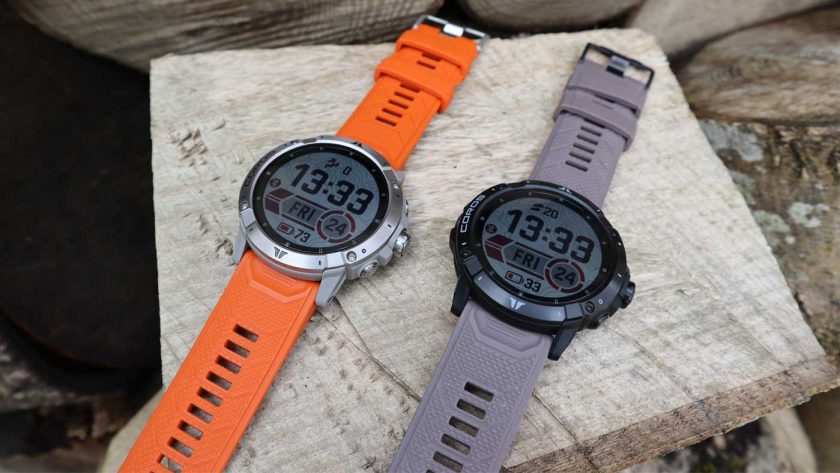 Aesthetically, the Coros Vertix 2 looks significantly sturdier than its predecessor, with a more aggressive design that differentiates itself from its main rival—the Garmin Fenix 7. An already hard-wearing titanium bezel and cover has been made even more scratch resistant with a PVD coating. And the larger 1.4 inch display is again protected by a sapphire glass lens, with a diamond-like coating as standard.
In comparison, you'd need to opt for the top-of-range Fenix 7X to get the same screen size and build quality. And, while you can pick up the Vertix 2 for about £599.99 (UK) / $699.99 (US), a comparable Garmin will set you back 50% more.
Durability
Depending on your preference, you can choose to keep it simple with an all-black look, or add some flare with the natural titanium finish and lava orange band. If you are planning to use the watch extensively for rock climbing, however, I'd suggest the latter. The Vertix 2 is an absolute tank and considerably more durable than the original Vertix. But, I've found that rock climbing is one of the few activities that can still scratch the bezel. So, opting for brushed titanium means that any marks are a lot less noticeable. Conversely, I've scuffed and scraped my watch numerous times against rock and indoor climbing walls, and the glass is still in the same pristine condition as the day I took it out of the box.
Fit & comfort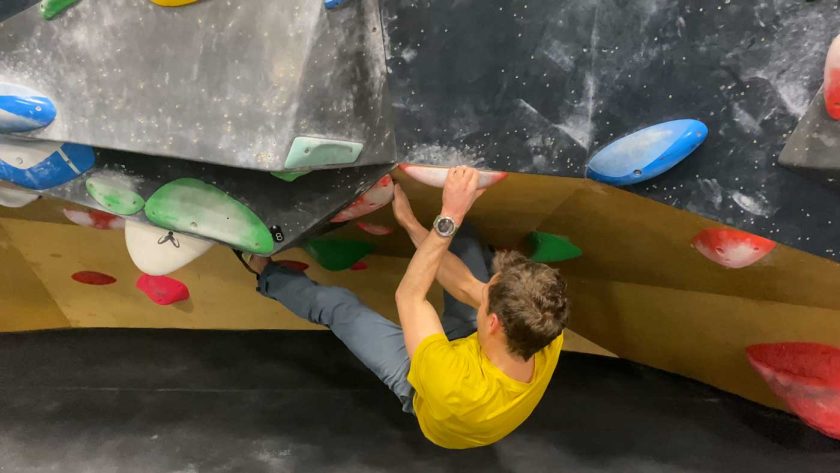 Weighing just 63g (without a watchband), the Vertix 2 remains pretty light for such a beefy watch. The included 26mm silicone band is, in my opinion though, a little over-built and bumps the total weight to 89g. Thankfully, it can be easily switched out (via quick release) for an ultralight nylon band. This enables a closer and more comfortable fit, with the extra breathability making it my preferred choice for any activity out of water.
Despite the Vertix 2 being nearly 52mm wide, some clever engineering means that it's no bulkier than the original 16mm thick Vertix 1. In fact, on my wrist at least, the Vertix 2 arguably fits better than the original model. The body of the watch is about the same thickness as my wrist—which, for reference, measures about 18cm in diameter. This helps to stabilise the watch during fast-movements and results in it being fairly comfortable to wear all day long—even during sleep. A smaller version, however, would be beneficial to athletes with thinner wrists.
Coros Vertix 2: Internals and inbuilt sensors
As with the original Vertix, the Coros Vertix 2 has a range of inbuilt sensors to collect useful data. These include a barometric altimeter, accelerometer, gyroscope, compass and thermometer. On the back of the watch, you'll find the optical sensor package—an intimidating array of five LEDs positioned around a central detector. The package combines both an upgraded optical heart rate monitor and a pulse oximeter (SpO2 sensor), which measures blood oxygen saturation.
SpO2 sensor – Altitude performance mode
You can utilise this sensor to measure your SpO2 levels manually—at any time—by accessing the function within the toolbox menu. However, during high-altitude adventures above 2500m, the altitude performance mode will kick in. The watch will then monitor your blood oxygen saturation levels in real time and combine this data with your current heart rate to determine how well your body is acclimatising to the current altitude. For a more in-depth look at how this works, see my review of the Coros Vertix 1.
Electrocardiogram sensor – HRV index
To complement the new optical heart rate sensor, Coros has also built a wrist-based electrocardiogram monitor (ECG sensor) into the Vertix 2. This provides more accurate heart rate date and can be used to obtain Heart Rate Variability (HRV). To take an accurate measurement, simply sit in a relaxed position with your other hand contacting the bezel for 60 seconds. The watch will then display your heart rate along with the ECG trace.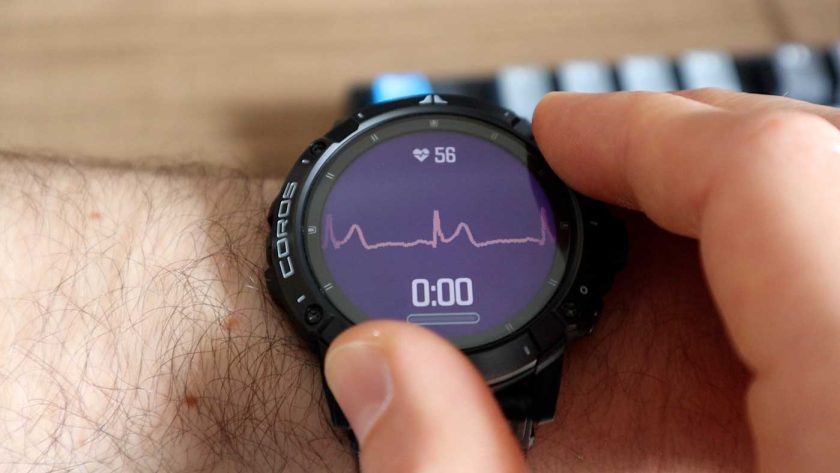 Unlike the Apple watch, for example, Coros has decided not to pursue medical certification for the Vertix 2. So, you can't directly export your ECG data and you don't get any medical recommendations. Instead, the watch converts the measurement into a Heart Rate Variability score. The HRV index value, as it's been dubbed, can be exported and is displayed on an index from 0 to 100.
Lower values correlate to high levels of stress and/or fatigue, while higher scores mean that you're better recovered and ready to train hard. By taking a regular reading every morning, as suggested by Coros, you can then use this data to better manage your training—so it's a pretty handy feature.
32GB internal storage – onboard music
A huge upgrade from 4GB of internal storage, in the Vertix 1, to 32GB, allows the Vertix 2 to hold even more data, workouts and navigation routes. But, that's not all. The extra memory means that Coros has been able to add the one smart feature from the Garmin Fenix series that I actually use—onboard music.
Unfortunately, due to the fact that Coros is a smaller company, Spotify connectivity is currently unavailable. However, music tracks are easily added to the watch by connecting it (via USB) to a computer and played back by pairing it to a pair of Bluetooth earbuds.
It's a nice-to-have feature for those times when you need a bit of music motivation to get you through your workout and means that you don't need to carry your phone or MP3 player.
No ANT+ support – Bluetooth only
Speaking of Bluetooth, this is now the only way to connect the Vertix 2 to external devices, since Coros has removed ANT+ support. Without getting too into the weeds, this is due to certain hardware components in the Vertix 2 being incompatible with this older technology.
As a 'point-to-point' connection with a specific device, Bluetooth can be considered more secure and is gradually becoming the standard. However, many cyclists and triathletes will still miss ANT+ connectivity for use with older power meters and smart trainers.
To somewhat compensate for this, however, a Bluetooth connection can be used to remotely control compatible GoPro and Insta360 action cameras. This is particularly useful when recording footage via a helmet mount, as you don't need to disconnect the camera in between takes.
Dual-frequency GNSS chipset
To lighten the computational load of these new features, the Coros Vertix 2 has been built, from the ground up, around a new, more powerful, processor. Based on results from in-house testing, Coros estimates that the Vertix 2 is over 20% faster than the Vertix 1. And this correlates with my own testing, which I'll share shortly.
Under the hood, the new watch is also equipped with a dual-frequency GNSS chipset. This chipset can communicate with all five major global satellite systems simultaneously and in two concurrent frequencies. This significantly boosts GPS accuracy in complex environments—where you have limited satellite visibility or where there is interference from trees, large walls or buildings. When rock climbing, for example, Coros says that the 'wall reflection' is significantly reduced.
At launch, the Vertix 2 was actually the first consumer watch to incorporate this technology. It's now also available in a handful or Garmin wearables, but none of them utilise it in the same way as the Vertix 2 does for rock climbing.
Coros Vertix 2: Battery life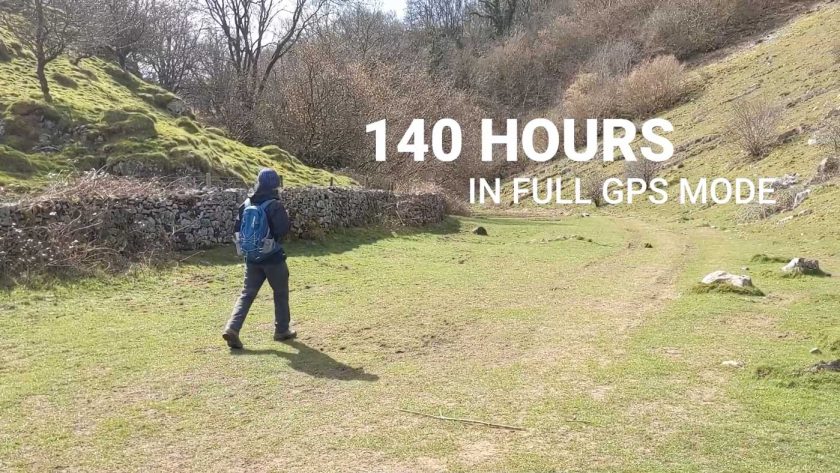 One of the standout aspects of the original Vertix was its impressive battery life—boasting 150 hours of tracking use in UltraMax GPS mode. Somehow, with the Vertix 2, the Coros engineers have extended this to an insane 240 hours. While the Suunto 9 Peak Pro now takes the top spot in this specific case, the Vertix 2 still outperforms in most scenarios.
With a reliable 140 hours of continuous tracking in full GPS mode, and 50 hours with dual-frequency enabled, the Vertix 2 is an ideal choice for multi-day ultra races and long climbing weekends at the crag.
Coros Vertix 2: Controls & interface
Another cool carryover from the original Vertix is the digital dial—used to navigate through menus and data screens. It's one of my favourite watch control mechanisms, with the haptic feedback helping when wearing thick gloves. On the Vertix 2, the digital dial has been re-engineered with a magnetic coupling. Through extensive use of the dial on the original Vertix, it became slightly less smooth to operate. However, after over a year of use and a few dips in salty sea water, the digital dial on the Vertix 2 remains super smooth.
A redesigned user interface takes full advantage of the larger screen real estate and combines the best bits from Garmin's widget glances with the easy-of-use of Coros's control mechanism. You get all the usual widgets you'd expect, such as heart rate, elevation, air pressure and temperature. However, with the algorithmic data now included from Coros's EvoLab, you also get a few useful additions to help guide your training.
Coros EvoLab metrics
Most of the performance data is focussed around running, but the training load and recovery metrics take all recorded activities into account. The race predictor gives you an estimated finishing time over four popular distances. While I've yet to run a full marathon, my estimated half marathon time is spookily accurate. You can also choose to dive deeper into the load impact of your recent training. However, for sports like rock climbing, I prefer just to glance at the recovery widget as it gives me a good indication of my power reserves—useful if I'm trying to redpoint a particular project.
Coros Vertix 2: Outdoor features
A recent update has also brought fresh animations to the activity selection menu. Like the original Vertix, there's a bigger emphasis on outdoor pursuits. There are dedicated tracking modes for mountaineering, hiking and trail running, along with a plethora of snow and water sports.
For classification purposes, I'd love to see a few more dedicated modes for sports like mountain biking and surfing. However, a lot of the tracking modes are multipurpose anyway. So, with a bit of ingenuity, you'll be able to collect interesting data on almost any activity.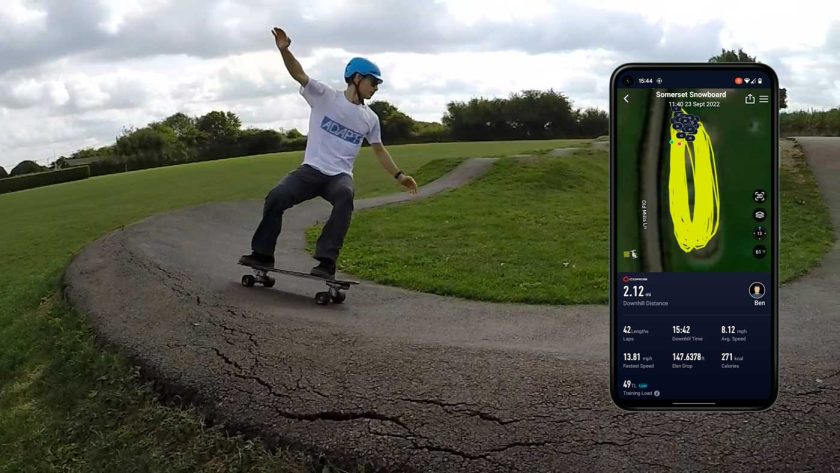 For example, I often use the snowboarding mode to track my surfskate sessions. Aside from a few surprised reactions from my Strava followers, tracking training loops around my local pump track reveals interesting speed and distance data—with loop-by-loop granularity. With all satellite systems enabled in single frequency mode, the Vertix 2 does an admirable job at tracing the track. While each trace does drift a little, over the course of the session, the tracked distance remains the same—pretty impressive for such a short loop.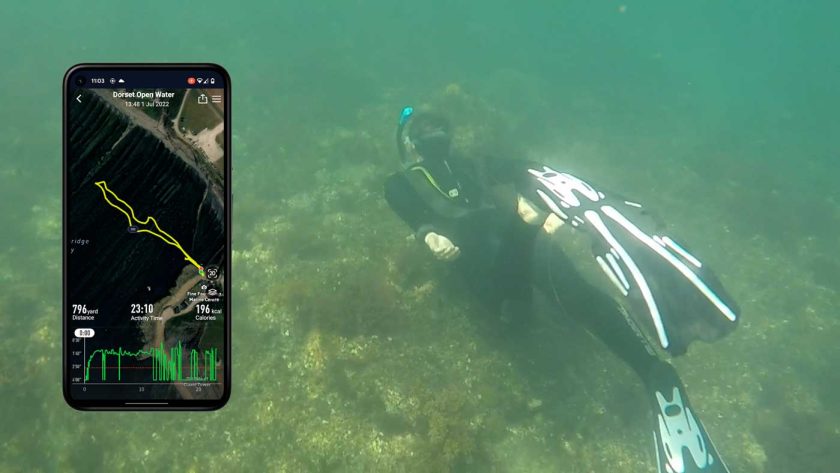 I've also used the open-water swim mode when snorkelling. Considering that my wrist was below the water surface for most of this time, the Vertix 2 did an incredible job of tracking my movements via GPS. Underwater, the display is still crystal clear to view and the watch controls continue to work well. While the Vertix 2 is not a diving watch—and now only waterproof to 100m, compared to the 150m of the original Vertix—it would have been nice if it featured a depth sensor for freediving. I think Coros may have missed a trick here, especially since Suunto has added this function to the 9 Peak Pro.
Rock climbing
Tracking rock climbing adventures well above sea level though, is where the Coros Vertix 2 really shines. The multi-pitch climbing mode takes full advantage of the dual-frequency GNSS chipset to record the approach, climb, and descent of each pitch. Since the majority of my outdoor climbing tends to be single pitch though, I like to utilise this function to simply mark the location of each route.
You can also choose to manually record the grade of each climb using most major grading systems. The Yosemite Decimal System (YDS) is available for stateside climbers, while those of us in the UK have access to the French Sport and UK Trad systems. At this point, only the adjectival part of the UK Trad grade is available, but it's still a really nice way to compliment your climbing logbook. You can even record ice and aid climbing grades.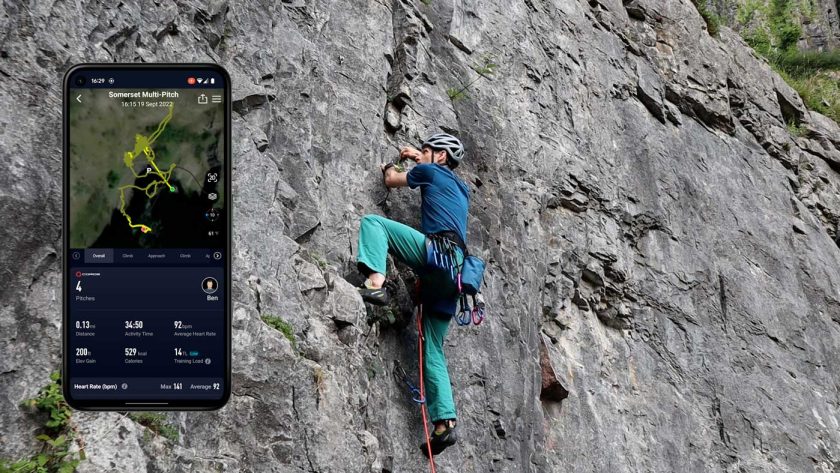 During an ascent, the Vertix 2 will automatically track your elevation gain and vertical speed using the barometric altimeter. Comparing this data to my guidebook confirms that the watch is really accurate in this regard. If you wear the watch on your wrist, it will also track heart rate data and it's really interesting to see how much energy I expend for each climb. If you prefer, you can also attach the watch to a gear loop on your harness and pair it with an external heart rate monitor chest strap. In this case, the Vertix 2 will automatically switch off the optical heart rate sensor to save power.
I was initially unsure about climbing with a watch on my wrist. However, after extensive testing on everything ranging from crimpy sport routes to slabby trad, I found that, unless you're crack climbing with hand jams, wearing the watch on your wrist is usually fine.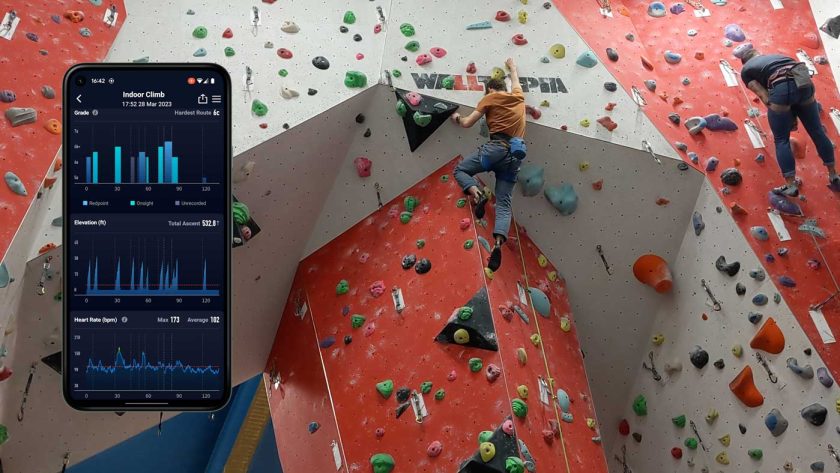 When redpointing harder sport routes, it's probably better to take advantage of the newer indoor climbing mode. Route grades are recorded in much the same way, but you can also input the route style (redpoint, onsight, flash, attempt or 'not a climb'). When lead climbing in this mode, the Vertix 2 will also record any falls along with the max fall height. Presumably, the watch is using gyroscope data in combination with elevation loss to calculate this. It's hard to assess the true accuracy, but the data seems to line up with eyeball estimates from a few recent whippers at my the local climbing gym. Either way, it's fun data to review.
For a completely hands-off approach, you can choose to omit all data entry and let the Vertix 2 automatically record each climb. This is great when using auto-belays, but the watch has a harder time distinguishing between shorter boulder problems. A quick tap of the back button between routes quickly resolves this, else the recorded fall data will give you some idea of how many routes you've climbed.
Maps & navigation
The larger screen of the Coros Vertix 2 has a 16% higher resolution than its predecessor, which is most appreciated when using the new mapping features. The Vertix 2 comes pre-loaded with a global landscape map, providing graphical information such as streets, major road networks and waterways. Road and place names aren't currently displayed, but you can supplement it with regional topographic data, to highlight geographic positions and elevations of both natural and man-made features.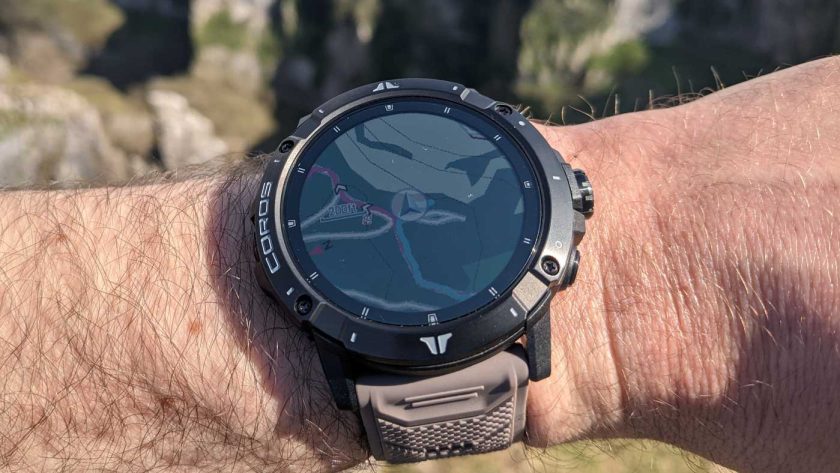 In terms of navigation, the maps serve more as 'backgrounds' that routes are traced upon. At this stage, you can't route directly on the device and it won't re-route if you go off track. Though, the watch will of course alert you, as with standard breadcrumb trail navigation, and you can sync routes directly from Strava or Kamoot. The most recent update has also added an in-app route builder and the ability to save and mark locations on the watch for future reference.
I'd love to see turn-by-turn directions being implemented—the Vertix 2 certainly has the hardware to support it. However, simply having access to these map layers makes navigation much easier since you can be better orientate yourself within the surrounding environment.
Additionally, using the digital dial to zoom in or out and the touchscreen to manipulate the map is really intuitive. The extra processing power of the Vertix 2 is really noticeable here. It's not quite the same as using a smartphone, but it's one of the most speedy watches I've used.
Coros Vertix 2: Sports tracking
Beyond the outdoor-directed features, the Coros Vertix 2 is a very capable multisport watch for running, cycling and swimming. As well as the standard tracking modes, there are a number of useful additions designed for general purpose training.
Strength training
The jump rope mode is a nice inclusion and encourages you to add this undervalued exercise into your routine. However, one of my favourite new features is the strength mode. Instead of having to rely on structured workouts, you can now simply track any type of strength or callisthenics training on the fly. Simple select the muscle group you're targeting and the watch will do the rest—tracking reps, sets and rests. For the most part, this works well. However, rep tracking of slower movements is less reliable and you're only able to target one muscle group at a time, unless you select 'whole body'.
Starting a workout couldn't be easier; from the activity selection menu simply press the digital dial on the desired activity. This will bring up the tracking menu where you can tailor your workout. What I really like here are the well-placed secondary modes available for each sport. Take running for instance, which includes an interval training option that can be customised with multiple steps based on time or distance.
Connectivity & GPS accuracy
Once you're ready to go, the Vertix 2 will start acquiring a GPS signal and heart rate reading. It doesn't take very long to get a lock on both, but GPS connectivity is particularly zippy—indicating that the new chipset is working well with the internal antenna design.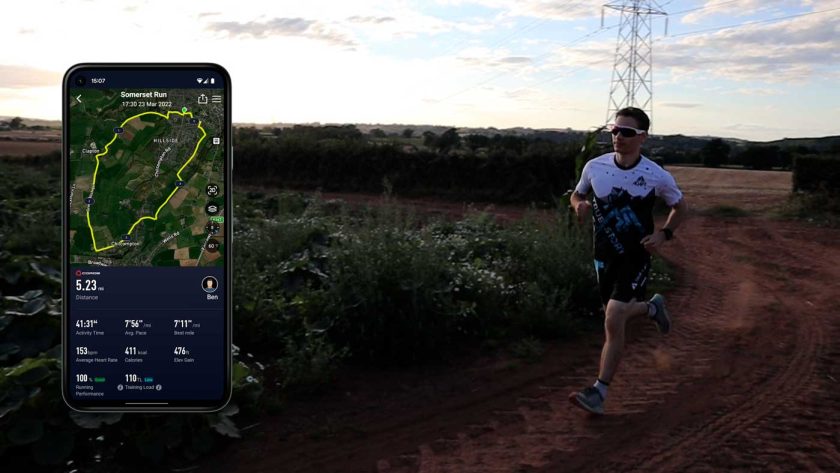 As you therefore might expect, GPS accuracy is very good. Like many runners, I tend to cycle through a few regular running routes throughout the year, which is a great way to test a GPS watch's consistency. Looking at the data from one of these routes—a 5.25 mile half on/half off-road loop—it's clear that the Vertix 2 has been tracking my runs consistently, with very little deviation in distance and elevation data.
To better assess the capabilities of the new dual-frequency GNSS chipset, I tested the Vertix 2 against the Vertix 1 while cycling up Cheddar Gorge—an area notorious for losing GPS signal. With the Vertix 2 in dual-frequency mode and the Vertix 1 worn on my other wrist, and set to use all satellite systems, I was impressed by the performance of both.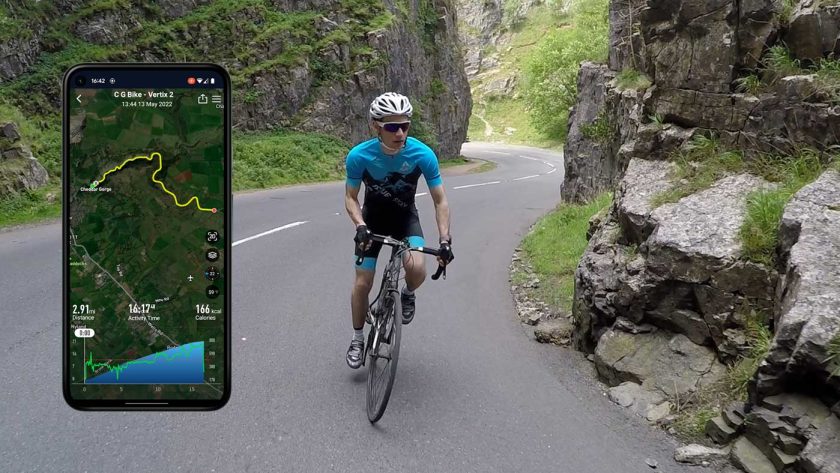 Both watches maintained a satellite connection throughout the climb. However, looking more closely at the GPS tracks, it's clear that the Vertix 2 has the edge. The Sony chipset in the Vertix 1 veers off line in deeper sections of the gorge, resulting in an inaccurate total distance measurement. While, the multi-band connection of the Vertix 2 copes much better with the high rock walls and more closely follows the road.
Heart rate accuracy
Heart rate tracking is equally reliable. While it took a few firmware updates to iron out some issues with the Vertix 1, the Vertix 2 has been tracking my heart rate consistently out-of-the-box. Optical heart rate accuracy will vary from individual to individual, based on factors such as watch position and how snug it fits. However, the upgraded sensor package seems to be doing its job well, aided by the stability of the watch on my wrist.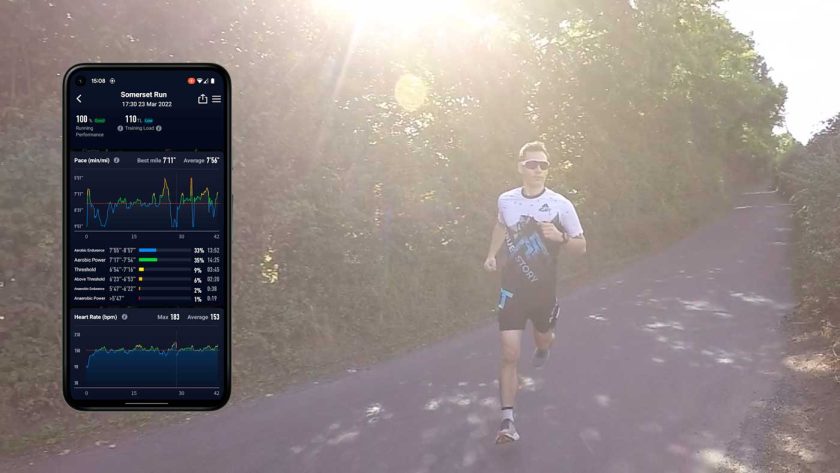 Again, taking a look at the data from my regular 5.25 mile running route, the optical sensor tracks a rise in intensity as I start the run and then again as I climb in elevation, before levelling off. Further into the run, the spike in heart rate matches up perfectly with a steep hill climb on the route.
Workout data pages
During a workout, you can scroll through the various data pages using either the digital dial or touch screen (if you have this enabled). In my opinion, this works pretty well and the touch screen is particularly useful when cycling or pushing hard on a run. The default data pages are well thought out and the extra screen space of the Vertix 2 makes it easy to view up to eight data fields per page.
Final thoughts
Overall, the Vertix 2 is a fantastic upgrade to Coros's original GPS adventure watch. While the Garmin Fenix series still leads the way when it comes to some smart features, Coros has caught up a lot. And, in terms of build quality and battery life—the Vertix 2 can't be matched at this price point.
I'm sure we'll see even more firmware updates, down the line, to take further advantage of the Vertix 2's powerful hardware. However, at the point, the watch is a terrific tracking tool for all kinds of outdoor adventures and sporting pursuits. And, if (like me) you're a rock climber curious about capturing useful data to improve your performance, the Vertix 2 is a capable climber's companion.
Coros Vertix 2 GPS climbing watch
Verdict
Built like a tank, the Coros Vertix 2 is a capable GPS watch for all kinds of outdoor adventures and sporting pursuits. But, it's the rock climbing specific features, developed alongside legendary rock climber Tommy Caldwell, that really set this watch apart from anything else on the market.
Pros
Incredible battery life
Fantastic fit
Sapphire glass and diamond-like coating as standard
Large screen for maps and navigation
SpO2 sensor and altitude performance mode
Cool climbing features
Accurate GPS and heart rate tracking
Regular software feature updates from Coros
Cons
No depth sensor
Lack of smaller version for thinner wrists
5
Capable climber's companion