We first came across Coros at the London Bike Show in 2017, where the California-based company showcased its very first product—a bike helmet that incorporated bone conduction audio. Last year, I had the chance to test out the latest iteration of this line—called SafeSound. I was impressed with the EOSS pods that enable riders to listen to music or make hands-free phone calls while keeping their ears open to outside sounds for safety.
However, Coros has arguably gained more attention from the world of endurance sports and adventure GPS watches. Since the launch of its first GPS watch in 2018, the fledgling brand has already built a strong reputation thanks to its no-nonsense design approach and focus on high build quality.
Sitting at the top of the Coros GPS watch lineup is the Vertix. Built to brave the elements of the great outdoors, the Coros Vertix is certainly a multisport watch that can handle extreme conditions. But, now almost two years on from its initial launch, how does it stack up against today's competition? To find out, I've been putting the Vertix through its paces over the last year, testing out a variety of sports tracking modes and lifestyle features.
Coros Vertix: Design & build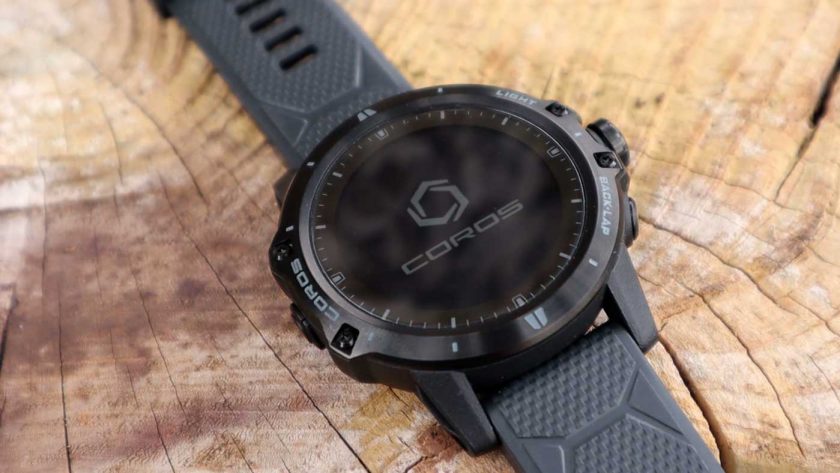 At first glance, the Coros Vertix looks very similar to Garmin's flagship Fenix 6, with the high-grade fibre body sandwiched between a burly titanium bezel and cover. It's priced similarly too, at about £539.99 (UK) / $599.99 (US). This might seem a bit punchy, given that the Vertix doesn't support topographic maps or music features, but you do get sapphire glass as standard to sweeten the deal.
Update (27 November 2021): Coros has now added support for topographic (topo) and landscape maps to the Vertix.
This protects a 1.2 inch display that's made even more scratch resistant by a diamond-like coating—so there's no need to purchase an additional screen protector. I've scuffed and scraped my watch more than a few times against twigs and branches, and the glass is still in the same pristine condition as the day I took it out of the box.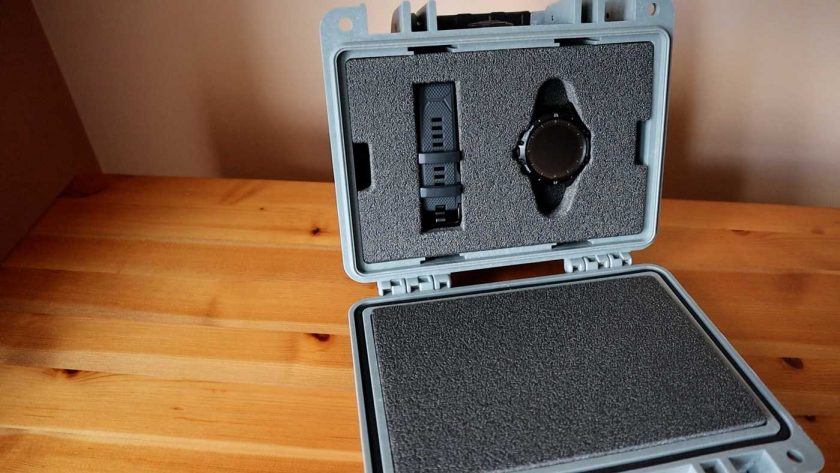 On that note, the Vertix comes in an impressive-looking flight case. This makes for a dramatic unboxing experience, but it's a bit overkill; I'd prefer that Coros reduced the price of the Vertix and shipped it in a cheaper cardboard box instead. The case certainly isn't useless though; it's very high-quality, with a watertight rubber gasket. Coros has also included extra padding so that you can repurpose the case for camera equipment or other electronics. Once padded out, you get a 1.2L capacity that's just enough to squeeze in my Canon M50 and 15-45mm lens.

Picking up the Coros Vertix for the first time, you'll notice how light it is. At a featherweight 54g (without a watchband), it's 35% lighter than the Garmin Fenix 6. This is particularly impressive, considering that the Vertix is built like a tank. The raised 47mm bezel provides yet more protection to the display, while the machined screws add to its rugged exterior and provide a waterproof seal down to 150m—more than any other GPS watch on the market! Shrugging off cold weather, the Vertix is also fully operational down to -20°C. In fact, during Coros's extreme testing below -30°C, the Vertix continued to function for a full 21 hours in GPS mode. So you can rely on it to record data in the toughest of conditions.
Despite the Vertix being nearly 16mm thick, it sits securely on my wrist and is fairly comfortable to wear all day long—even during sleep. The standard 22mm silicone band feels supple against the skin and has a slight stretch to ensure a snug yet irritation-free fit. It also features quick-release, for easy cleaning, and can be swapped out for an ultralight nylon band. This is slightly wider than the standard silicon band, at 24mm, but the extra breathability makes it ideal for any activity out of water.
Inbuilt sensors
As well as the GPS chipset, the Vertix has a range of inbuilt sensors to collect useful data. These include a barometric altimeter, accelerometer, gyroscope, compass and thermometer.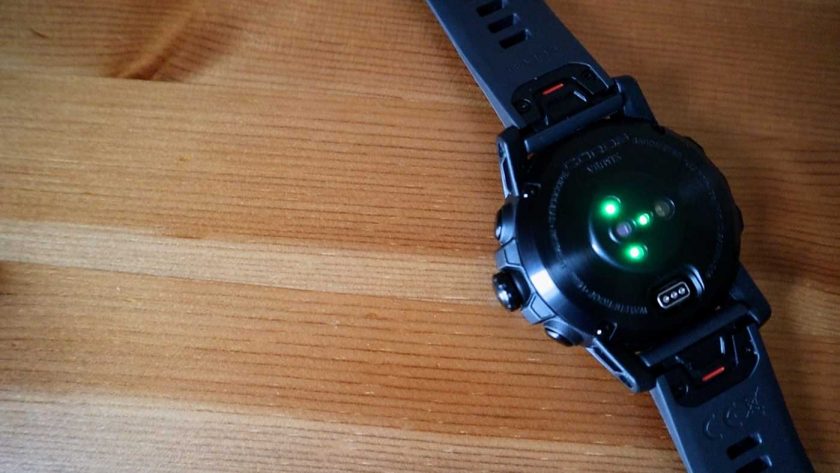 On the back of the watch, you'll find the optical sensor package—an intimidating array of five LEDs positioned around a central detector. The package combines both an optical heart rate monitor, which utilises three of the five LEDs, and a pulse oximeter (SpO2 sensor), which measures blood oxygen saturation. But, more on that later.
Coros Vertix: Battery life
Below this is a three-pin charging port that's recessed into the back of the watch so that it doesn't come into contact with your wrist. The port is only used for charging, since all data transfer and updates are done wirelessly. A full charge takes less than two hours, but you won't need to do this very often because the battery life of the Coros Vertix is insane.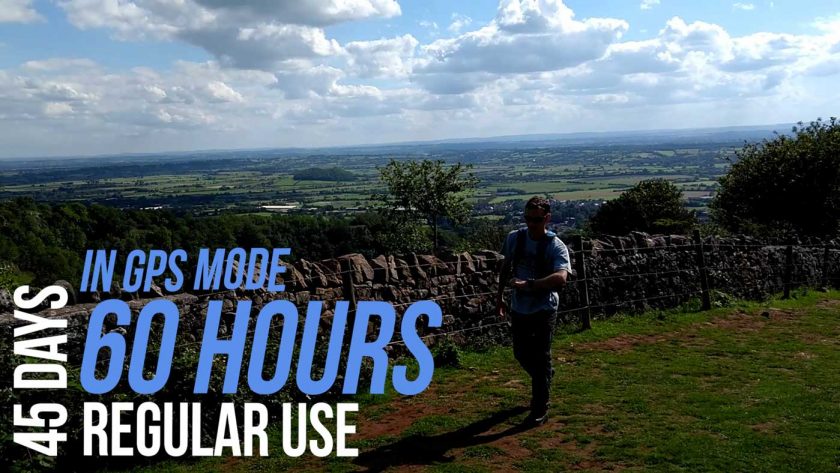 Alongside the exceptional build quality of the device, this is undoubtably the standout feature. Coros states that you'll get about 45 days of regular use and up to 60 hours in full GPS mode. However, in my testing, I found that I could push this even further. For example, after an all-day 20 mile hike the Vertix still had 89% battery left, while my Garmin Forerunner 45 was on its last legs. I didn't need to charge the Vertix again until over a month later, during which time I had been recording my regular runs and sports activities several times per week. Compared to other GPS watches I've used, the Vertix's extra juice is a game changer; it makes life so much easier knowing that I can just pick up my watch and go for a run without needing to check the battery level every few days.
For multi-day hikes and ultra distance races, you can also utilise UltraMax mode to extend the GPS battery life even further—up to 150 hours. To achieve this, the sampling rate is reduced so that only 30 seconds of GPS data is recorded every 2-minute period. Real-time motion input is then processed by an algorithm to fill in the blanks.
For endurance athletes demanding this level of battery performance, there really aren't that many options available. The Garmin Fenix 6X and Suunto 9 both come close, with their versions of a max-battery mode, but the Coros Vertix still has the longest GPS battery life on the market. It even includes a nifty battery-saving feature that enables you to turn off the optical heart rate sensor when you don't need it—for example, if you're wearing the watch over a wetsuit.
Coros Vertix: Controls & interface
Instead of the five button layout found on most GPS watches, the Coros Vertix utilises a digital dial to navigate through menus and data screens. By default, if you wear the watch on your left wrist, this dial will be positioned on the right side of the watch face. However, you can set up the Vertix to work in the opposite orientation if you prefer.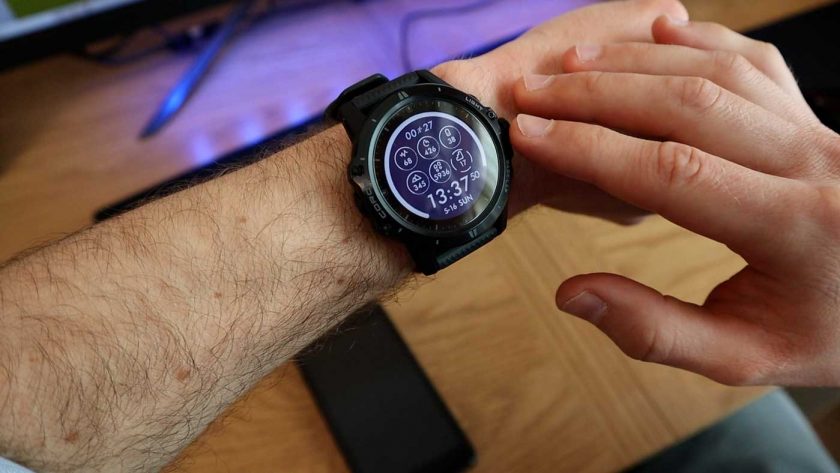 Personally, I find that it's a really intuitive control mechanism. I rarely press the wrong button and the haptic feedback helps when wearing thick gloves. To prevent accidental input, you can also set up the Vertix to autolock after a few minutes. This will prevent any input from the digital dial being registered until you scroll or press and hold it for a few seconds.
Next to the digital dial you'll find dedicated backlight and back buttons. Pressing and holding the latter will grant you access to most of the watch's adjustable settings, alongside useful tools such as a metronome, stopwatch, timer and alarm.
From the home screen, scrolling the digital dial will take you through the available widgets. These include:
Daily summary (shows your active energy and exercise time alongside a progress bar for your daily goal)
Training plan (details any workout programs you have scheduled for the day)
Heart rate
Elevation
Air pressure
Temperature
Sunrise and sunset times (for your current geographic location)
Phone notifications
In the heart rate, elevation, air pressure and temperature widgets, you also get a graph displaying the last six hours of recorded data taken at 10-minute intervals. Pressing the digital dial then enables you to scroll through a full 24 hours of data—either by scrolling the dial or using the touch screen.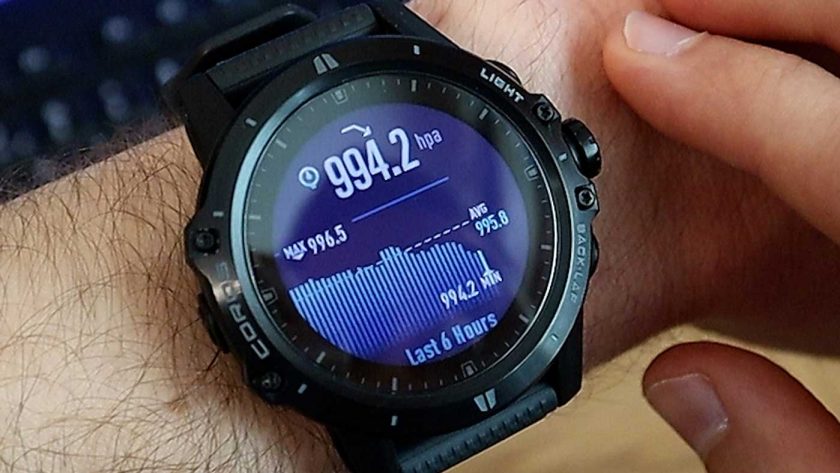 Beyond simply displaying this information, the air pressure widget takes things a step further by comparing the last three hours of barometer readings with the proceeding three-hour period. An arrow is displayed above the current air pressure, which illustrates the direction (if any) that the air pressure is trending. If you're out hiking or camping in the wilderness, for example, this could help you predict imminent weather changes. You can even turn on storm alerts for extra guidance.
Coros Vertix: Outdoor features
Back on the home screen and one click of the digital dial will bring you to the activity selection menu. Compared to other wrist-worn wearables from Coros—namely the Apex and Pace 2—there's a bigger emphasis on outdoor pursuits. There are dedicated tracking modes for mountaineering, hiking and trail running, as well as snow sports like skiing, snowboarding, XC skiing and ski touring. Updates released over the last year have also added support for various water sports, such as windsurfing, speedsurfing, rowing, whitewater rafting and standup paddleboarding.
Coros has clearly catered for a wide range of adventure sports and activities here. I really like the fact that trail running is included in addition to the regular run mode, as it enables me to customise the specific workout data screens to focus more on avg pace, elevation and gradient. However, mountain bikers are currently stuck with road cycling mode, and hiking is the only walking function available.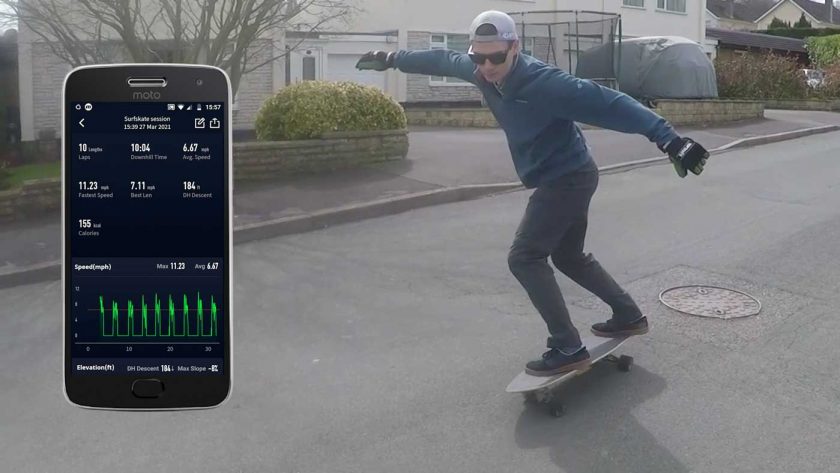 Of course, a lot of the tracking modes are multipurpose anyway. So, with a bit of ingenuity, you'll be able to collect interesting data on almost any sport. For example, I used the snowboarding mode to track some of my downhill surfskate sessions. This function automatically detects when you're travelling downhill and records your laps, total downhill time, average speed, fastest speed, total downhill decent and max slope.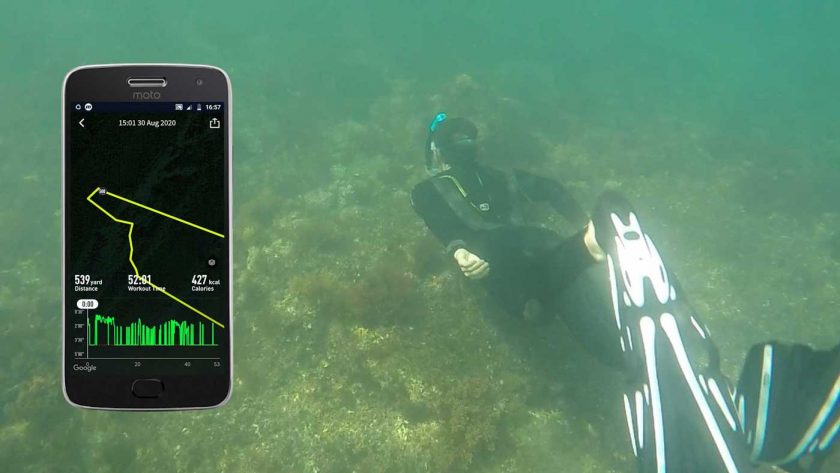 I've also used the open-water swim mode when snorkelling. Considering that my wrist was below the water surface for most of this time, the Vertix did an incredible job at tracking my movements via GPS. Underwater, the display is still crystal clear to view and the watch controls continue to work well. While the Vertix is not a diving watch, it would have been nice if it featured a depth sensor for freediving. I think Coros may have missed a trick here, especially since the Vertix is the most waterproof watch in its class. But I guess this would have just ramped up the cost of the device.
Altitude performance mode
Coros has however added some unique features for high-altitude adventures well above sea level. At 2500m in elevation, the Vertix will trigger its altitude performance function. In this mode, the pulse oximeter will monitor your blood oxygen saturation levels. This data is then combined with your current heart rate to determine how well your body is acclimatising to the current altitude.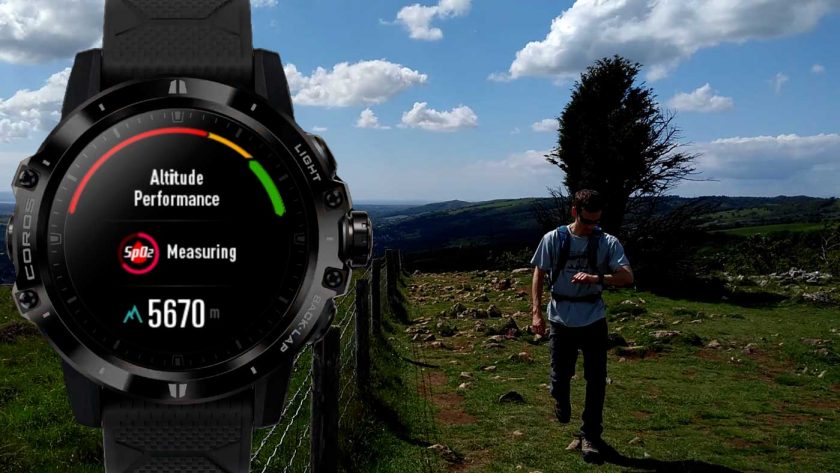 A gauge will display your acclimatisation evaluation on an index from 0 to 100 and alert you if it falls below a certain value. Anything above 81 is considered good and safe to climb higher. On the other hand, a result below 60 means that your body requires more time to acclimatise or that you may even need to descend if you develop certain symptoms related to altitude sickness.
This is a really useful feature that I'm sure would provide helpful data in alpine environments. However, while I've traversed some pretty steep terrain during my testing, I haven't yet had the opportunity to to take the Vertix high enough to test the altitude performance mode.
You can still measure your SpO2 levels manually—at any time—by accessing the function within the toolbox menu. With the latest updates, it feels like Coros has improved the reliability of this measurement, as it now only takes about 30 seconds. My results normally seem realistic, but it's hard to assess the true accuracy. SpO2 data from the past three days is saved on the Vertix and displayed in a graph next to your elevation at the time the measurement was taken. Unfortunately, this data can't be downloaded from the watch, so it's less useful for longer periods at altitude.
Maps & navigation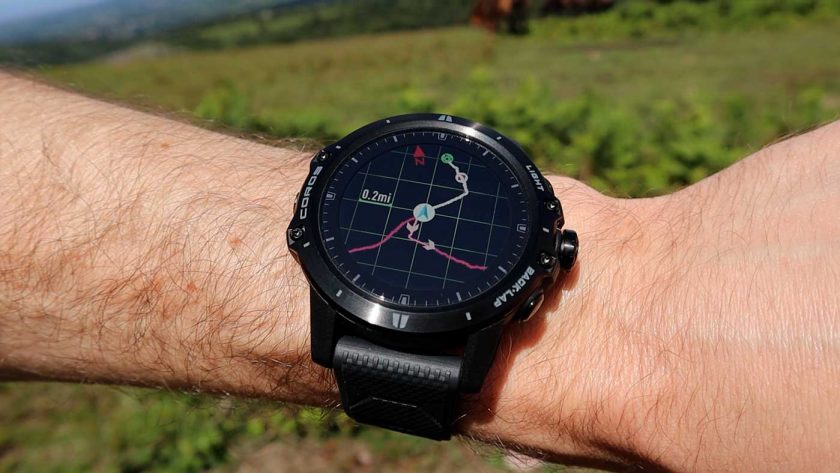 While the Vertix doesn't support topographic maps, it can be used for breadcrumb trail navigation. You can either save a previously recorded route or import one from a GPX file. Unfortunately, there isn't a quicker way to import routes from third-party apps like Strava. But the process is fairly straightforward, and you can store up to 10 different routes on the watch at any given time.
Once you start navigating, the Vertix will guide you towards the closest part of your selected route—unless you're already on it. Since there are no topographic features or waypoints to follow, it's useful to have some idea where you're going as opposed to completely relying on the breadcrumb trail. However, you can use the digital dial to zoom in to a resolution of 50ft per square and set the map to orientate towards the heading direction. Following trails and determining which path to take—if there's a fork ahead—is therefore pretty straightforward. Additionally, if you deviate off course, the Vertix with alert you and guide you back to the trail.
You can also use the touch screen to manipulate the map and look ahead on your route. An elevation profile gives further insight on upcoming terrain and comes in pretty handy when you need to adjust your pacing. There's even a 'back to the start' function for times when you need to turn around and head back the way you came. Overall, Coros has done a great job with the navigation feature. It's not really comparable to the full topographic maps found on the Garmin Fenix 6 Pro, but what you get is highly polished and gets the job done.
Coros Vertix: Sports tracking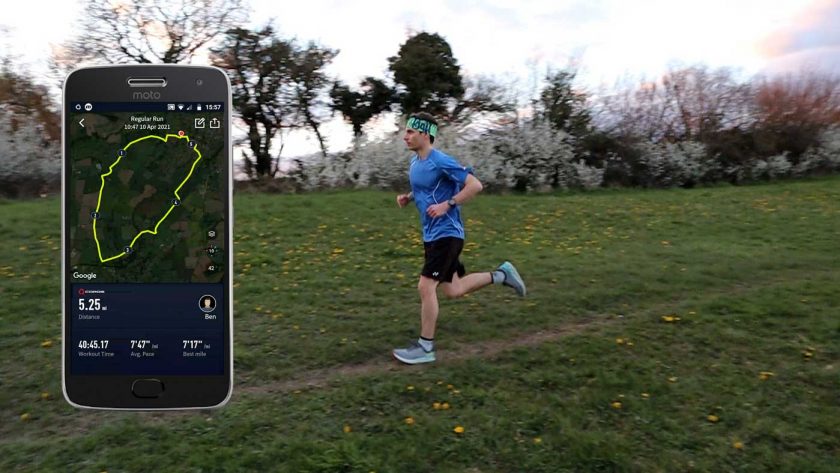 Beyond the outdoor-directed features, the Coros Vertix is a very capable multisport watch for running, cycling and swimming. As well as the standard tracking modes, there are a number of useful additions designed for specific workouts. For example, there's a track running mode, which utilises an algorithm to tighten up the GPS data around a 400m running track. Random zigzags across the field, or sharp-angled turns are replaced with the smooth straightaways and curves of the track—matching your run.

You can also record indoor runs, by setting the treadmill speed; indoor cycling workouts, by pairing the watch with an SPD sensor; and indoor pool swims, by setting the pool length. For multisport events, you can either use the preset triathlon mode or set your own custom combination of up to three disciplines. Either way, it makes tracking your transitions a lot easier.
For sports that don't have a dedicated tracking mode, the gym cardio and GPS cardio functions come in handy. Both track standard fitness metrics like heart rate and active energy, but the latter also collects speed and distance data. I tend to use these modes mostly for racket sports and indoor rock climbing.
Starting a workout couldn't be any easier; from the activity selection menu simply press the digital dial on the desired activity. This will bring up the tracking menu where you can tailor your workout. What I really like here are the well-placed secondary modes available for each sport. Take running for instance, which includes an interval training option that can be customised with multiple steps based on time or distance.
Connectivity & GPS accuracy
Once you're ready to go, the Vertix will start acquiring a GPS signal and heart rate reading. It doesn't take very long to get a lock on both, but GPS connectivity is particularly zippy—indicating that the onboard Sony chipset is working well with the internal antenna design.
As you therefore might expect, GPS accuracy is very good. Like many runners, I tend to cycle through a few regular running routes throughout the year, which is a great way to test a GPS watch's consistency. Looking at the data from one of these routes—a 5.25 mile half on/half off-road loop—it's clear that the Vertix has been tracking my runs consistently, with very little deviation in distance and elevation data.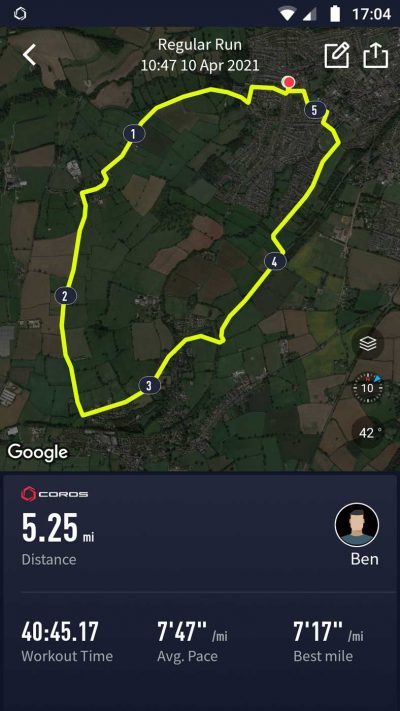 Looking closely at the GPS tracks, the Vertix is mostly spot on—following roads and paths without trailing too-much off-course. Even under thick tree cover, the Vertix maintains a fairly good track, only cutting corners slightly on rare occasions. Comparing data collected, on the same route, by my Garmin Forerunner 45, it's also encouraging to see that the tracking lines up pretty well. Interestingly, the Vertix does a much better job at recording elevation data—so that's a big thumbs up for the barometer as well.
For even better accuracy, you can adjust the GPS settings to use additional satellite constellations. At this time, both Glonass and BeiDou are available in partnership with the standard GPS/QZSS, but Galileo connectivity is planned in a future update.
Heart rate accuracy
Heart rate tracking, however, hasn't always been up to par. For example, when I first started testing out the Vertix, I found that it occasionally recorded unusual jumps in heart rate during the first portion of a run. It's worth noting that optical heart rate accuracy will vary from individual to individual, based on factors such as watch position and how snug it fits. However, comparing this to previous data from my Garmin Forerunner 45, I would have expected the Vertix to track a more gradual increase in intensity.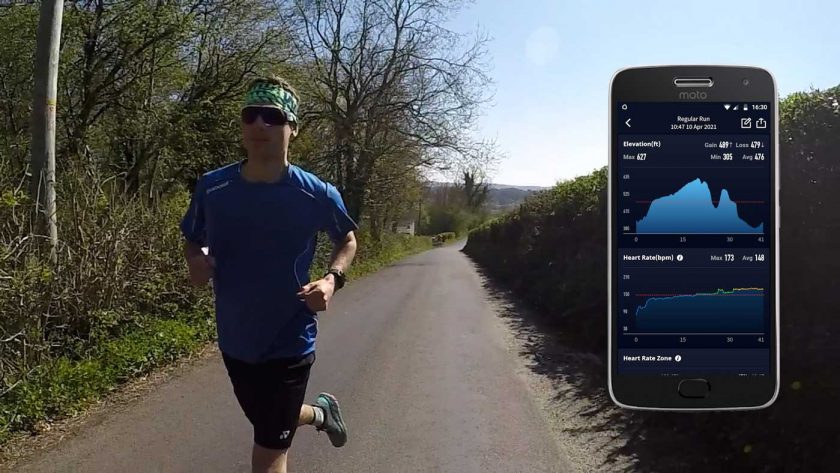 Thankfully, over the last 12 months, Coros has managed to iron out most of these issues. Following recent firmware updates, the Vertix now seems to track my heart rate much more consistently. Again, taking a look at the data from my regular 5.25 mile running route, the optical sensor tracks a rise in intensity as I start the run and then again as I climb in elevation, before levelling off. Further into the run, the spike in heart rate matches up perfectly with a steep hill climb on the route.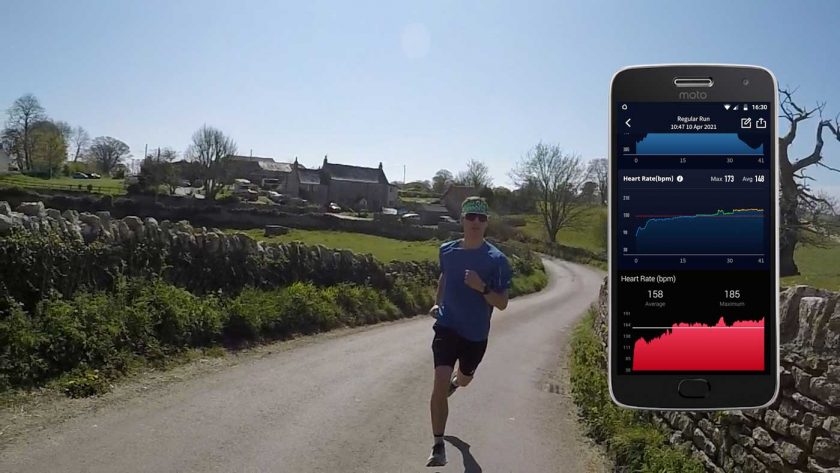 Comparing this to data collected by my Garmin Forerunner 45—worn on the opposite wrist during the same run—it looks like the heart rate data matches up pretty well. In this particular case, the Garmin did record a higher average and max heart rate. But, based on previously recorded runs and manual pulse rate checks, I'm confident in the data that the Vertix is recording.
If you need something more reliable though, you can easily pair up a heart rate chest strap via ANT+ or Bluetooth.
Workout data pages
During a workout, you can scroll through the various data pages using either the digital dial or touch screen (if you have this enabled). In my opinion, this works pretty well and the touch screen is particularly useful when cycling or pushing hard on a run. The default data pages are well thought out and there's plenty of screen space to display up to six data fields per page.
Pressing the back button at any time will trigger a lap and display the current lap time and lap distance. At this point, that's not customisable. But, you can adjust the data pages for each sport to your heart's content. This is done from within the Coros app, where you have six data pages and 45 data fields to play with.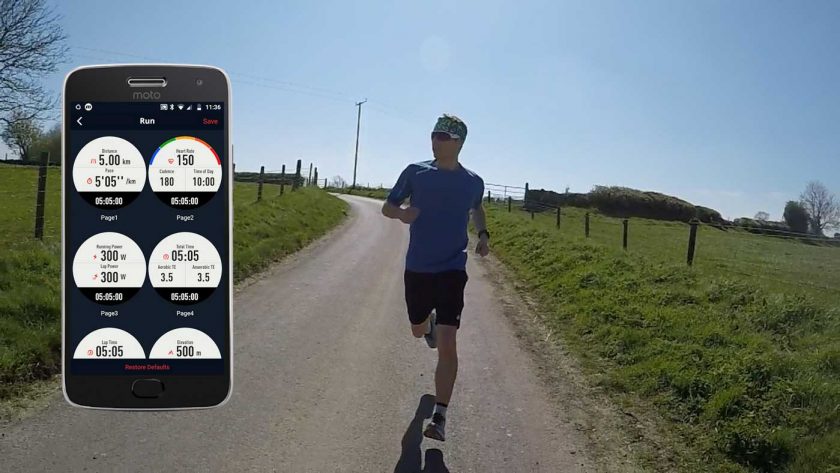 You'll find all the usual metrics that the Vertix tracks natively, like distance, pace, heart rate, and even running power. However, connecting the Vertix to an external power meter, like the Stryd or Coros Pod, will unlock a few extras, such as ground time, l/r balance, stride height, and stride ratio.
Coros app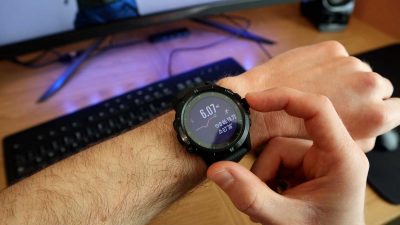 After you've completed a workout, you'll be able to review some basic stats on the watch. You can access these later, alongside an estimate of your recovery time, from the 'AI Trainer' sub menu. But, for a more detailed breakdown of your workout, you'll need to transfer the data to the Coros app (available on both iOS and Android). Pairing the Vertix to your device is straightforward via Bluetooth and syncing proceeds automatically when you open the app.
The interface is pretty much what you'd expect from a fitness app. It's lean and intuitive to use, but packed with data so that can dig deeper into your tracked sessions. If you prefer to review your stats in a third part service like Strava, you can also configure automatic data sharing. Alternatively, you can export your workout data via a few different file types (.fit, .tcx, .gpx, .kml, .csv).
Currently, you can connect the Coros app to the following third party services:
Strava
TrainingPeaks
Running Quotient
adidas Running
Relive
Final Surge
Runalyze
WeRun
Sleep & activity tracking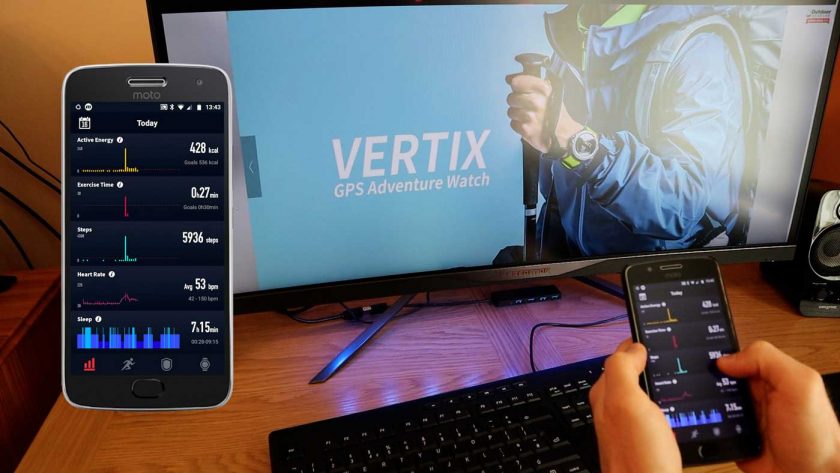 On the app home screen, you'll find a daily summary. Graphs for active energy, exercise time, steps, heart rate, and sleep time are all displayed in 30-minute increments. You can also explore longer-term trends by tapping on any of these metrics.
By default, the Vertix will obtain a heart rate reading once every 10 minutes. Unlike in workout mode, where the Vertix first establishes a lock on your heart rate and then monitors it in realtime, I found that accuracy varied. On the other hand, step counting data matched that recorded on my Fitbit and Garmin Forerunner 45. And sleep monitoring seemed pretty consistent too.
Scrolling further down the home screen, you'll find a graph detailing your training load over the last week. It's a nice visualisation tool that helps to keep you on track with your training goals. Beneath that, you have a fitness index showing your measured resting heart rate, VO2 Max, lactate threshold and threshold pace. It seems to get my resting heart rate correct, but the other metrics don't match up—so take this data with a pinch of salt.
Structured workouts & strength training
Beyond the usual display and basic analysis of your workout data, the Coros app has a really cool feature that enables you to create structured workouts. The functionality is pretty simple for running, cycling and swimming, with the option to set a warm up, cool down, number of sets, and intensity level. Strength training functionality, however, is much more in-depth.
To get started, simply head over to the profile management page and select workout programs. There, you'll find any routines that you've already created or downloaded from the Coros website. The routines available from Coros have been put together by the brand's sponsored athletes. So, they're a great way of supplementing your training in a specific discipline. You get a description of the workout, detailing what muscle groups are targeted, along with detailed explanations on how to do each exercise.
Creating your own strength workout is a breeze. Once you've chosen a title and written the description, you can select from over 200 pre-loaded exercises that are categorised by muscle group and required equipment. Each exercise comes with a detailed explanation and a useful animation. After selecting an exercise, you can then specify the number of reps, sets and added weight. You can also add your own custom exercises, which are saved for later use. Editing existing workouts is also easy, with the ability to copy, paste, and drag-and-drop each exercise to reorder the flow.
As with navigation routes, syncing a workout to the watch is straightforward. The Vertix can hold up to 20 workouts, at any given time, which are then selected from the training mode in the activity selection menu. Once started, the watch will display the first exercise and the number of reps to complete. These are auto-detected, so you don't need to count them yourself. However, if the watch does miss-count, you can manually move on to the next exercise at any time.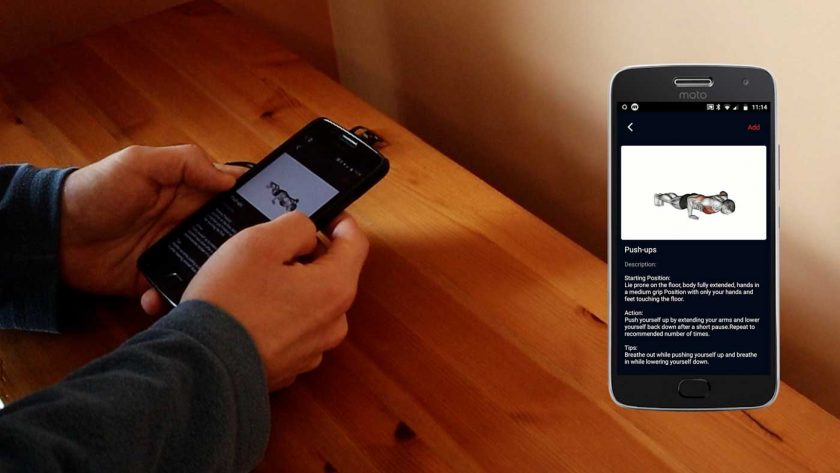 The whole process—from creating a workout, through to guiding and then recording it, has been really well thought out. The ability to schedule workouts in a training plan has certainly encouraged me to incorporate more strength work into my routine. And the muscle heatmap is a fun way of tracking this additional training.
Companies like Polar and Garmin have had the ability to structure workouts, in a similar way, for some time. So, when the Vertix received this feature update last year, it showed that Coros was committed to providing additional functionally to its users. In fact, that's one of the major takeaways from my time with the Vertix over the last year. Coros cares about its existing user base and if something can be improved or added in a software update, then it will be—so you don't have to fork out for new hardware unnecessarily.
Final thoughts
If you're looking to buy an adventure GPS watch around this price point, then odds are that you've also considered the Garmin Fenix 6. The Coros Vertix is the clear winner when compared against the base version; it's about the same price and has a battery life that can't be matched. However, if you want topographic maps, music and more smart features, then you might be tempted to spend a little bit extra for the Garmin Fenix 6 Pro.
Personally, I would still opt for the Vertix. Firstly, it comes with sapphire glass as standard, which is an expensive extra in the Garmin series. And, while topographic maps would be useful, I don't miss the other smart features—I have a smart phone for that.
What I really like about the Vertix though, is that it focuses on the key functionality that I want in an adventure sports watch and it does this really well. It's also built like a tank, so I know that it can handle anything I throw at it—be it salty sea water, or sub-zero conditions at altitude.
If you're still on the fence, check out the Coros Apex Pro. It's about £90 (UK) / $100 (US) cheaper than the Vertix, but it has all the same features, albeit in a slightly less robust package. Either way, you'll have a well-built multisport watch that will still be receiving new feature updates down-the-line.
Coros Vertix GPS adventure watch
Verdict
Built like a tank, the Coros Vertix is a multisport watch that can handle extreme conditions. It focuses on the key functionality that I want in an adventure sports watch and it does this really well.
Pros
Incredible battery life
Fantastic build quality
Sapphire glass and diamond-like coating as standard
Class-leading waterproof rating
SpO2 sensor and altitude performance mode
Breadcrump trail navigation
Accurate GPS tracking
Good optical heart rate tracking
Ample modes for different sports and adventure activities
Regular software feature updates from Coros
Cons
Flight case is unnecessary and adds to cost
No depth sensor
No topographic maps
5
Built to track any adventure