With the advent of drone technology, aerial photography has become increasingly accessible. From breathtaking landscapes to stunning wildlife footage, drones have allowed us to capture amazing visuals from unique perspectives. However, simply owning a drone doesn't guarantee great shots – there are certain tips and tricks that can help you take your footage to the next level. In this article, we are going to discuss and elaborate on the eleven drone filming tips to improve your aerial footage.
Drone filming tips
1. Choose the right drone
Different drones have different capabilities, so make sure you know what features your particular model offers. Some drones can shoot in 4K resolution while others are limited to 1080p, which can make a huge difference in the quality of your final video. In addition, consider the type of shots you want to take and select a drone with features that will help you achieve those results. While most drones have similar features, some may have additional options such as auto-follow or waypoints that can help you get even better shots. Furthermore, research the available camera lenses and decide which one would be best suited for your needs.
2. Use a high-quality camera
A high-quality camera is an essential part of every drone usage, whether professional or personal use. And in both cases, having a good camera might work your way. When talking about professional feats and uses, professionals from Horizon Imaging say that for businesses in the real estate sector that rely heavily on visuals for their operations (architects, house agents, and designers included), having a consistent, reliable image style is essential. On the other hand, when talking about private use, having a great camera to capture the best of our memories, is also necessary. And in both cases, the camera is always a key element.
3. Think about the video production process
The video production process is more than just the actual filming. Think about all the steps involved, from pre-production planning to post-production editing and everything in between, and make sure you have a plan for each stage. This will help ensure you get the best possible results with minimal stress or setback. When it comes to pre-production, plan your shot list and practice in advance. If you're shooting a narrative film, make sure the story is well outlined and the actors are properly rehearsed. For post-production, you will need to know how to use editing software such as Adobe Premiere Pro or Final Cut Pro X to polish your footage.
4. Stabilise your shots with gimbal technology
Gimbals are a type of technology that helps keep your footage steady and smooth. They use motors to counterbalance any sudden movements, resulting in crisp and clear results. Investing in a gimbal is a great idea if you want to produce professional-looking videos and can be used with all kinds of cameras, not just drones. Moreover, most gimbals come with a smartphone app that allows you to control the camera settings and adjust them in real-time, making it easier to get perfect shots. Gimbal technology is also great for taking long-exposure shots, as it eliminates the need to buy a bulky tripod.
5. Select the proper orientation for shooting
When shooting with a drone, it's important to consider the orientation of the camera. Depending on what kind of shot you are trying to get, you may need to rotate the camera 90 or 180 degrees so that you can frame your shot properly. This is especially true when filming in tight spaces or for tracking shots. In addition, pay attention to the background of your shot and make sure that it's not too cluttered or distracting. Furthermore, try to keep the horizon level straight for the best results.
6. Pre-plan and rehearse cinematic flights
Pre-planning and rehearsing cinematic flights is essential for getting great shots. Think of it like a dance routine; if you plan out the movements of the drone beforehand, you can get much better results than if you just go in without any preparation. Try to map out your flight path and rehearse it several times until you're comfortable with the movements. This will also help you save time and battery power, as you won't need to fly around randomly to get what you want.
7. Leverage motion control to capture dynamic shots
Motion control is a great way to capture dynamic shots with your drone. It involves using an external controller or the app on your smartphone to program a specific trajectory for the drone to fly. This allows you to create smooth and intricate camera movements, like orbiting around objects or following subjects from behind. Motion control can be used in combination with other techniques, such as cinematic flights or gimbals, to get even better results. Furthermore, some drones even come with built-in motion control features that make it easier to get the shot you want.
8. Utilise focus points and pulling focus techniques
Focus points and pulling focus techniques are important for creating dynamic shots. By using focus points, you can tell the drone where to keep its attention when filming, allowing you to get sharp footage with minimal effort. Pulling focus is a technique that allows you to smoothly transition between two different focus points while filming, which is great for tracking shots or following a subject. These techniques require some practice, but once you get the hang of them, you'll be able to create stunning shots with your drone.
9. Take advantage of post processing features
Post-processing is an important part of creating great aerial footage. Editing software such as Adobe After Effects and Premiere Pro can help you colour correct, sharpen, stabilise, and add other effects to your footage. There are also a variety of plugins available that allow you to refine specific aspects of your videos. With the right tools, you can take even the most basic footage and turn it into something cinematic. Furthermore, you can use post-processing to create unique visuals, such as slow-motion or time-lapse sequences.
10. Learn safety rules and best practices
Finally, you will want to make sure that you are always following the safety rules and best practices when flying a drone. Different countries have different regulations in regard to drone use, so it's important to familiarise yourself with the laws in your area before taking off. Additionally, always keep an eye on your surroundings and be sure that you are not endangering any people or property while flying. This way, you can ensure a safe and enjoyable experience while filming with your drone.
Capture ace aerial footage with these drone filming tips
These ten tips will help you get the most out of your drone filming experience. By following these guidelines, you can create stunning aerial footage that looks professional and cinematic. From pre-planning your shots to taking advantage of post-processing features, there are a variety of ways to take your drone filmmaking to the next level. With enough practice and dedication, you can create beautiful and captivating aerial footage that's sure to impress. The possibilities are endless!
Pin this post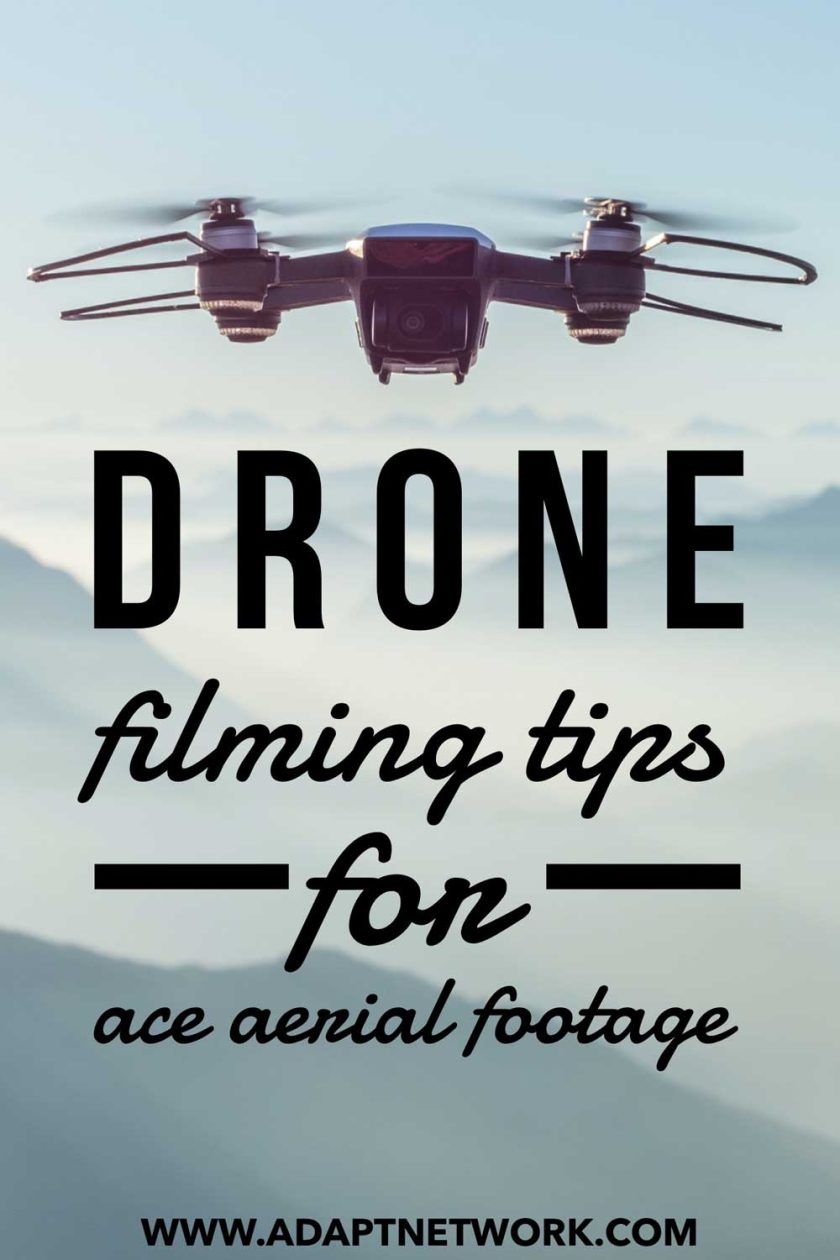 Featured image: Created using photo from Alessio Soggetti/Unsplash