It's no secret that sitting at a desk for long periods of time can be bad for your health. In fact, sitting has become widely known as "the new smoking." Of course, this refers to the wider car-commuting, desk-bound, TV-watching lifestyle—rather than the simple act of sitting—but you get the idea.
As a reader of ADAPT Network, you're probably active outdoors as much as possible. However, when you add up all of the hours that you spend sitting down each week, the results can be quite alarming. Thankfully, small changes to this lifestyle can make a big difference to your health.
Standing desks are one way in which desk work is becoming healthier. But, these have been around for a while. Now, surfing desks are all the rage.
Surf your desk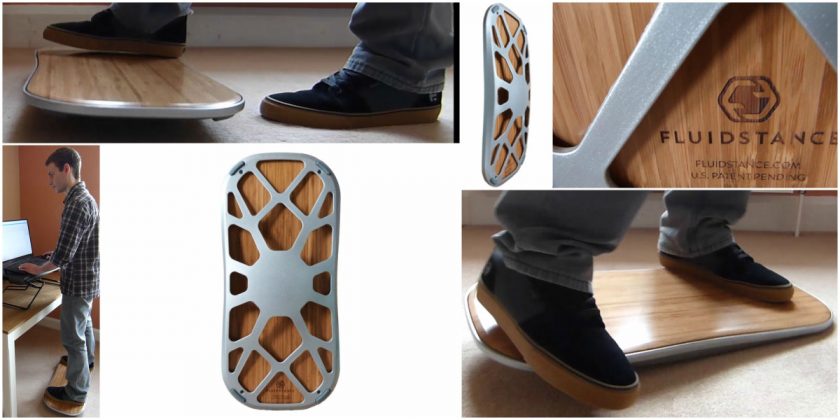 The FluidStance Level is a balance board designed to bring motion to any standing desk, or indeed any activity that you would normally do sitting down—like playing a video game.
The board is beautifully crafted from a choice of three different types of wood, including bamboo and multi-ply maple (we tested the bamboo edition.) The deck is 26.5″ long by 12.2″ wide and is raised 2.5″ off of the ground by an aluminium framework, that is designed to provide an unstable platform to promote three-dimensional motion. When not in use, the board can be placed against a wall or on a stand (that can be purchased separately)—either way, the bamboo deck looks super stylish and added a nice design element to my office space. Check out the 360° view below:
In order to find the perfect balance (pun intended) between ease-of-use and movement, the California-based company conducted a series of studies. The results showed that when using the FluidStance Level, the range of motion was extended and the user's heart rate was increased by 15% (12.2 beats per minute increase observed in third-party testing by Heeluxe Labs.)
I didn't test whether my heart rate increased, but I did find that while using the FluidStance I felt more relaxed, awake and was able to concentrate for longer periods of time. I'm actually writing this review while balancing on the board.
In order to create the unstable surface, the aluminium base is constructed into a convex shape—imagine a skateboard on which the four wheels and trucks have been swapped out for a single curved platform. This creates a central balance point that is really easy to stand on—after a while, I forgot I was even balancing and my body did it automatically. It's worth mentioning the importance of keeping your knees slightly bent in order to promote micro-movements and a relaxed posture.
I surf and skate regularly so the learning curve was non-existent, but I'm confident that most people could step onto a FluidStance Level and feel comfortable within a few minutes. It's also possible to decrease the balancing difficulty by moving your feet towards the centre—so even those that struggle with balance can benefit from using the board.
The balance board is designed for most floor surfaces, but it's worth using a mat before giving it a spin on a hardwood floor. It can be used without shoes, but the surface is slightly slippery when just wearing socks. A number of accessories, including floor and deck mats, are available to suit your specific workspace—so there are really no limitations here.
Original, Level and Plane models
The cheapest Level retails for $289/£225. The bamboo edition that I tested is $389/£300, while the original handmade version will set you back $489/£380. While that's not exactly cheap, you are getting something that's clearly been built as a premium product with no shortcuts and a lot of work has gone into the R&D process to get the dimensions and balance point dialled-in:
For those looking for a cheaper option, FluidStance has now released the Plane model, priced at $189.00/£150. This is the little brother to the category-creating Level. It offers a similar ride in a tighter eco-friendly package, at 24" long x 12" wide x 2.5" tall, and is composed of 100% post-industrial recycled materials. It's an excellent use of materials that are otherwise destined for landfill and makes a great lightweight balance board for gaming and TV viewing.
Away from the desk
Being a skateboarder, standing on the FluidStance Level felt very natural and I couldn't help play around with the board and throw a few tricks. The large surface is burly enough for a 250-pound user but easy to manoeuvre when you want to. I found that throwing a shuvit after finishing a particularly hard work-task was strangely rewarding—but then, maybe that's just me.
The board also makes a great exercise and yoga companion, enabling you to make your workouts tougher. If you're looking for a quick 5-minute break from work, FluidStance also has the perfect "desk yoga" video:
Don't forget to check out our recent review of the Varidesk Soho, designed to convert your existing desk into a standing desk: Varidesk Soho – Convert any desk into a standing desk
Verdict
The FluidStance Level will change the way you work. I felt more relaxed, alert and awake, when working with it, and the health benefits speak for themselves. Most people will find it easy to use but there is scope to have fun and use it for harder balance training. The bamboo edition is beautifully crafted and adds a cool design element to your office space. Only the price stops the FluidStance Level from getting 5 stars.
Pros
Premium materials - built to last
Beautifully crafted - super stylish
Easy to use
Does it's job well - feel more relaxed, alert and awake
Fun
4.5
Changes the way you work