It's no secret that sitting at a desk for long periods of time can be bad for your health. In fact, sitting has become widely known as 'the new smoking'! Of course, this refers to the broader car-commuting, desk-bound, TV-watching lifestyle—rather than the simple act of sitting—but you get the idea.
Still, with more of us than ever working, at least some of the time, at a desk and increasingly from home, it's a good idea to reduce the amount of time we spend parked in a seat. Studies have also shown, though, that standing for too long is no better; putting excessive force through the knees, hips, thighs and ankles. So, what's the solution?
Well, simply put, maintaining any static position throughout the day isn't good. Our bodies have adapted to suit more movement. And, this is the guiding principle behind Fully—the Portland-based office furniture brand that specialises in bringing more movement to home office setups.
Fully's flagship Jarvis standing desk has received rave reviews over the last few years, thanks to its high build quality and visual aesthetics. Until recently, however, those on a particularly tight budget have had to look elsewhere. That's why Fully launched the Remi standing desk, with an aim of providing the same great feature-set to the budget-conscious.
Fully Remi standing desk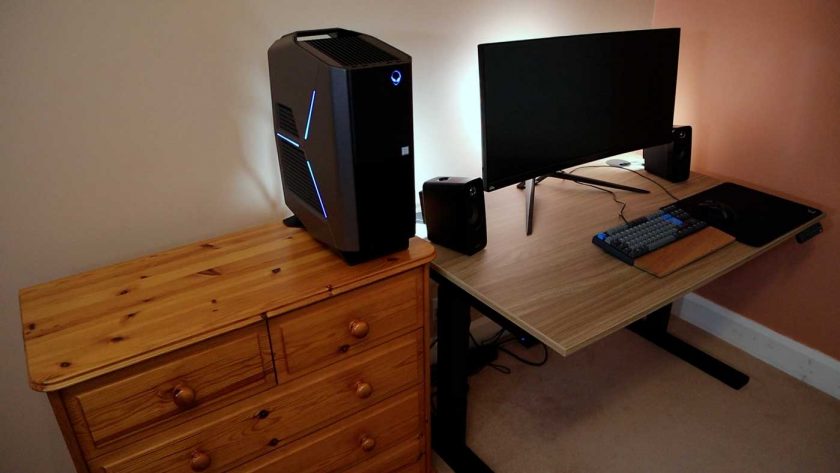 Starting at just £499.00 (UK) / $479.00 (US), the Remi is about 15% cheaper than a similarly specced Jarvis. Impressively, Fully hasn't just taken the easy route and removed a motor in order to achieve this saving. Like the Jarvis, each lifting column on the Fully Remi standing desk has its own dedicated motor to provide a powerful, smooth, and stable lifting operation. Instead, Fully has taken a much more considered approach, excluding some of the extra bells and whistles found on the Jarvis, without sacrificing core features and functionality.
For example, the Remi has much fewer customisation options. You can currently choose between three laminate desktops (black, white and oak) and two desk frame colours (black and white). Since the initial launch, Fully has added a bamboo desktop version, for an extra £20 (UK) / $50 (US), but hardwood is still reserved for its premium offering.
I opted for the oak laminate desktop paired with the black Fully Remi standing desk frame. I think this combo works really well together, with the lighter oak tones highlighted against the darker shades of the rest of my setup.
Assembly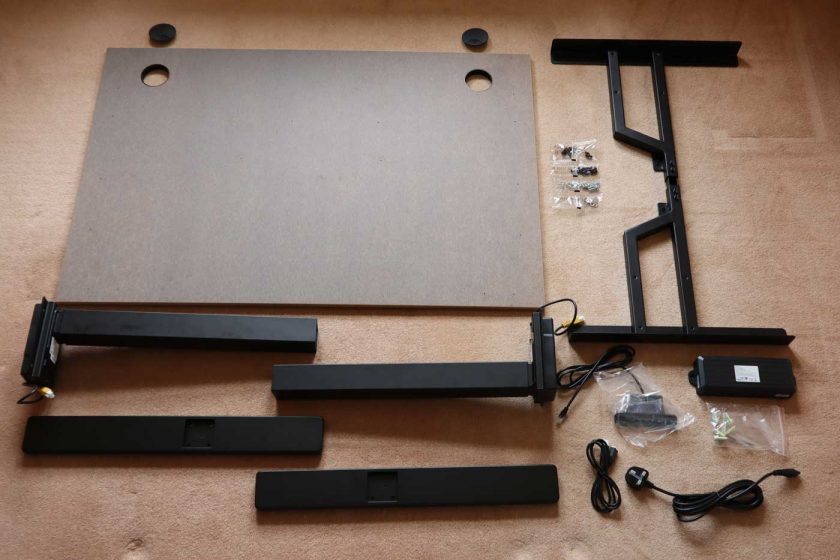 Assembling the Remi is a breeze and takes less than an hour. It comes well-packaged in three boxes, that are 100% recyclable and EPE-free—a nod to Fully's environmental commitment as a certified B Corporation. While a hex key is included, you'll need to have a Phillips-head screwdriver on hand and an extra person to help you flip the desk once complete.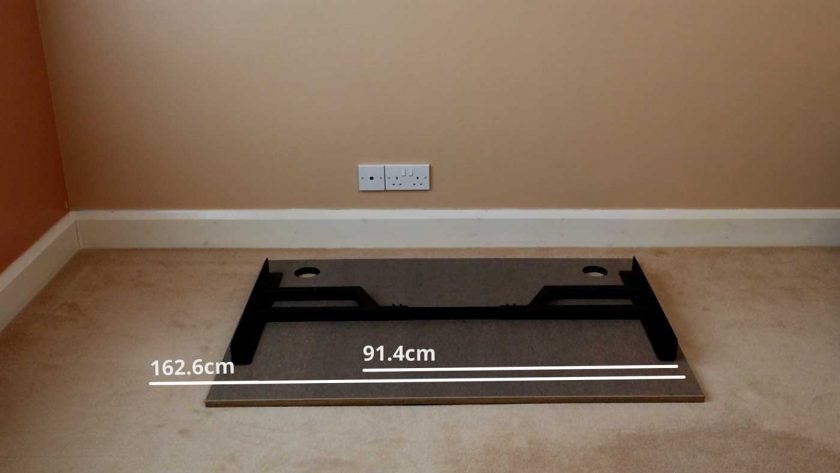 The instructions are easy to follow, but if you need a little extra help, Fully has a useful step-by-step guide on its YouTube channel (check out my article or description below for a link to that video). The desktop comes pre-drilled with pilot holes, so all you need to do is extend the desk frame to match your chosen desktop, line these up, and then tighten down the included wood screws by hand. For those using a custom-sized desktop, the frame extends from a minimum width of 91.4cm to a maximum width of 162.6cm.
Next, lock the desk frame by tightening the pre-installed set screws and attach the two lifting columns. It's here that you really appreciate the level of precision Fully has deployed in the manufacturing process. Everything slots together perfectly, with very narrow margins, to ensure a flex-free fit. The two feet bolt on next—which include levelling glides for uneven surfaces—and then it's time for the electronics.
Again, the included instructions are very clear, so simply follow them step-by-step and you should have no problems. First screw in the handset to either the left of right side of the desktop, depending on your preference. There are pre-drilled holes on both sides to help with placement here. Then secure the control box, using the same process, and connect the two lifting motors, along with the handset, using the included cables and cable diagram.
Cable management
You can start thinking about cable management here if you like. However, I'd recommend waiting until you have the desk flipped over and all of your computing equipment in place. On that note, the Fully Remi standing desk weighs just 45kg or so, once assembled, so it's fairly easy to manoeuvre into your workspace.
To combat the inevitable cable clutter, Fully has included five adhesive-backed cable clips. These are big enough to hold a sizable section of bunched-up cable and stick equally well onto the frame or the bottom of the desktop; giving you maximum freedom to adjust your cable management strategy to suit your particular setup.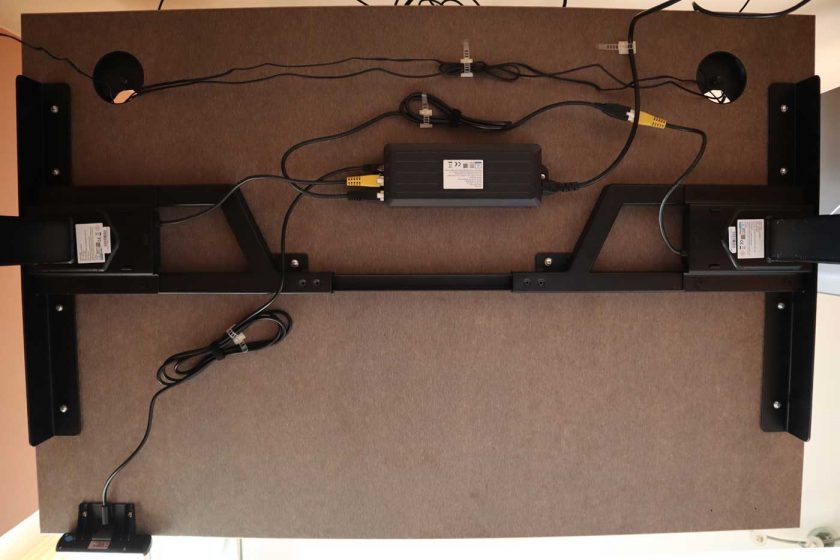 After some trial and error, I ended up using four of the cable clips in combination with a few velcro cable ties. I also utilised the thicker power cable to secure the motor cable extension. I found that this worked really well, so hopefully that gives you some ideas on what you can do.
Another tip is to take advantage of the two desk grommets to hide unsightly wires. Like the desk frame, these come in either black or white, giving you the option to match or contrast them with the desk. Fully also provides powered grommets for an additional £39 (UK) / $39 (US). However, for my setup, the regular grommet covers enabled me to run my speaker cables underneath the desk to minimise wire wreckage.
Cable tray
For those looking for an ultra clean setup, Fully can supply a cable tray or cable tray kit. This screws directly into the bottom of the desktop, with enough space to hold a surge protector and extension lead. Since this is an optional extra, though, there are no pre-drilled pilot holes. So, you'll probably need a power drill to mount it.
Design & build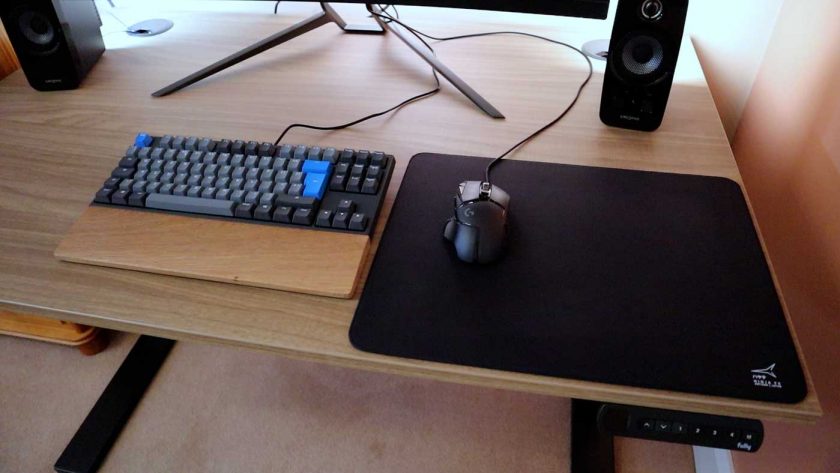 Manufactured from a minimum 84% pre-consumer recycled wood fibre, the desktop itself is really well made, with a beautiful wood grain. It's clear that Fully hasn't cut any corners in terms of craftsmanship. The 120 x 80cm size fits perfectly in the corner of my room. But, if you need something even smaller, the Remi also comes in a 100 x 80cm version—something that's not even available in the Jarvis range.
The all-steel frame feels really solid and, along with the two lifting columns and feet, is professionally powder coated in matt black. Again, the finish is flawless; there are no exposed sections and all the welding is really neat. Also, the strengthening gussets and feet have pleasantly rounded corners, which is a nice change from the more abrupt edges that you sometimes see in other budget height adjustable desks. There are even pre-installed rubber spacers to protect the underside of the desktop from scratches.
Unlike the Jarvis, the Remi desk frame relies on a single supporting beam for structural rigidity. In use, I found it to still be reliably stable. Though, due to the nature of particleboard, you may find that there is a very slight curve in your desktop. According to Fully, this is quite common, especially in larger-sized laminate. And I found that securing the frame in place somewhat reduced this. However, I do wonder if the double crossbar design and denser MDF core of the Jarvis would do an even better job here.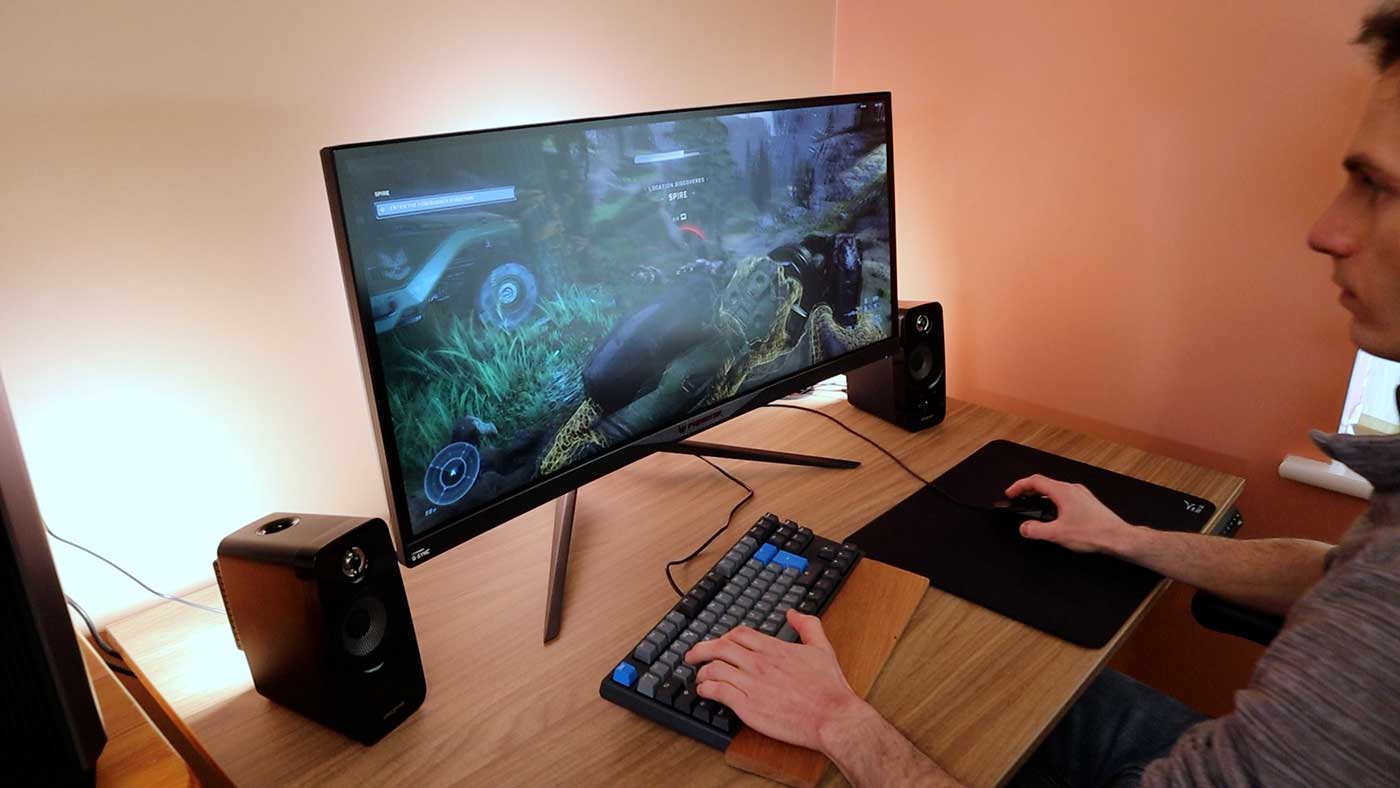 In any case, it hasn't affected my use of the desk in any way. I've been using the Fully Remi standing desk for about six months now, and the desktop has held up to everything I've thrown at. The surface is super smooth for writing and I don't notice any surface variations when using precision mouse movements during gaming.
Memory handset
Before you start using the desk, you'll need to perform an initial calibration to sync up the electronics. This is really easy to do and just involves a few taps of the down button on the handset. If you're like me, you can also adjust the height readout so that it's 100% accurate and switch between inches and cm to suit your preference. This process isn't quite as intuitive, but the included handset guide is easy to follow and will take you through each step.
Once you've saved these settings, using the handset is simple. By default, holding the up or down arrow will raise or lower the desk, until you release the button. A quick tap will move the desktop by about 0.3cm, which allows you to dial in your preferred desk height using fine adjustments.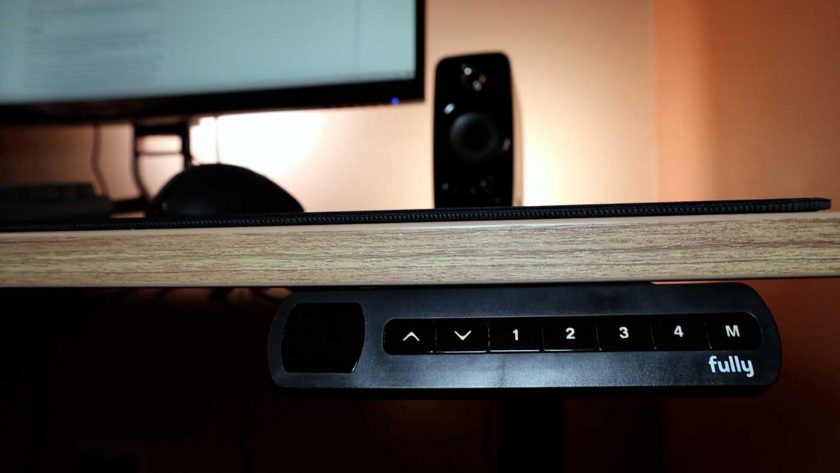 Instead of the new OLED handset that comes with the Jarvis, the Fully Remi standing desk still ships with an older model, that relies on physical buttons. However, it's the same version that used to be used on the Jarvis, before it was upgraded two years ago, and has exactly the same feature-set.
The memory function enables you to save four preset heights to the corresponding number buttons. This is great if multiple people are using the desk and need to make quick adjustments to match their height. However, as an individual user, I found the four presets particularly useful to bind my favourite working positions.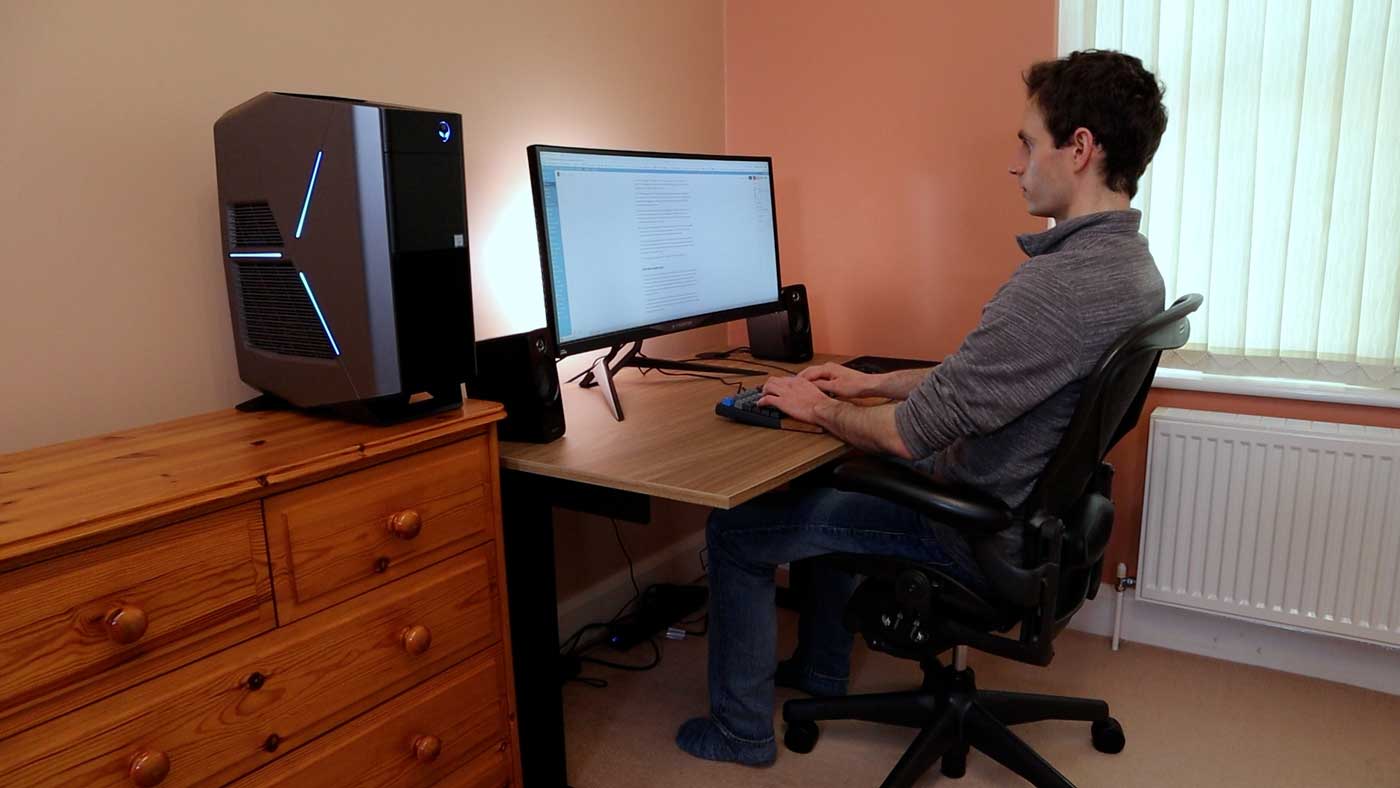 I'm in the rather fortunate position of having access to two good quality ergonomic chairs: the Herman Miller Aeron, which has been my go-to office chair for several years, and the HÅG Capisco, which Fully was kind enough to send me to test out alongside the Remi standing desk. Each chair has a different sitting position, with the Aeron supporting a lower recline and the Capisco promoting a more upright perch. And, while I recognise that this might not be relevant to most people—who just use one chair—I've found that swapping between the two sitting positions has similar benefits as switching between sitting and standing. So, I've currently assigned the first two preset heights to match. The third preset is set to my regular standing height, and the fourth takes the desk up even higher so that I can use the Fluidstance balance board, that I reviewed a while back.
Overall, I've been really impressed with the functionality of the Remi. Sure, the handset might not be as flashy as the top-of-the-line model, but perhaps it's actually more reliable. I've heard some reviewers comment on the occasional lack of response from newer touch button handsets and I've had no such problems with the physical buttons on the Remi.
Safety features
It even has extra safety features that you wouldn't normally expect in a budget standing desk, such as anti-collision. This works in exactly the same way as the Jarvis, with an inbuilt accelerometer cutting the motors if the desktop runs into an object above or below it. For extra peace of mind, you can manually set a minimum and maximum desk height to prevent any issues when placing drawers or a filing cabinet.
The Remi can also be locked to prevent curious kids or pets from pressing the buttons on its keypad. Unlike other handsets which use a combination of keys to lock a desk in place, you just need to hold down the 'M' button for several seconds to engage the child lock, so it's easy to do in a rush.
Height adjustability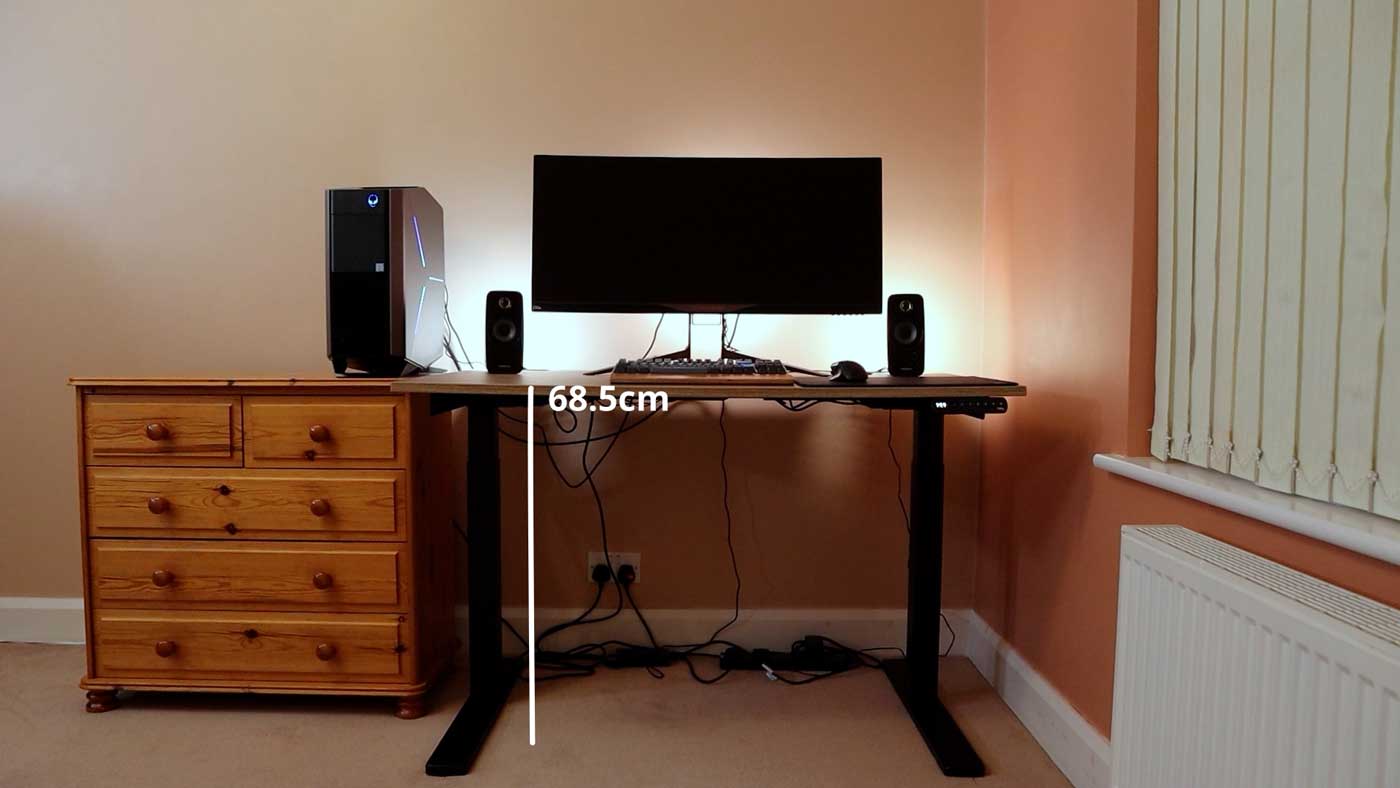 Unlike the Jarvis, which can be upgraded with three-stage actuators, the Fully Remi standing desk can only be purchased as a two-stage version. However, with a minimum height of 68.5cm and a maximum height of 117cm (desktop included), it offers a more useful range than the default Jarvis frame and is suitable for most people. That being said, based on Fully's own recommendation and my personal experience, I would say that people shorter than 5ft 6 inches (170.8cm) would probably need to use a footrest when seated. Alternatively, they may want to opt for the Jarvis with a three-stage frame.
The twin 144W motors have a huge lifting capacity of 113kg; far more than you'll ever need, even for a heavy desktop and multi-monitor setup. And, with an adjustment speed of almost 3cm per second, it doesn't take long for the desk to catch up with you when you decide to stand up.
Even though the lifting motors are quite powerful, the Remi is still a very energy efficient sit-stand desk. In my testing—with a little over 10kg resting on top of the desktop—I measured the power draw to be around 100W, when raising the desk, and just 60W, when lowering it. The handset pulls a measly 1.5W, when engaged, but as soon as the LED display turns off, the power consumptions drops to pretty much zero! So, using the Remi won't put any additional strain on your electricity budget.
If you're sharing your office space, then there's no need to worry about whining motor noise either. I measured an average operating noise level lower than 50dB, which is less than the 53dB stated by Fully. For reference, that's about the same as a quiet conversation. Plus, in most cases, the motors will only be engaged for about 10 seconds at a time, anyway.
Fully Remi standing desk: In use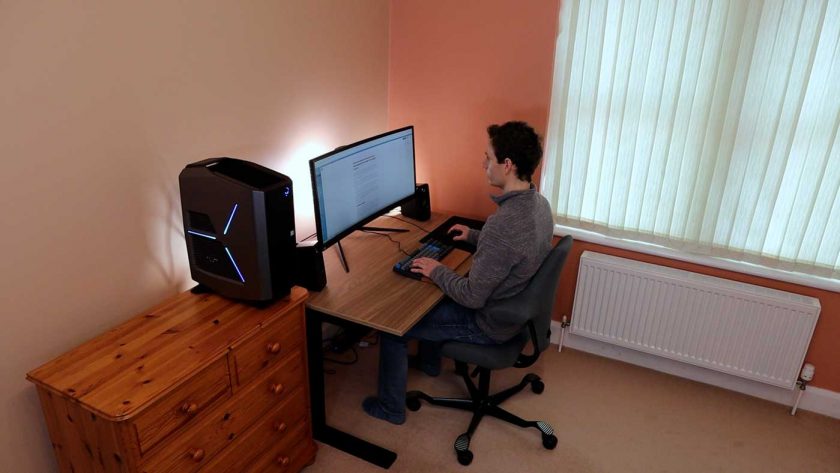 It might sound cliché, but the Fully Remi standing desk has truly changed the way I work. The huge ergonomic improvements this desk has made may be slightly inflated because I switched straight from using a dining room table as my desk. However, I don't think I can ever go back to using a static desk again—at least for my main setup.
Previously, I had to regularly rest my feet on the base of my chair because my desk was a little too high for me. Using a footrest was another option, but the table frame often pinched the top of my thighs, so I always found myself in a compromised position.
Switching to the Remi immediately fixed both of these issues. I can now lower the desk to the point where I no longer need additional foot support. And, if I want to change to a more reclined position using a footrest, there's ample clearance for my legs thanks to the 2cm thick desktop and interference-free frame. For shorter people, even though the Remi may not go low enough for them to touch the floor, they can easily dial in the perfect desk height to work with their chosen footrest.
To achieve the right balance throughout your workday, a good rule-of-thumb is to use the '20-8-2 rule'. Basically, within any 30-minute period, the suggestion is to sit for 20 minutes, stand for 8 minutes and do some light exercise for 2 minutes. To help with this, I've been using the Varidesk Soho (now Laptop 30) desk converter over the last few years. It's a great option for laptop users in small spaces, but these days I usually rely on the extra power of my desktop PC for better productivity and to render videos.
The beauty of a standing desk, compared to a desk converter, is that it lifts your entire setup. While I have been able to use the desk converter to work while standing, my monitor stand does not go high enough to match. So, I've been left in another unergonomic position with my head facing downward. And, while you can get desk converters to lift your monitor as well, these tend to significantly raise the height of your desk when lowered, which is not ideal.
Stability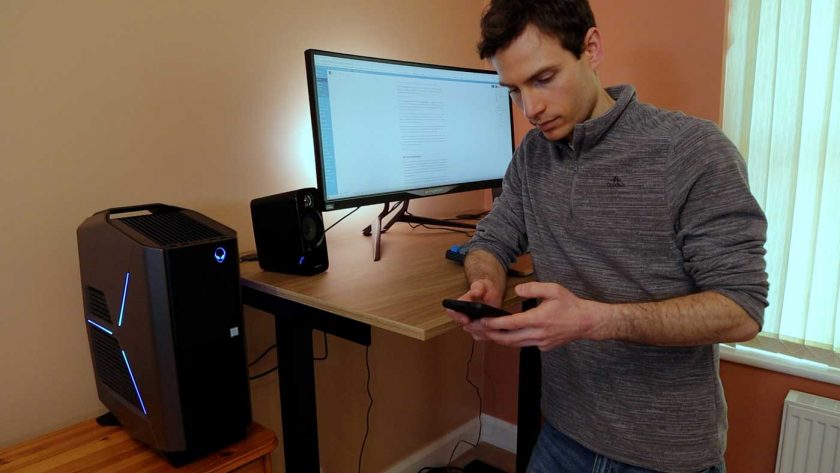 Thanks to the soft start and stop feature, the Remi is buttery smooth in motion. So, your full cup of coffee is safe from any spills. Like most adjustable height standing desks, the Remi relies on two 'T' shaped legs, with large 68cm feet for stability. While this design is never going to be quite as stable as a desk with four legs, I've been really impressed with the Remi's performance here.
In a low sitting position, the desk is rock solid and just as stable as the wooden dining table I used to work on. The strengthening gussets of the frame do a brilliant job of supporting the entire desktop. So the desk is perfectly balanced even when positioning heavy equipment at the front of the desk. This is particularly useful for me when testing out different sim racing rigs and wheel stands. Here, the Remi works really well as an alternative to a dedicated monitor mount; the height adjustability enables me to line up the monitor with the sim racing rig and dial in a more realistic field of view.
At my regular standing height (around 100cm), the Remi remains sturdy and planted. If you physically push the desk, there is a slight wobble. However, it's still reliably steady during normal use. The same can also be said at higher settings, even when doing desk pushups or dropping a few dance moves to your favourite tunes. Incidentally, these are both great ways of introducing more movement into your routine.
Fully Remi standing desk: Final thoughts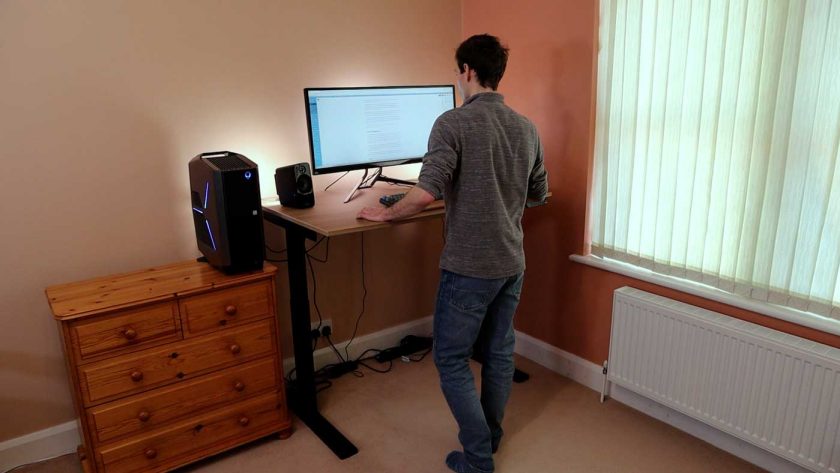 Using the Fully Remi standing desk over the last six months has been an absolute joy. At first, simply having the ability to switch between sitting and standing, at the push of a button, made a huge difference to my comfort throughout the day. If you've never had a standing desk before, then this might not sound like such a big deal, but I've found that it's vastly improved my mood and productivity.
As I spent more time with the Remi, though, I began to appreciate less obvious benefits of having a height adjustable desk. Being able to dial in the perfect sitting height, for example, means that I don't need to rely on a footrest. And, even varying the desk height by a couple of centimetres can be enough to alleviate any built-up muscle tension from sitting for too long.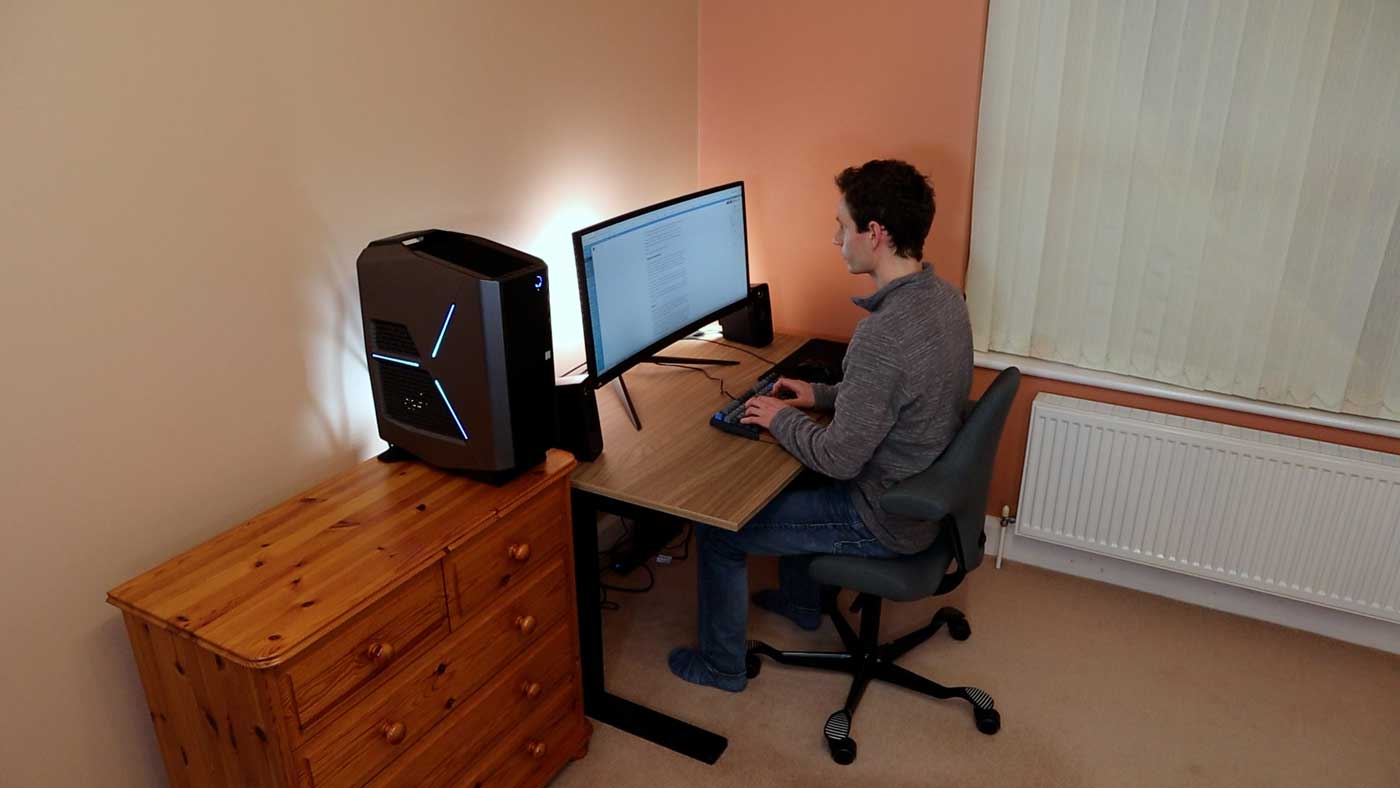 On that note, I've found that experimenting with different desk heights is really beneficial. If I need to do some quick social media or graphic design work on a tablet, then I now like to lift up the desk into a higher position, like a breakfast bar, to support my elbows. Pairing the Remi with a sit-stand chair, like the HÅG Capisco, will unlock even more options—enabling you to work in a half-standing position as well.
At this price point, I guess I would have to call the Remi an affordable adjustable height desk, rather than a budget one. But, then again, I think that's what Fully was going for. You bag a nice saving over an equivalent Jarvis, without sacrificing core features and functionality.
For people of medium height—between 5ft 6 inches (170.8cm) and 6ft 4 inches (193cm)—the Remi's two-stage frame is perfect. The oak laminate desktop, that I tested, is well made and sturdy enough to withstand anything you can reasonably throw at it. Paired with the black desk frame, the end result is an understated, yet stylish combo that fits in with most decor.
So, if you're looking for a feature-packed height adjustable standing desk on a limited budget, then the Fully Remi is a fantastic option. And, if you have a little more to spend and want something with a bit more flare, you can always upgrade to the bamboo desktop.
Verdict
The Fully Remi is better described as an affordable adjustable height desk, rather than a budget one. You bag a nice saving over an equivalent Jarvis, without sacrificing core features and functionality.
Pros
Solid build quality
Powerful twin motors
Memory handset has same features as the Jarvis equivalent
Quiet and energy efficient
Two-stage frame has a more useful range than the Jarvis equivalent
Perfectly stable in normal use
Affordable price
Cons
Minimum customisation options
Slight curve in desktop
Shorter people may still need to use a foot rest
4.5
Affordable feature-packed standing desk