GoPro has announced the latest model in its action camera lineup—the HERO8 Black. While the name may be nothing to shout about, the Californian company says that it's "the most versatile + unshakable HERO camera ever."
GoPro HERO8 Black design and features
Aside from the lens not protruding as much, the HERO8 Black looks very similar to its most recent predecessor, with rounded corners and a sleek black finish. But, under the hood, there are a lot of little changes that will prove useful when shooting footage out in the field.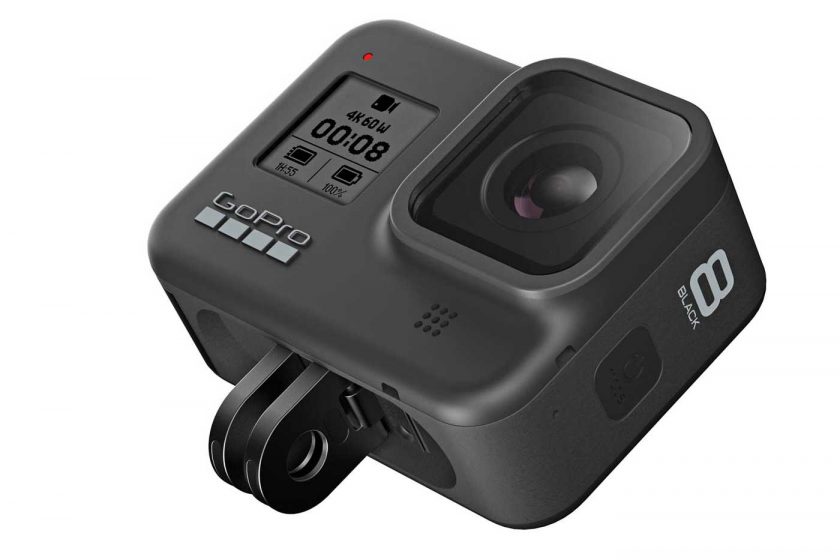 The new integrated mounting system means that the HERO8 can be attached to any GoPro mount, without requiring a housing of any kind. The recognisable mounting fingers are now integrated into the body. They sit flush when not in use (held in place by magnets) but snap down when you want to attach the camera to a mount.
Like the previous model, the HERO8 Black is waterproof down to 33 ft (10 m). What about durability? Well, GoPro says it made the lens glass twice as hard as the HERO7 Black, so it shouldn't need to be replaced. Say goodbye to those clunky old waterproof cases then; the HERO8 is rugged and waterproof straight out of the box.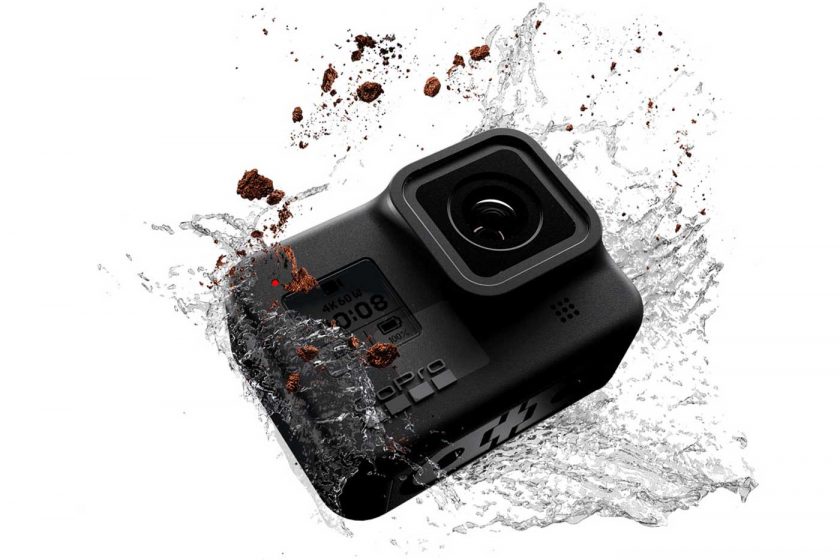 The HERO8 Black is also the first GoPro camera in years to use a new battery. It's the same shape and capacity as the old one, but it's more powerful; the new camera can draw power out of the new battery at a faster rate in order to help with some of the most intense shooting modes.
On that note, GoPro has updated the firmware to take advantage of the new battery power. The star of the software show is the new version of HyperSmooth: the digital image stabilisation feature that made its debut on last year's HERO7 Black. With HyperSmooth 2.0, GoPro has pushed the envelope even more; footage stabilised with HyperSmooth 1.0 looks almost jittery by comparison.
GoPro has also built in more control over HyperSmooth, with the ability to set it to 'high' or even turn on a 'boost' mode that crops the frame even tighter for extra-stable footage. Best of all, though, HyperSmooth is now available in all shooting modes—and, there is no shortage to choose from.
The HERO8 Black shoots 4K footage at up to 60 frames per second, including at 100 Mbps bitrate for the first time ever. It will shoot 240 frames per second at 1080p for super slow-motion footage and it can live stream at 1080p, up from 720p on the HERO7 Black.
To prevent users from being overwhelmed by all of these resolution and frame rate options, GoPro has added a 'presets' drawer that users can access with a quick swipe of the finger. The camera ships with four already dialled in, but they can be easily tweaked, and the camera can store up to six more (for a total of 10).
On the photo side, the HERO8 Black captures 12-megapixel snaps, and users can now shoot RAW photos in time-lapse and burst modes instead of just in regular photo mode.
GoPro HERO8 Black 'mods'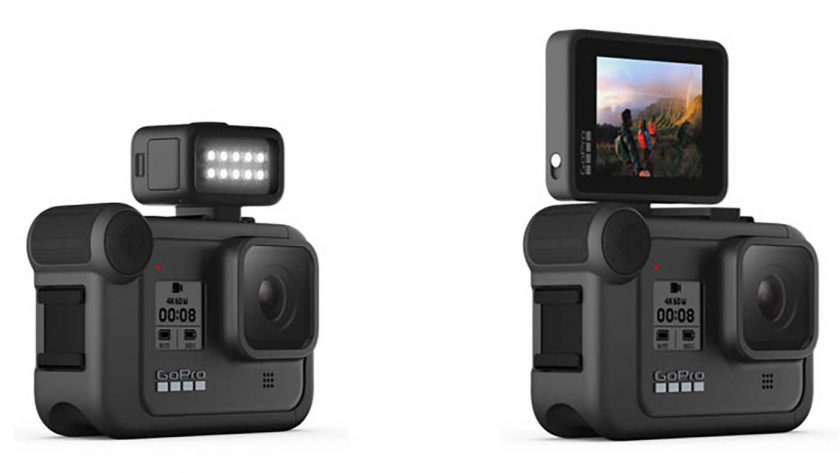 One of the most surprising announcements from the launch is the optional add-on modules which will let users tack on accessories. Currently, there are three available for preorder in December:
a shotgun microphone for improved audio (£80)
a flip-up screen, allowing self-shooters to frame themselves (£80)
a small light to help in dim conditions (£50)
The 'Media Mod' looks somewhat like a bulked-up version of the 'Frame' housing GoPro has sold for the last few years. It contains a small, integrated shotgun microphone, and has USB Type-C, HDMI, and 3.5mm ports all built in, as well as two cold-shoe mounts for attaching accessories, including the two other mods GoPro announced today.
The 'Display Mod' is a 1.9-inch screen that attaches to the top cold-shoe mount and plugs into the Media Mod. It rests flush against the back of the HERO8 Black, but can flip up to help frame up a selfie shot. Then there's a waterproof 'Light Mod' that can get as bright as 200 lumens.
Both the Display and the Light Mods have their own internal batteries, meaning they won't drain the HERO8 Black's battery. GoPro says it believes there will be interest in the Light Mod as a standalone product because of its power, size, and build quality. These three add-ons are clearly aimed at vloggers, but there are plans to release other mods in the future.
GoPro mobile app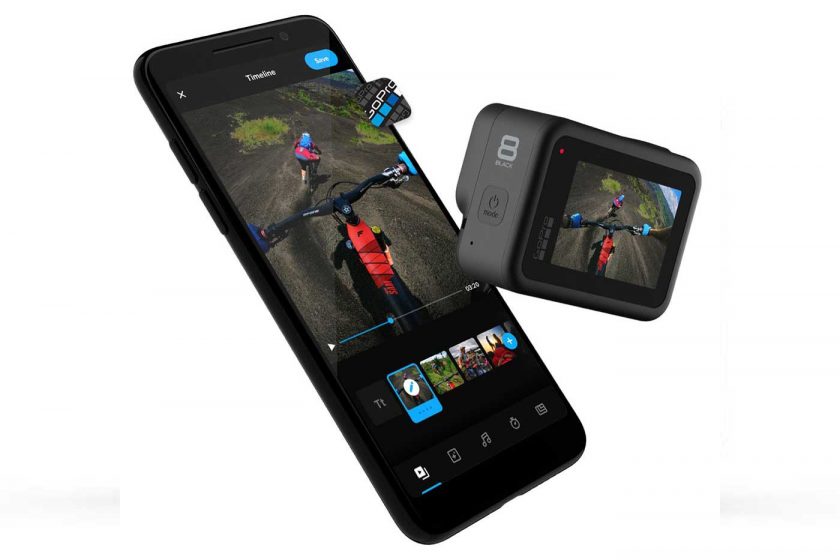 Last but not least, GoPro has once again overhauled its mobile app. It recently combined its Quik editing app with the main camera connection app to create a one-stop-shop that does pretty much everything. GoPro calls it the "biggest software initiative we've had since we've had a mobile app."
Availability
In an effort to fight off increasing competition from the likes of DJI and persuade users that they need a more powerful camera than their smartphone, GoPro has packed a lot into the price point of £380 (UK) / $400 (US). With vlogger-specific features and a more streamlined user experience, the brand has clearly tried to expand their userbase with the HERO8 Black.
Whether this new direction will prove to be a success for GoPro remains to be seen but the HERO8 Black is available for preorder today, 1st October, and starts shipping on 15th October. It will sit alongside GoPro's new £480 360-degree camera, the Max, and the HERO7 Black, which has dropped in price to £320.