When you think of a phone charger, what comes to mind? A boring-looking cube with a single USB port, right?! Chances are you've collected a few of these over the years and they now sit in a drawer somewhere collecting dust. Sound familiar?
GravaStar Alpha65 GaN charger
GravaStar, a brand specialising in collectable tech, aims to change this perception with the Alpha65 GaN charger. This little guy is a 65W power adapter with a 'mecha' personality. Designed to look like a handheld Japanese robot, Alpha65 adds a touch of futuristic flair to your desk or bedside table. So, it's not something you'll want to hide away when not in use.
Design & features
The GravaStar Alpha65 retails for $49.95 (US) and features a classic white shell contrasted with clean red and grey accents. For an additional $10 (US) you can pick up a special 'war-damaged yellow' edition that's ideal for modern gaming setups.
Depending on the option you choose, the robot charger comes with either a US plug or a UK & EU plug. Being based in the UK, the latter option provides the added benefit of being able to use the Alpha65 as a travel adapter throughout mainland Europe. The plugs simply slide onto the base and can be easily swapped out. The device itself is universally rated for 110-240V at 50/60Hz. So, it would be nice to see a package that includes all three plugs for use as a worldwide travel adapter.
When in use, Alpha65's eyes light up in neon blue and its two adjustable legs tuck in to sit flush with the power socket. Off duty, the little robot can be positioned in three different standing positions. Its magnetically attached antenna 'ears' can also be freely rotated; so it also functions as a fun desk toy when you need a quick mind break.
Specs & charging performance
Don't let its cute exterior fool you, though. Under the hood, the GravaStar Alpha65 packs a GaN-powered punch! With two USB-C ports and one USB-A port, the miniature 'mecha' can charge three devices at once—with a max output of 65W.
What I really like here is the wide range of charging protocols that the Alpha65 supports. The two USB-C ports support QC3.0, PD2.0, PD3.0PPS, Apple5V/2.4A, BC1.2, AFC and FCP. While the USB-A port supports QC2.0, QC3.0, Apple5V/2.4A, BC1.2, AFC, FCP and Samsung5V/2A. See the table below for details on the max outputs of each port.
| | | | | | |
| --- | --- | --- | --- | --- | --- |
| USB-C1 (65W) | 5V/3A | 9V/3A | 12V/3A | 15V/3A | 20V/3.25A |
| USB-C2 (20W) | 5V/3A | 9V/2.22A | 12V/1.67A | | |
| USB-A1 (18W) | 5V/3A | 9V/2A | 12V/1.5A | | |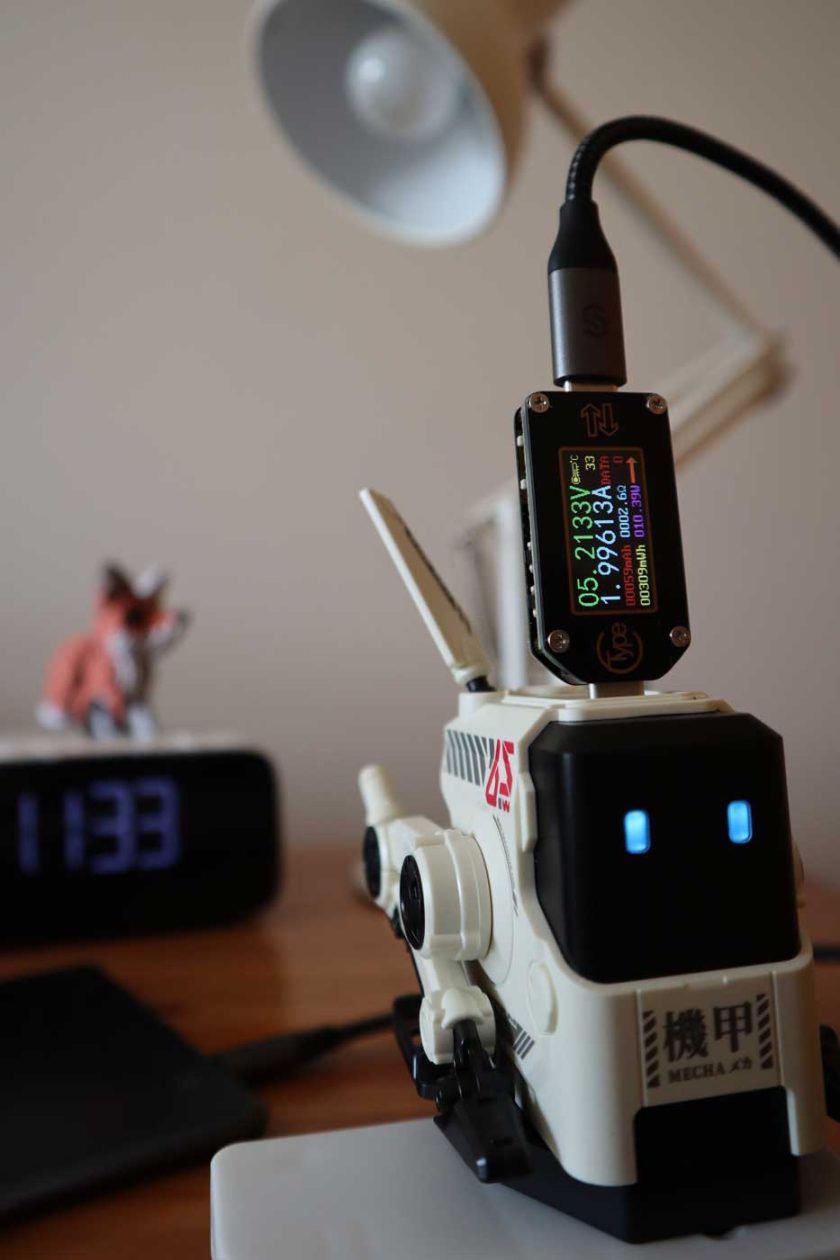 During my testing, I was able to fast charge my Google Pixel 4a at about 15W, with a voltage of 9V. While this phone supports PD charging with a maximum input of 18W, the Alpha65 still charged the device faster than my Anker 45W PD charger. I was also able to charge my older Lenovo Tab 4 8 Plus at about 10W, with a voltage of 5V. This is something that my other Syncwire 30W PD charger can't do, as it lacks support for QC charging protocols.
Charging at higher voltages was less reliable, though. Both my Zendure X5, which accepts a max 45W input at 20V, and my Anker PowerCore Essential 20000 PD, which accepts a max 18W at 15V, did not accept a fast charge from either of the two USB-C ports. Instead, I had to either rely on the slower USB-A port, or use a down-rated USB cable to lower the input voltage to 5V. I think this may just be an incompatibility issue between the programmable power supply chip of the Alpha65 and these particular power banks. However, my other two PD chargers have no issues.
Still, with the wide range of charging protocols supported by the GravaStar Alpha65, you should be able to charge most devices; Apple iPhone, iPad, Samsung, Nintendo Switch, and many other devices are all compatible.
Final thoughts
Overall, the Alpha65 is a fun twist on the traditional phone charger. At a time when the environmental impact of 'tech trash' is becoming more apparent, it's nice to see a power adapter designed to be loved rather than forgotten about in a dusty drawer.
Taking advantage of the latest GaN, gallium nitride, technology means that Alpha65 packs a lot of power into its compact body, measuring just 8.5 x 6 x 6.2cm. At 128g, it's light too—ideal when using it as a travel adapter.
Unfortunately, you may find some incompatibility issues when trying to fast charge PD power banks. However, the wide-ranging charging protocol support still makes the GravaStar Alpha65 a useful addition to your desk or bedside table. Especially when you consider that the price is comparable to a regular power adapter.
GravaStar Alpha65 GaN charger
Verdict
Designed to look like a handheld Japanese 'mecha' robot, the GravaStar Alpha65 packs a GaN-powered punch—with a huge 65W max output. Some incompatibility issues with PD power banks prevent it from getting five stars, but it's still one of the coolest-looking power adapters I've seen.
Pros
Comparable price to regular power adapter
Can charge three devices at once
Support for most charging protocols
High 65W output
Fun as a desk toy
Cons
PD power bank incompatibility issues
Pin this post