Is protecting your financial information, passwords, and other personal information becoming a nightmare for you? You are not alone; personal data protection has become a priority in a world full of hackers and malware.
With the availability of information concerning personal data handling, you might be confused about what to trust, mainly if you are not tech-savvy. We will look at how personal data should be appropriately handled, but first, let's look at personal data definition and examples.
What is personal data?
Personal data is information that can be assigned to an identified individual. Personal data examples include Email address, home address, name/surname, location data, identification card number, cookie ID, an internet protocol, your phone's advertising identifier, data held by a doctor or on one of your phone games like King of Cards, and many more.
Are you aware that you have a right to have access to your data? Yes, you can make a personal data request from all sites that have that allowance. Feel free to request your personal information, and also, you can control to what extent you can share that information.
Tips to help you secure your data.
Backup your data
You may have overlooked backing up your data for some time, but it is time to embrace it. A backup will help you retrieve your data in case of a compromised or lost device. If you duplicate your personal/sensitive information, you will not worry when you lose your device. It might seem basic, but a regular backup schedule is the first step to protect your personal data.
Create strong passwords
You need to be creative when coming up with passwords so that cybercriminals cannot figure them out easily. Avoid using passwords like the date of your birthday, your name, or your contact number.
Consider combining both upper and lowercase letters, numbers, and also symbols. It is also crucial to change them often. Don't use the same password across various sites. Utilize a password manager tool to be on track with different passwords and not miss them out when you need them.
Always use a virtual private network
You need some privacy when using a public internet connection like public Wi-Fi or a coffee shop. This is where most people steal data or commit other cybercrime. With a VPN, you'll be sure of online privacy since it masks your Internet Protocol (IP) address. This means that no one can trace your online activities.
Don't over-share on social media
Always consider whom you share your private information with. You can do this by visiting your privacy settings and ensuring you know who can access your posts. Be cautious with information like your birthdays, location, hometown, or any personal details.
Turn off your computer
After your day's work, turn off your computer. Leaving your computer and internet on while not in use creates a window for scammers that can mess up your data through cybercrime.
Use a different search engine
Many web surfers use Google as their only search engine. If you are a victim, then for the sake of privacy, use anonymous search engines so that no one can access your clicks or search history. These search engines can also bar ad trackers from sites you visit.
Use quality antivirus software
Antivirus software is essential to your device because it keeps away hackers who can track your activities and steal your private information. It is also necessary to update your software to protect you from the latest viruses, malware, and spyware.
Use free Wi-Fi with caution
If you are not urgently in need of Wi-Fi, waiting a little longer to get to your office or home can save you a lot. Most public Wi-Fi networks are free, but they may not be secure.
Check to see if the site is secure
If you want to know if the site you are entering your private information is secure, check for a lock symbol and the URL at the top of the browser. It should start with 'https.' Alternatively, you can use the website's privacy policy, a 'verified secure' seal, or contact information.
Browse in incognito or private mode
If you don't want your private information to be seen, this private mode can help. Your computer will not save your cookies, browsing history, or temporary internet files. However, it is not very reliable because your ISP can still access your information. Despite the benefits, consider a backup plan.
Your personal data is crucial, and you need to safeguard it. Don't give attackers a chance to mess up with your privacy. You now have some light on how to protect your data. We shall be glad when you are protected.
Pin this post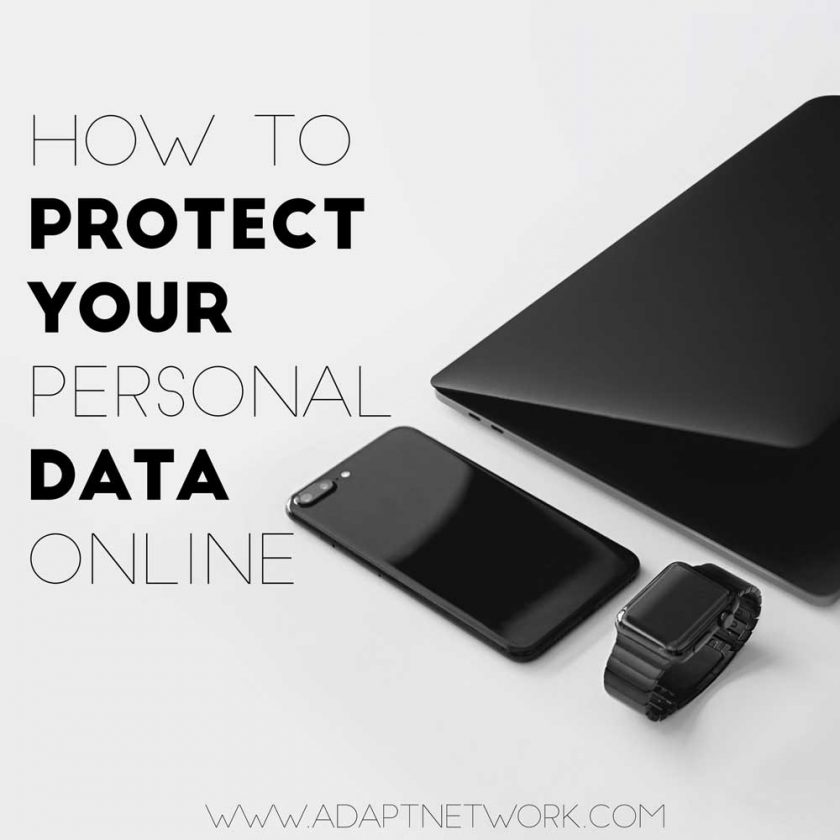 How else do you protect your data? Share your thoughts in the comments below.
Featured image: Created using photo from Julian O'hayon/Unplash