On 4 January, Panasonic announced the Lumix GH5, the latest flagship model of Lumix G CSC cameras. The new camera delivers a high-end, hybrid performance to photo enthusiasts and professional videographers looking to capture moments in 4K 60p / 50p video and 6K PHOTO.
The new Lumix
The Lumix GH5 is able to realise high-quality images with real-to-life detail through excellent resolution, image rendering and colour reproduction. Its new Digital LIVE MOS Sensor increases the pixel count by 25% compared to the GH4, from 16.05 to 20.3 megapixels, while also removing the low-pass filter.
The camera also comes with a new image processor Venus Engine, resulting in clearer, sharper textured images. With Intelligent Detail Processing, the characteristic of every single pixel is analysed to detect whether the pixel is located at a flat, detail or edge part of the picture. Optimum processing according to the characteristic of each pixel is then applied. This results in high-precision yet natural images with stunning detail suppressing false colours at its edges.
The camera also incorporates the 5-axis Dual I.S. (Image Stabiliser), which suppresses blurring in more powerful and advanced ways for both photo and video recording, including 4K video. Combining an O.I.S. (Optical Image Stabiliser, 2-axis) and B.I.S. (Body Image Stabiliser, 5-axis), it compensates for larger movements which were conventionally uncontrollable.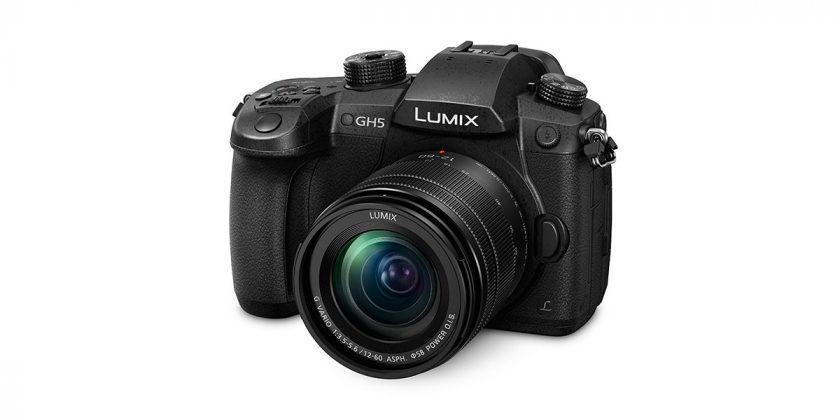 To be tough enough to withstand even heavy field use, the Lumix GH5's main structure is composed of a magnesium alloy, full die cast front/rear frame. Secure construction and the sealing of every joint, dial, and button makes the camera not only splash/dust-proof, but also freeze-proof down to -10º.
4K recording
Thanks to the improved signal readout speed and the new Venus Engine processes, this camera realises 4K 60p / 50p ultra high-definition, smooth, video recording for the first time in a compact system camera. It is also capable of internal 4:2:2 / 10-bit video recording, which is the colour sub-sampling commonly used for film production.
The high-sensitivity MOS Sensor and Venus Engine effectively suppress rolling shutter distortion and realise high-speed readout of full digital signals. This ensures an outstandingly high image quality for every single frame.
In addition, the focal length in video recording is kept the same as that in photo shooting (no cropping).
Other features
The Lumix GH5 comes with a newly improved Depth from Defocus and Contrast AF technology, which not only calculates the distance to the subject by evaluating two images with different sharpness levels, but also analyses the form, size and even motion of the subject comprehensively. Thanks to the new Venus Engine, the time for measuring the distance to the subject is 6x faster than its predecessor.
The new Lumix also has a large LVF (Live View Finder) with a stunningly high magnification ratio of approximately 1.52x / 0.76x (35mm camera equivalent). The high-precision, high-speed OLED display features 3,680K-dot high resolution and 100% field of view. Adopting a static-type touch control system, the 3.2-inch free-angle rear screen in 3:2 aspect with 1,620K-dot high resolution achieves approximately 100% field of view.