It's no secret that sitting at a desk for long periods of time can be bad for your health. In fact, sitting has become widely known as "the new smoking." Of course, this refers to the wider car-commuting, desk-bound, TV-watching lifestyle—rather than the simple act of sitting—but you get the idea.
As a reader of ADAPT Network, you're probably active outdoors as much as possible. However, when you add up all of the hours that you spend sitting down each week, the results can be quite alarming. Thankfully, small changes to this lifestyle can make a big difference to your health.
Standing desks are one way in which desk work is becoming healthier. But, many standing desk solutions can be expensive and take up a lot of space.
Varidesk Soho – Convert your existing desk into a standing desk
The Varidesk Soho is one possible solution. Rather than replacing your old desk, the Soho actually sits on top of your existing work surface, adding extra height so you can stand while working.
Varidesk, based out of Texas, has been at the forefront of the standing desk movement and specialise in designing solutions that allow users to easily switch between sitting and standing. The Varidesk Soho is their cheapest and most compact model, designed to be versatile and fit into most work spaces. You can pick one up for £150 (UK)/$175 (US). This may initially seem on the expensive side, but it's much cheaper than a full standing desk and, after using the stand for a few weeks, it's clear that a lot of thought has gone into the design and build.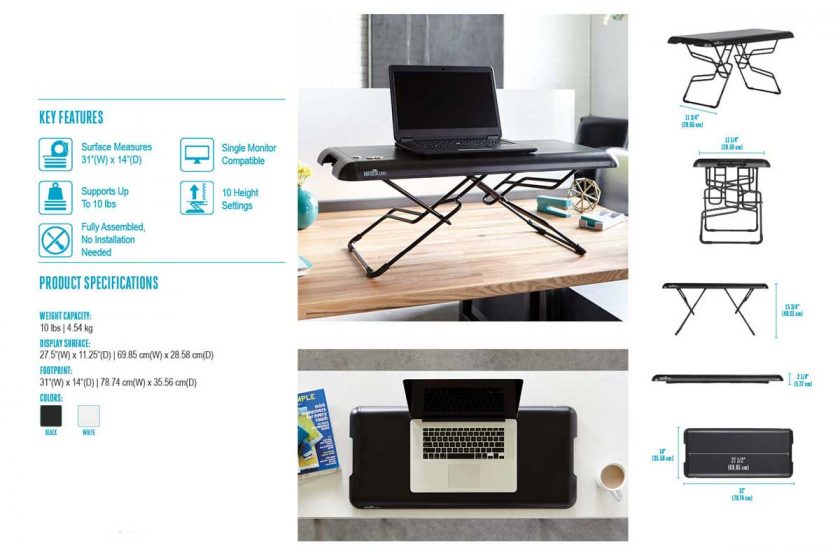 In its folded state, the Soho is quite compact so you can stash it away out of sight. The sturdy spring-loaded mechanism adds a bit of weight to the stand but comes in really handy when you want to lift it into a standing position. You simply need to pull the side tabs and guide it into position—most of the lifting is done by the high-tension spring. The stand then locks firmly into position at your chosen height, with ten different levels to choose between. At its full extension, the Varidesk Soho adds a maximum of 40 cm to your desk height. Sitting on top of an average desk, this should be high enough for most people. If you are particularly tall, a simple solution would be to place a book underneath the stands feet to raise the height even further.
The work surface of the Varidesk Soho provides ample room to accommodate a keyboard and mouse or a laptop and coffee cup, with a 70 x 29 cm work area to play with. The sides of the surface taper off, which creates a stylish finish that echoes the Soho's high build quality. However, this means that footprint is slightly larger at 79 x 36 cm. The Soho is a sturdy piece of kit and can support up to 5 kg, so even heavy gaming laptops can be easily accommodated.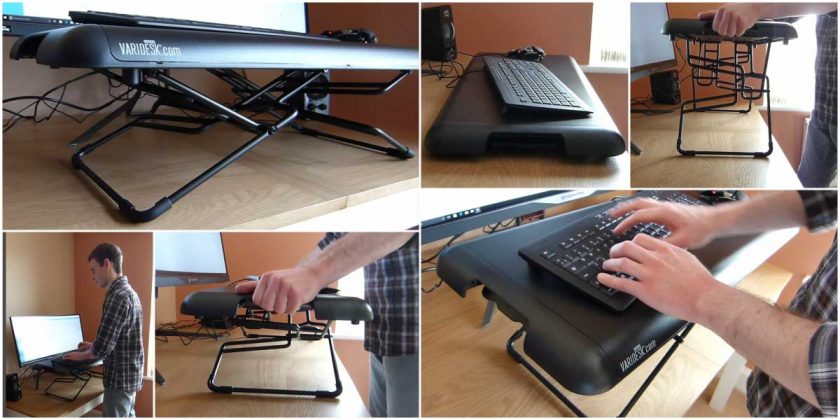 For this review, I tested the Varidesk Soho with my desktop—using it to raise my keyboard and mouse—and with my laptop. In both cases, the stand worked great and I found that there was ample room to manoeuvre my mouse around. The surface has a slightly rough texture, so that it doesn't attract fingerprints, but it's smooth enough for easy mouse movements. It's easy to accidentally knock a mouse off of the stand, so you would need to careful if you placed a cup of coffee on it. There's no problem with laptops and keyboards since they normally feature high-grip rubber feet.
Don't forget to check out our recent review of the FluidStance balance board, designed to add motion to a standing desk solution: FluidStance Level balance board – Surf your desk
Verdict
The Varidesk Soho is a great solution for those looking to convert their desk into a standing desk. It's really versatile and can fit into most spaces. It works well with a keyboard and mouse or a laptop and coffee cup, but you will need to be careful with items that don't have rubber feet. While you can get a cheaper stand, you won't find the same high build quality and the spring loaded mechanism is really appreciated.
Pros
High build quality
Compact – can fit into most spaces
Versatile – can accommodate up to 5 kg
Spring loaded machanism
Great textured work surface
Portable
Cons
Cheaper options available (not with the same features)
Need to be careful with items that don't have rubber feet