Zendure is best known for its comprehensive range of battery packs and power adapters. In fact, I tested out the pocket-sized Zendure X5 back in the summer. I was impressed with its charge capacity and USB hub features.
The ZenPods are the company's first foray into the audio market. And, while there's no longer a shortage of wireless earbud options, they're being launched at the same time that Apple removes bundled EarPods across the entire iPhone line.
What's more is that the Zendure ZenPods feature similar active noise cancellation (ANC) and transparency mode to the AirPods Pro, at a cheaper price point than the standard AirPods. They retail for just $119 (that's about £100 in the UK), but they're currently on sale for just $89.99.

So, how do they compare to Apple's offerings and are they worth picking up instead? Let's find out…
Zendure ZenPods
Design & build
Zendure sent us an early set of the ZenPods in black, but they're also available in white or blue. All the colours have a sleek gloss finish, which accentuates the premium design. While the coating does pick up fingerprint marks quite easily, these are not very noticeable and don't detract from the elegant ascetic.
The overall shape of the ZenPods is very similar to the AirPods pro; with a sizable in-ear portion, to accommodate the ANC chip, and a boxier stem. They look great in the ear, thanks to a fairly short stem and flush fit.
The ZenPods also feature an oval tip, that tends to be better suited for most people's ear canal. These are easily removed and replaced with one of the three different sizes included in the box (small, medium or large). So you should be able to dial in a fit that works for you.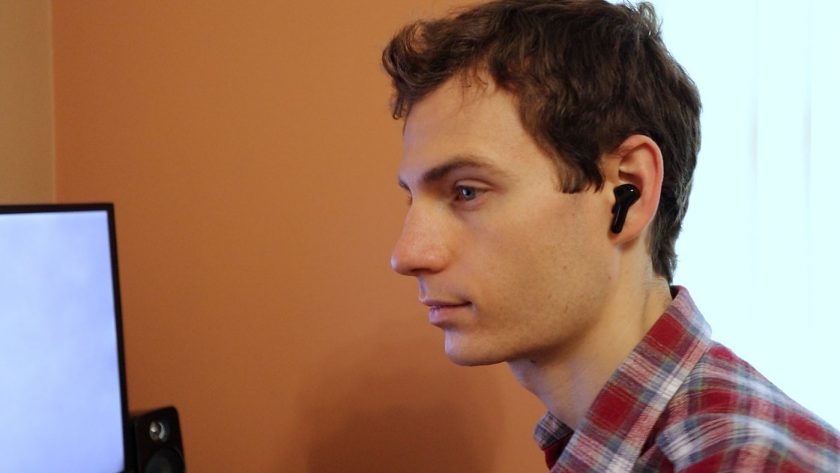 Personally, I found that the ZenPods fit really well. They sit nice and snug in my ears and remain secure on my daily run. In fact, I think they're one of the most comfortable earbuds I've tested. At just 4.2g, they're also 22% lighter than the AirPods Pro and the IPX5 rating means that they're more water-resistant too.
Charging case
The included charging case also has a gloss finish, which ties in perfectly with the ZenPods design. Due to the larger surface area, fingerprint marks show up more easily than on the earbuds themselves—but that's not really a big deal. If that does bother you though, I would suggest opting for the white version to minimise this.
The case is a great size, feeling substantial in the hand yet conveniently pocket-sized. It's oval shaped and has a USB-C port on the back for charging. A USB-A to USB-C charging cable is also included for those that don't already have one.
The hinged lid is held in place magnetically and opens up to reveal a stylish matt interior and the ZenPods themselves. These are also secured with magnets and they actually make quite a satisfying 'click' sound when you put them back in the case. It's a small detail, but it's one that goes a long way to emphasise the premium feel of these earbuds.
When charging, LED indicators on the ZenPods and case turn red. A quick 10 minute charge will net you 40 minutes of listening time, while a full recharge will provide about 6 hours thanks to the 35mAh battery in each earbud. Additional charge cycles from the case will extend this further by about 16 hours, providing a total 22 hours of listening time before needing to return to a charging port—not bad at all.
Features and controls
Thanks to Bluetooth 5.0 the ZenPods will automatically pair to your device when you take them out of the case. So there's no need to navigate to the Bluetooth menu on your phone every time you want to use listen to a few tunes.
If you want to keep one ear free and just use one ZenPod, then it will operate in mono mode. Once you take the other one out of the box, however, it will quickly pair and switch to stereo mode. It's a really seamless transition that Zendure has executed perfectly.
Once connected, you can use the touch controls on both ZenPods to operate your phone. A quick tap on either earbud will play and pause music, or answer a phone call. Tapping twice on the right earbud will skip a track, while doing so on the left will jump backwards. For the most part, this works well. However, at times I found the touch controls to be a little too sensitive and ended up pausing or skipping a track when I just wanted to adjust the fit.
Unfortunately, you can't change playback volume directly, but triple tapping either earbud will wake up your voice assistant so you can do so hands-free.
ANC and transparency mode
You can also switch between 'ANC On', 'ANC Off', and 'Transparency Mode' by pressing and holding one of the earbuds for three seconds.
Zendure claims a humble 30dB of noise reduction when active noise cancellation is turned on. Even though the ZenPods use a more basic ANC system than the AirPods Pro—that utilise an extra internal microphone to detect and eliminate remnant noise—I was still really impressed with the performance.
Most ambient noise is cancelled out, with even speech and chatter being significantly reduced. You can still hear someone talking close to you, but the sound is more muffled and doesn't interfere with your listening experience. Additionally, I didn't experience any uncomfortable in-ear pressure that you get from some ANC earbuds.
With ANC off, you still get the benefit of passive noise cancellation due to the seal created between your ear and the earbud tip. This does a great job at blocking out low-level noise, so it's ideal for extending battery life when listening to music in quieter environments.
There may be a few circumstances, however, where the passive noise cancellation works too well and blocks out noise you actually want to hear. For example, if your cycling on the road and need situational awareness. In Transparency mode, the ZenPods use the outward facing microphone to pass external sounds to your ear. While there's a slight over-amplification of some background noises, the overall effect is quite natural and it's easy to hear your surrounding environment while listening to music at the same time.
ZenPods audio quality
Switching between the three modes, I didn't notice any significant drop in audio quality. As with all Bluetooth headphones and earbuds, however, the audio that you're listening to may be recompressed using a codec that both your device and earbuds support. Thankfully, as well as default SBC, the ZenPods support AAC. So iOS fans and anyone running later versions of Android will be able to listen to music files, YouTube videos, and any other AAC encoded content without loosing audio quality.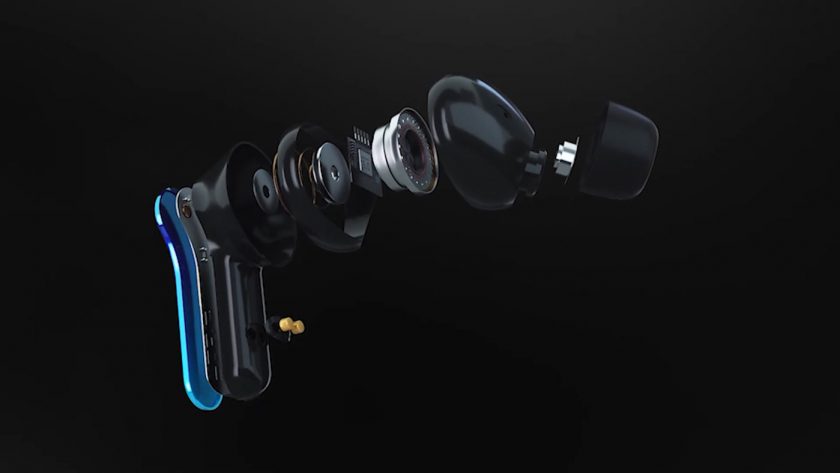 In terms of sound profile, the ZenPods push some solid sound thanks to the 13mm dynamic driver. They're tuned more towards the low-end, with a punchy bass that makes them well-suited for most pop music. The mids are also robust, but not quite as pronounced as the wired Apple EarPods. Additionally, while the high-end is slightly rolled off, the clarity is good and the soundstage doesn't feel overly compressed.
Overall, the ZenPods are a great sounding pair of wireless earbuds. They're probably not quite as well balanced as the Apple AirPods Pro, but at this price point they're hard to beat.
ZenPods Phone call quality
Phone call quality is also impressive, in part due to the passive noise cancellation serving to isolate the caller's voice—even in noisy environments. The integrated microphone in the ZenPods also relays your voice clearly to the other side of the line, with noise cancellation technology working both ways.
During a phone call, environment noise cancellation (ENC) will be activated automatically. This works via an algorithm to cancel out ambient noises and enhance your voice during a call. It works really well, cutting out constant background sounds such as fans and engine noise. As these get louder, the clarity of your voice does decrease slightly, but it's still easy enough to hear and probably clearer than without ENC.
Latency
As well as the benefits I mentioned earlier, Bluetooth 5.0 provides an impressive 10m range, and I didn't notice any decrease in audio quality within that. This means, for example, that you can keep listening to your music or podcast even if your device is charging on the other side of the room.
Watching movies, Netflix, and YouTube videos is also a smooth experience without any lip-sync issues. While I did notice lag when playing games, it wasn't enough to take away from the gaming experience. Additionally, I was only able to test this with a Bluetooth 4.2 enabled device—so I would expect reduced latency when utilising the latest protocol.
Final thoughts
All things considered, Zendure has delivered a fantastic first product to the audio market. The ZenPods are incredibly good value when stacked up against the competition—particularly at the sub-$100 sale price. At this price point, you'll be hard-pressed to beat the build quality and feature-set of the ZenPods. They're one of the most comfortable earbuds I've tested and sound pretty good too. If you're a real audiophile, then you might prefer the AirPods pro. But, for most use cases, the ZenPods are a great option.
Verdict
The ZenPods are incredibly good value when stacked up against the competition—particularly at the sub-$100 sale price.
Pros
Stylish design
Super comfortable
Different sized oval earbud tips to suit most people's ear canal
Good passive and active noise cancellation
Useful transparency mode
Sound profile works well for most pop music
Decent phone call quality
Decent battery life
Cons
Sound profile not quite as well rounded as Apple AirPods Pro
4
Great value true wireless ANC earbuds