The Isle of Skye is world famous for its rugged landscapes, towering mountains and its spiritual connection to the fairy world. It's one of the most beautiful places in the UK and a must visit for anyone who loves to hike and explore the wilder parts of the world. Earlier in July, I travelled to the Isle of Skye and was able to explore and experience some of the best, and off the beat, things this island has to offer. I'll be writing up my 5-day itinerary in my next blog for anyone else looking for travel advice, best times to visit and hidden gems. So stay tuned for that.
For this blog, I'm focussing on what it was like to be a vegan on the island and highlighting my favourite restaurants that were a godsend while on the trip. Being a vegan in the Scottish Highlands and the Hebrides can be a little difficult. Unlike the Scottish capital, Edinburgh, which has amazing vegan food flowing out of every restaurant, (see my favourite picks), the Highland and Hebrides offer a much more traditional cuisine of meat and seafood. That being said, I was able to find some cafes and restaurants that did cater to vegans.
If you're going self-catered, the Co-op supermarket in Portree also had a good selection of vegan products which included dairy-free milk, snack bars and frozen goods. Plus I was shocked and amazed to find a wholefood store in Portree called Jackson's Wholefood Store which also offered a wide selection of vegan and gluten-free friendly food and drinks.
Cafe Arriba
This cafe in Portree (the main town on the island) offers a range of meat, veggie and vegan dishes. It was also one of the few cafes that offered a dairy-free milk alternative in drinks. (I believe they only offer soy milk.) The cafe is small, but quite funky inside and the specials and drinks menus are listed on the walls on chalkboards. From my experience, the vegan options are modified veggie options. I had the pea and potato samosa with salad and my partner had the veggie burger. Both came with sauces which had milk in which had to be removed.
For drinks, I had a coffee and my partner had a chilli hot chocolate made with soy milk. This is must try, especially on a cold day. It was delicious and I ended up drinking most of his drink instead :P.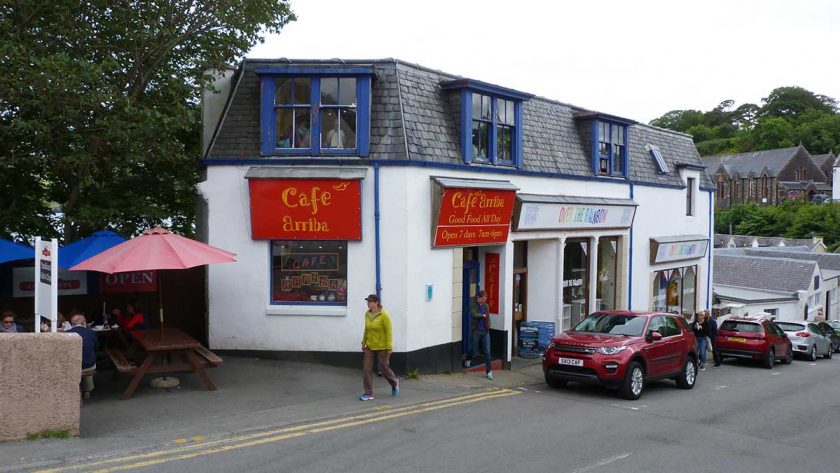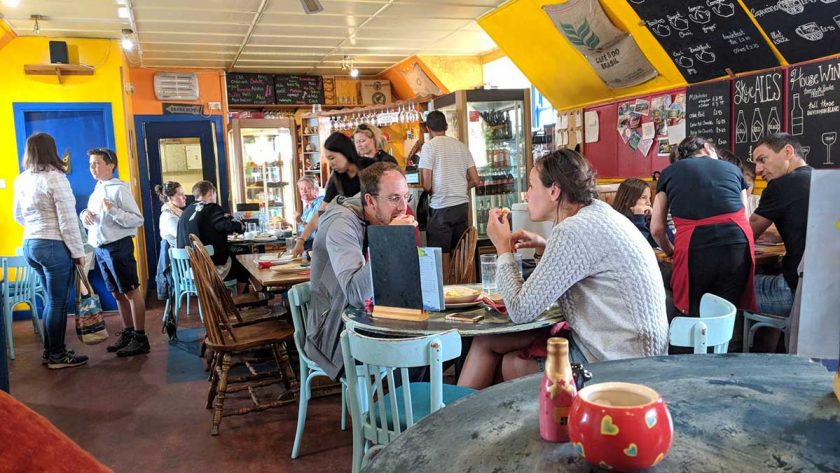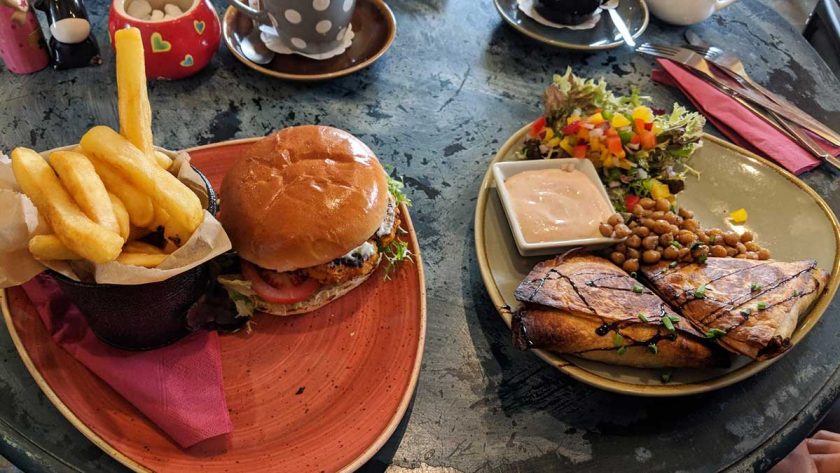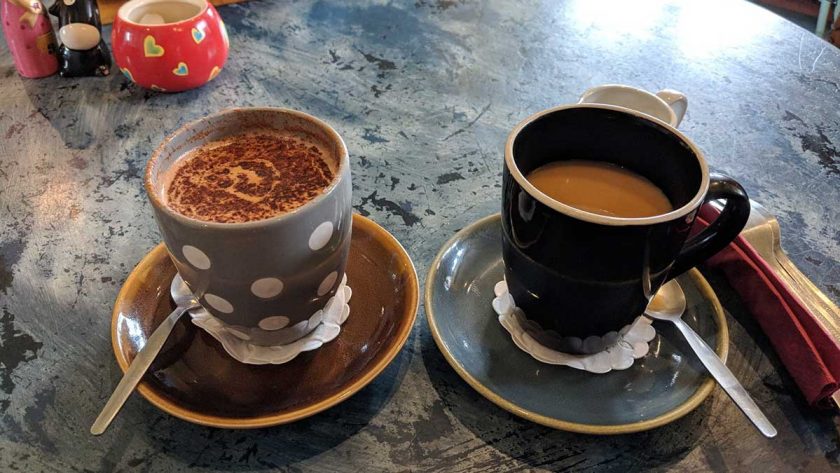 Isle of Skye Ice Cream Shop
I thought finding vegan ice cream on the island would be impossible, but thankfully I was proved wrong. While the Isle of Skye Ice Cream Shop in Portree doesn't currently make its own vegan ice cream they do sell the Swedish Glace caramel toffee ice cream cones. A little pricey at £2.20 a pop, but worth it on a sunny day. Plus, if you don't mind eating out of a tub, the local Co-op sells the tubs of vanilla Swedish Glace for near enough the same price.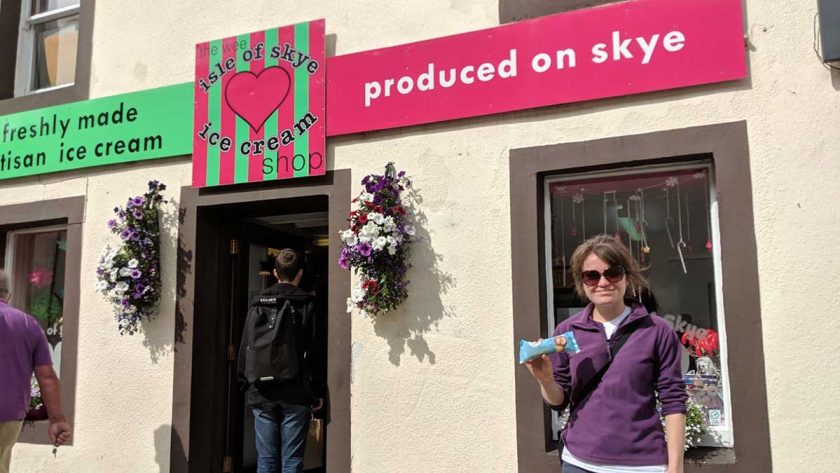 Jackson's Wholefoods Store
This wholefoods store in Portree was a pleasant surprise. While small in size, it crams a lot in and sells everything from dairy-free milk, chocolate, snacks, kombucha, gluten-free bread and noodles and even Natracare toiletries and Ecover domestic goods.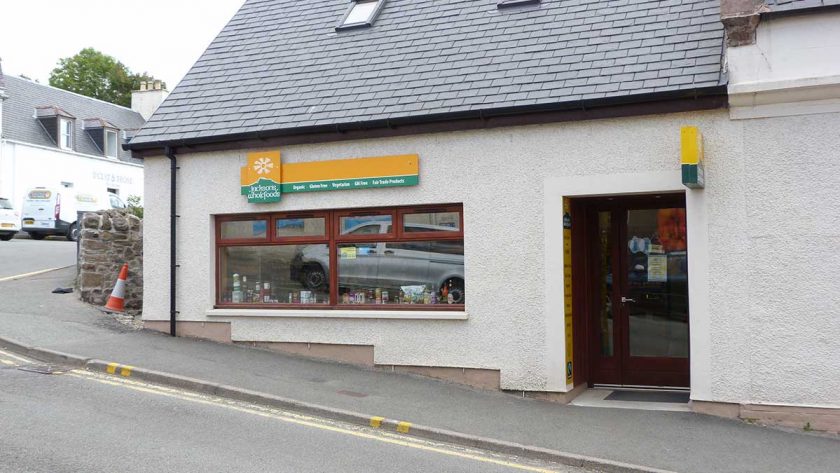 Sky Pie Cafe
For me, this is the cafe that got away. Before coming to the Isle of Skye I was really eager to go to the Skye Pie cafe. They only have one vegan pie on offer, but it sounded sublime and I was desperate to try it. Sadly the cafe was actually closed the week we went, so it wasn't meant to be. But for all you fellow vegan adventurists out there, try it and let me know how it is. The cafe's got really good reviews and the vegan pie is an open top pie filled with grilled polenta, sweet peppers and almond pesto. Yum!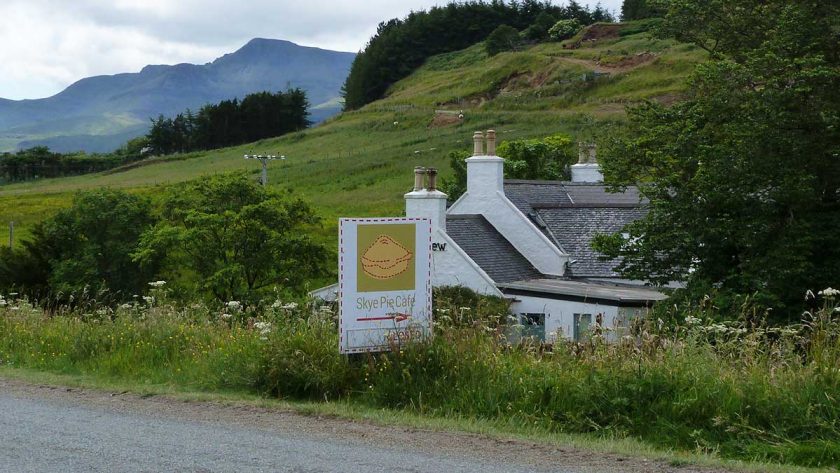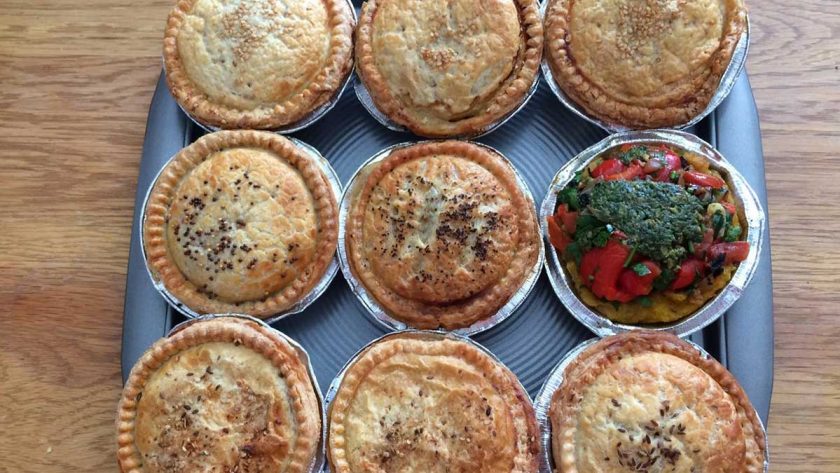 Cafe Sia
Cafe Sia is located in Broadford, about 15 minutes drive from the Skye Bridge. It's known for its wood-fired pizzas, but we went there for breakfast on the way back to the mainland. What I liked about this cafe is that they cater to a range of dietary requirements and their menu listed the range of allergens in each dish. Several dishes on their menu can be made vegan by subbing out things for vegan cheese. This includes all of their pizzas and some of their sandwiches.
For breakfast, they offered granola and porridge made with dairy-free milk and also a veggie breakfast. While they didn't have a specific vegan cooked breakfast, they took off the eggs and veggie cheesy sausage to make it suitable for me. As such mine came with toast, veggie haggis, mushrooms, tomatoes and tattie scones. While cooked well, it was pretty dry and I had to add quite a bit of ketchup. I'd say go for the porridge instead or head here after 12 pm for their pizzas. A plus was that the coffee was good!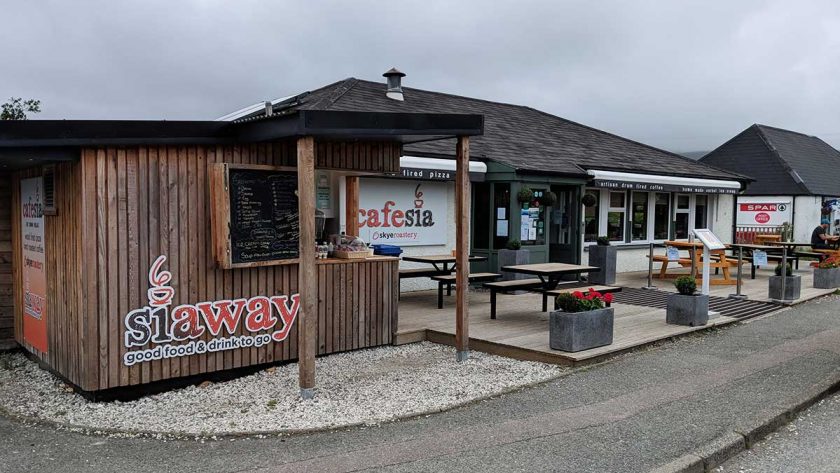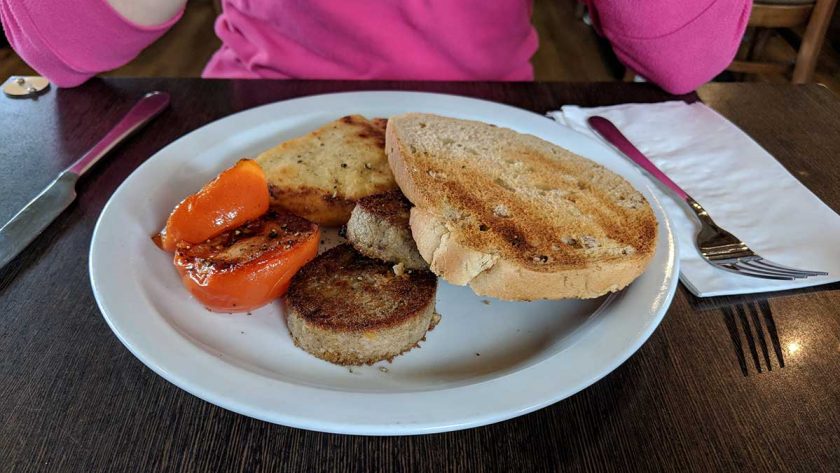 The Three Chimneys
Now, I didn't manage to go to The Three Chimneys restaurant, basically because my wallet didn't stretch that far, but if you've got some cash to splash and you want a superior dining experience then this is the place for you. Set up by the father of pro trials cyclist Danny MacAskill, The Three Chimneys won The Good Food Guide Restaurant of the Year award in 2018 as well as being graded a Gold, 5-Star Restaurant with Rooms by both VisitScotland and The AA. The menu is very meat and fish heavy, however, as stated on their menu, they are very willing and able to cater to any dietary requirement. They offer a vegetarian tasting menu at £85 a head, so I imagine a vegan menu would be the same. Make sure to phone ahead and let them know of your requirements when booking. Enjoy!
We passed this place on the way to Neist Point Lighthouse, and its location, overlooking Loch Erghallan, is truly breathtaking.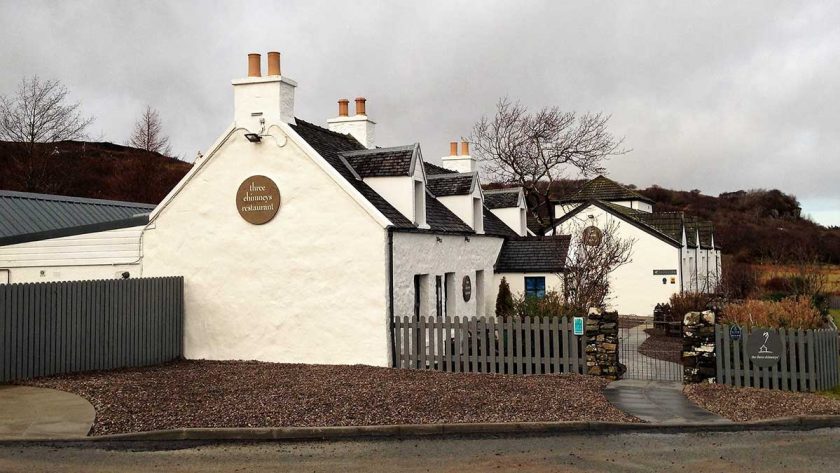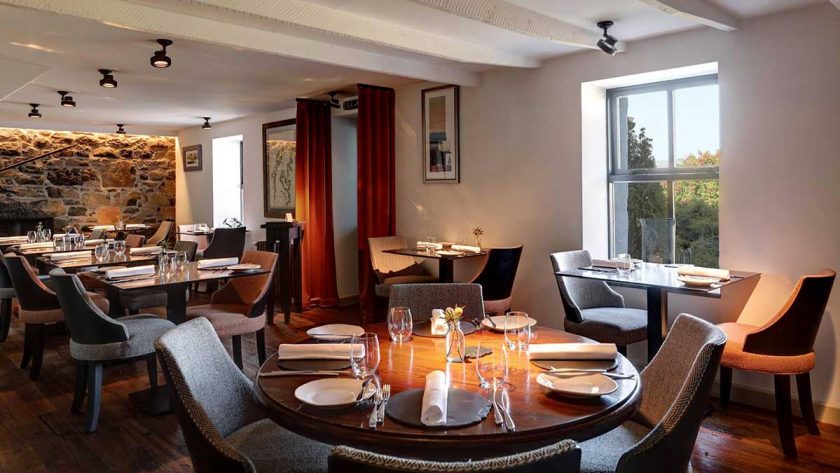 Map of cafes and best places to go
The green dots indicate where the cafes and restaurants are located. I'll be writing up my 5-day itinerary in my next blog for anyone else looking for travel advice, best times to visit and hidden gems. So stay tuned for that.