Day 1: Arrive in Tenerife
There are two airports in Tenerife: the north and the south. Where you choose to stay will depend on what airport you can fly to. Our flight landed at the south airport, and so we chose accommodation nearby, in the resort town of Costa Adeje. This is a popular town for many tourists and while it is busy, Costa Adeje is a good place to be based. There are lots of amenities and attractions nearby including hotels, apartments and good bus routes. So once you arrive at your destination, take the evening to explore the area, top up on supplies (if you're self-catered) or just relax.
Day 2: Snorkel with turtles & whale watching
Being in Costa Adeje, we were really close to many of the wildlife tours and excursions which run from the island. While there are several around the island, we opted for one which ran from Los Cristianos, the next town along the coast. The tour (which I booked a week in advance) started at 11 am, so we caught the bus there from Costa Adeje which only took 30 minutes. The experience involved kayaking out to a bay and snorkelling with the turtles and rays who reside there. The whole tour lasted about 3 hours and was absolutely incredible! I'd never seen turtles in real life before, so it was pretty magical.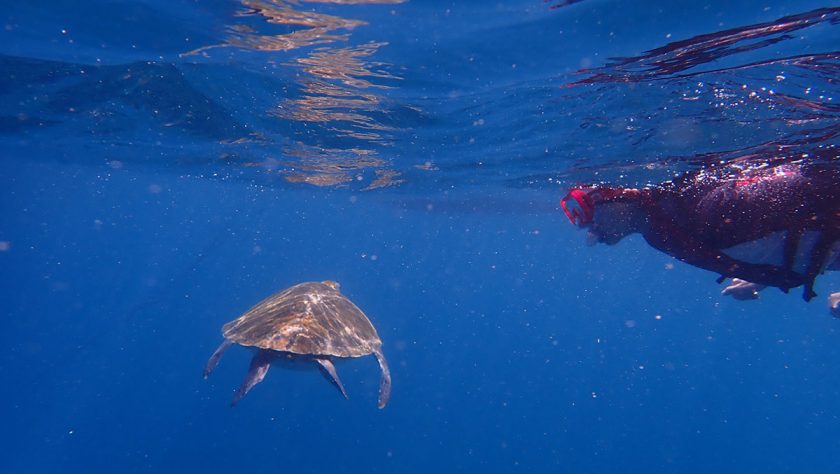 After a quick lunch at K Vegan in Los Cristianos, we headed back on the bus to Costa Adeje and wandered down to the port. The whale watching tour, with Atlantic Eco Experience, started at 4 pm and we had a little time to spare. What I liked about this particular tour was the fact that the boat was small, fitting only 10 people, and that the guides were passionate about conservation. We saw pilot whales and dolphin and we also got to listen to the sounds they were making thanks to the boat's hydrophone.
Day 3: Siam Park
Voted the world's best water park by Tripadvisor, Siam Park is an absolute must during your Tenerife holiday. If you're able to, head to the park when the weather is overcast. When we went, it was warm but quite cloudy and the park was barely half full. We didn't have to queue for any rides, which made the whole experience much better.
Things to know before you go
You're not allowed to bring any food into the park. The staff do a rough search of bags on arrival and you'll certainly be stopped if you're bringing in a cooler full of food. However, while there are several restaurants in the park, I didn't see any with vegan options upon researching. As such, we did pack a few sandwiches and snacks which we put at the bottom of our bags. This was fine and we had no trouble getting in. Thank goodness I did because if not, I certainly would have starved.
You're not allowed to wear any loose items on the rides, this includes glasses and goggles (you'll be asked to strap them to your wrist while riding.)
GoPros are allowed but they must be strapped on to your body either via a chest or a headband.
There are several locker buildings around the park. You can rent a small locker there for €3 a day and a big locker for 5€ (plus 5€ deposit).
The best months to visit are from March-May. It's offseason and the weather is warm enough.
Book your tickets in advance from attractiontix and get a €5 food and drink voucher free. I used mine for a juice drink and a coffee.
Day 4: Rent a car & Mount Teide
Mount Teide is the natural highlight of Tenerife. This volcano is the third largest in the world and is one of the most spectacular sights on the island. The Teide National Park, in which it is located, is equally astounding. Its rocky, barren landscape is reminiscent of the deserts of Utah and looks and feels like, what I imagine, a trip to Mars would be like. You can ascend Mount Teide on a cable car which takes you to 3500m, just 200m from the top. If you'd like to walk to the top, you need to apply for a permit from the government in advance.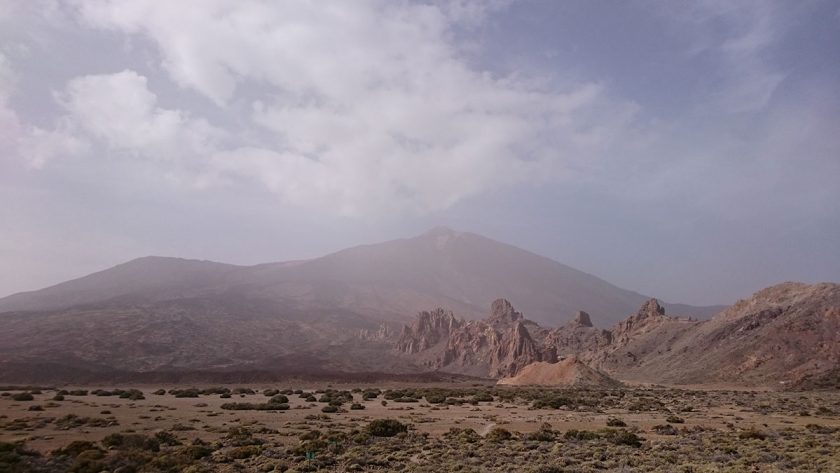 If not, there are some short walks from the cable car station which enable you to take in the (hopefully) breathtaking view across the island and towards the rest of the Canaries. The fact you need to book the cable car in advance because it's so popular does make planning for good weather a little tricky. I'd recommend booking the day before for an afternoon slot. This allows you to check the weather and lets any morning mist (which often collects across the mountains) dissipate.
Day 5: Anaga Mountains & La Laguna
The Anaga Mountains are home to some of most breathtaking scenery on the island—filled with lush vegetation and laurel forests. It's also a Special Bird Protection Area, due to its abundance of fauna including Scopoli's shearwaters, kestrels, owls, Bolle's pigeons and laurel pigeons. There are lots of hiking paths in the area making it a great opportunity to ditch your transport and get the boots on and there are several little settlements along the way which give you a better insight into traditional Canarian life.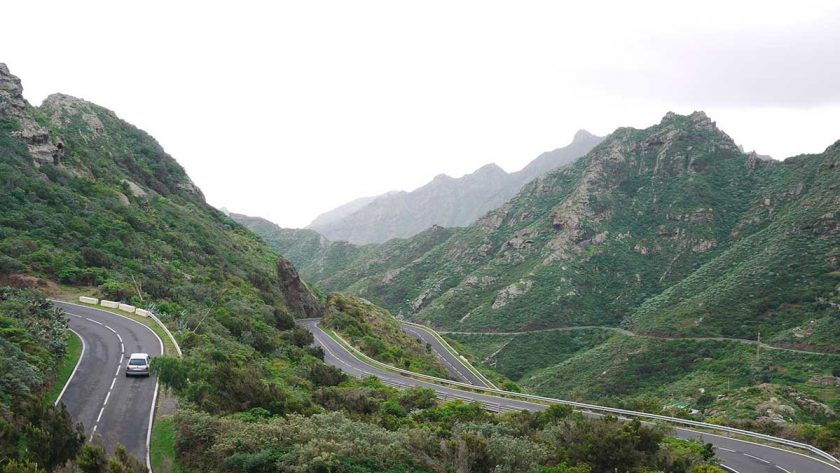 While you're in the area, stop by at La Laguna. It's a very pretty historic town, with colourful streets and several nice vegan restaurants. It's also home to the oldest university in the Canary Islands which dates back to 1701.
If you're heading back to Costa Adeje, drive the spinal route home (called this because it forms the backbone of Tenerife.) This was by far my favourite drive and it's here you get the unique chance to glimpse both sides of the island while driving through lush pine forests and lunar-like volcanic rock formations.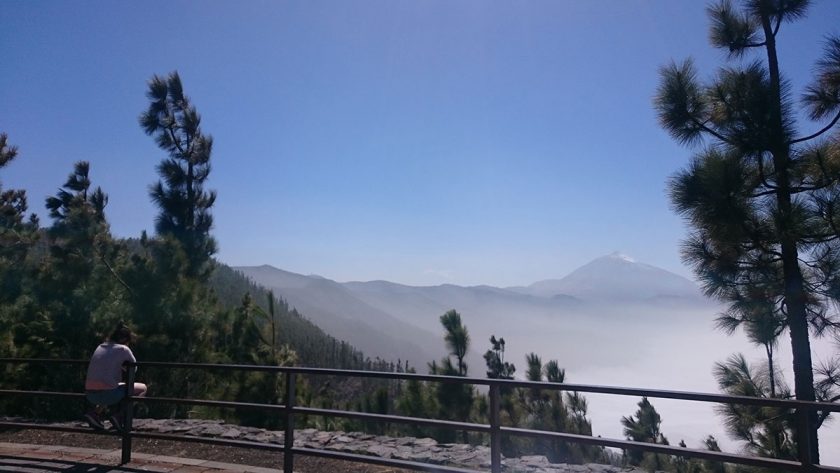 Day 6: Masca & Los Silos
Masca is one of the 'hidden' highlights of Tenerife. Sitting at 650m in the Macizo de Teno mountains, it's considered the most beautiful village on the island and is a must-see stop during your holiday here. The road to the village is something in itself, being one of the most spectacular and hair-raising drives on the island. As you peek the top of the mountain above, you'll start snaking your way down into the valley, around hairpin bends and lush vegetation. The scenery is breathtaking, especially on a clear day and is reminiscent of a Cuban rainforest thick with palm trees, cacti and shrubbery.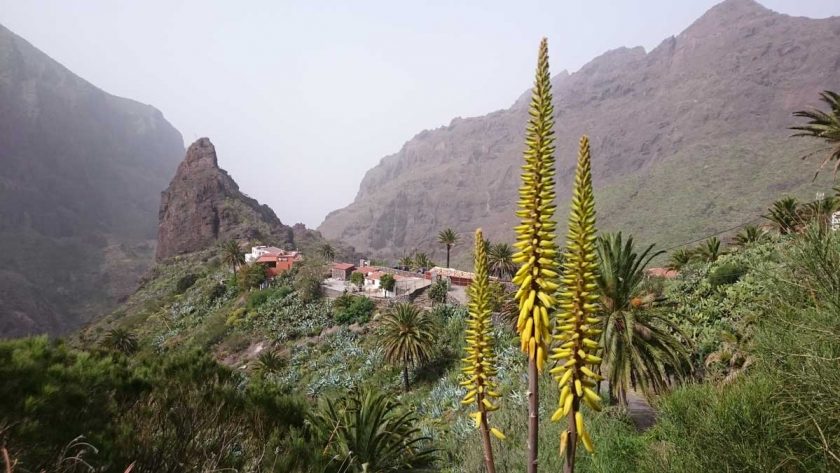 It's worth taking a couple stops to take in the view and listen out for kestrels, whose shrill calls echo around the valley walls.
While most people finish their journey here, it's worth travelling on to Los Silos. It's a very picturesque town with traditional architecture and narrow cobbled streets. Take a stroll along the seafront and enjoy one of the many bathing spots.
See: How to get to Masca without a car
Day 7: Relax & fly home
Your final day in Tenerife is the perfect exuse to just relax. Head down to one of the local beaches, or explore a local attraction or town. If you're centred in or near Costa Adeje there is plenty to do. You can hire bikes and rollerblades at Sports Club Tenerife in Playa de las Americas, or you can try out banana boating or jet skiing in Costa Adeje and Los Cristianos.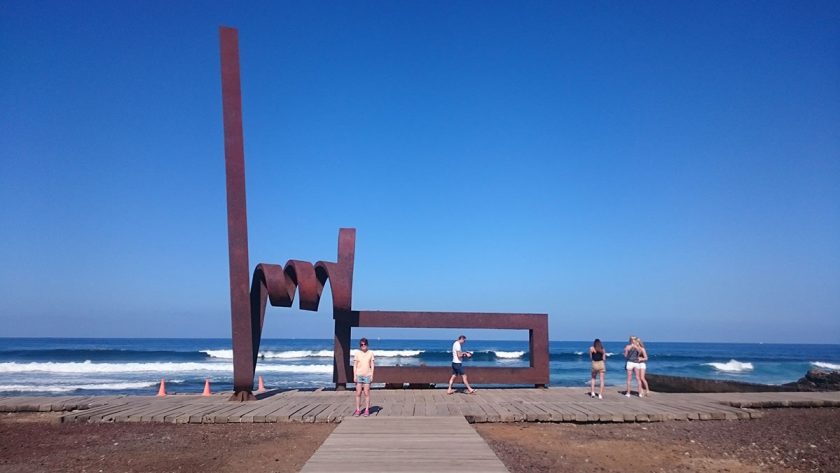 If the weather turns bad, there are also several escape rooms in the area including the Island Phobia rooms in Costa Adeje. We managed to escape the Freddy Krueger 'Nightmare' room with just one second to spare!
Don't have a car?
Wondering how to get around Tenerife if you don't have a car? See my guide.
Whatever you plan, enjoy your trip and let me know the favourite place you visited in the comments below ↓