Ben and Anna is a relatively new addition to the natural deodorant market. Yet despite only launching 21 months ago in June 2016, it's already making great waves. You may have already come across it on online retailers Ecco Verde and Love Lula!
I came across the brand on social media a few months back and was really keen to test its deodorants out. Aside from its nice packaging, I was really intrigued to see how effective this all natural deodorant would be. As you probably know, I'm a big fan of the Natural Deodorant Co's balm deodorant. But balms can be messy to apply, and if I could find a stick deodorant that worked just as well then I'd be all for it.
The brand was launched and developed by a German couple of the same name, Ben and Anna. Struggling to find a natural paraben free deodorant that was ethical, vegan and not tested on animals, they decided to create one themselves. Et voilà the Ben and Anna brand was born.
The range
There are six different varieties of deodorant in the range:
Indian Mandarine – fruity and floral.
Pink Grapefruit – sweet, zesty and fresh.
Persian Lime – zesty and fresh (great unisex option).
Vanilla Orchid – blend of vanilla and ylang ylang.
Provence – smells of lavender blossom.
Nordic Timber – blend of palmarosa and cedar. Sweet woody scent (great for men).
The deodorants also come in two formats: deodorant sticks and deodorant paper tubes. The only difference is the packaging. One in a traditional plastic container, the other in a cardboard tube. While both are 100% recyclable, the paper tube has the advantage in that it's biodegradable. At present only the deodorant stick is available in the UK, though there are plans to introduce the paper tubes soon.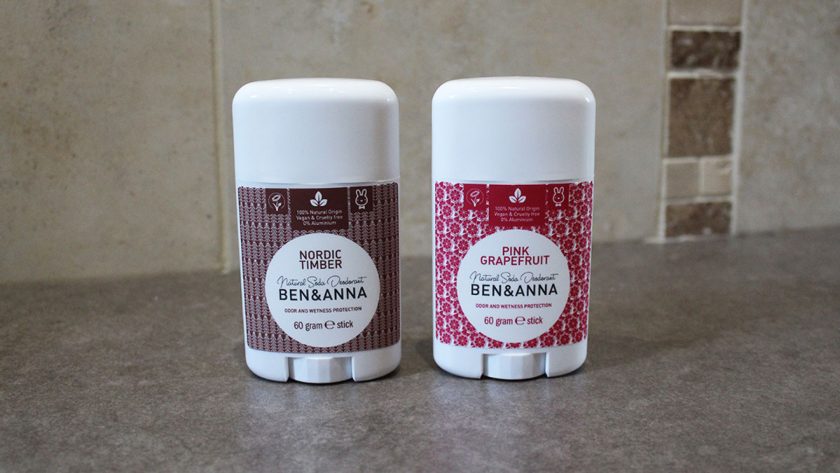 While I was keen to try all of the scents, after much deliberation I opted for the Pink Grapefruit and Ben, my brother, opted for the Nordic Timber.
Ingredients
While the ingredients vary slightly between the different scents, the main active ingredients are sodium bicarbonate, shea butter and arrowroot powder. These are the primary ingredients used in a lot of natural deodorants as together, they work to neutralise the smell of sweat while nourishing the skin. All of the ingredients used are 100% natural and there's 0% aluminium, no PEGs, parabens or phthalates in any of the deodorants. Some of the ingredients are also organic, which is another great bonus.
This is the list of ingredients in the Pink Grapefruit:
INGREDIENTS : Sodium Bicarbonate, Butyrospermum Parkii Butter*, Maranta Arundinacea Root Powder*, Zea Mays Starch, Cocos Nucifera Oil*, Cetyl Alcohol, Stearyl Alcohol, Helianthus Annuus Seed Oil*, Coco-Caprylate/Caprate, Helianthus Annuus Seed Cera, Ricinus Communis Seed Oil, Shorea Robusta Resin, Rhus Verniciflua Peel Cera, Citrus Grandis Peel Extract, Limonene**, Caprylic/Capric Triglyceride, Rhus Succedanea Fruit Cera, Tocopherol, Ascorbyl Palmitate, Simmondsia Chinensis Seed Oil*, Citral**, Linalool**, Daucus Carota Sativa Root Extract*, Rosmarinus Officinalis Leaf Extract* (* Organic / ** from natural essential oils)
And the non-latin version (FYI I've translated this list by myself and taken great care to ensure the information is correct. But please let me know if you spot any errors):
INGREDIENTS: Sodium Bicarbonate, Shea Butter*, Arrowroot Powder*, Corn Starch, Coconut Oil*, Cetyl Alcohol, Stearyl Alcohol, Sunflower Seed Oil*, Coco-Caprylate/Caprate (from Coconut Oil), Sunflower Seed Wax, Caster Bean Oil, Sal Tree Resin, Berry Wax, Grapefruit Peel Extract, Limonene**, Caprylic/Capric Triglyceride(from Coconut Oil), Japanese tree wax, Vitamin E, Vitamin C, Jojoba Oil*, Citral**, Linalool**, Carrot Root Extract*, Rosemary Leaf Extract* (* Organic / ** from natural essential oils)
(FYI: the cetyl alcohol and stearyl alcohol are both a mixture of fatty alcohols extracted from plants and vegetables. They're used as natural stabilisers and to thicken the emulsion.)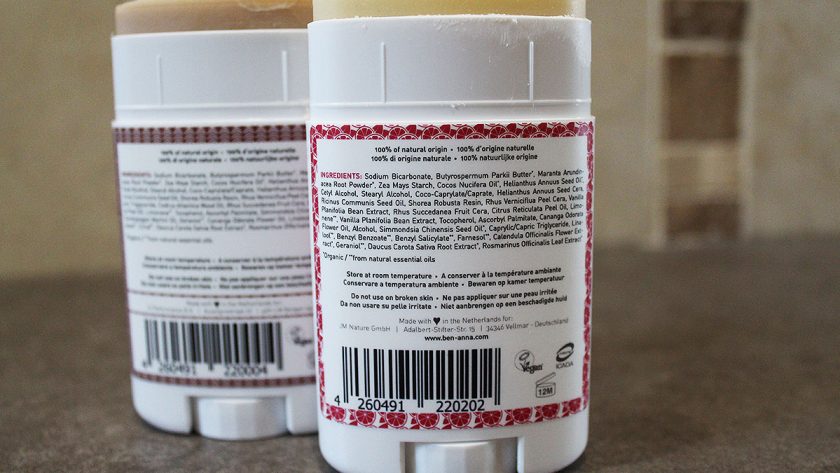 How did they perform?
Ben and I have been using the deodorants for just over a month, and we've both been really impressed! The Pink Grapefruit smells fruity and fresh, while the Nordic Timber has a sweet woody smell. Both scents are quite gentle, and not overpowering.
The deodorants are easy to apply and last all day. While the scent fades slightly, it continues to work and reduce the smell of BO. They also work really well during exercise (having tested it at the gym and on short day hikes). They work well in masking the smell of sweat and also help to reduce sweat patches. I would recommend applying it directly before exercising to get maximum odour protection.
After trying out the deodorants, I found very few negatives. The only real downside is that the deodorant feels slightly rough when first applying it. This is because of the bicarb and arrowroot powder. Ben and Anna recommend applying the deodorant just after washing when your armpits are slightly damp. This does help a little, but I found after several uses the roughness faded away anyway. Likewise, a small issue was that the screw mechanism sometimes played up. It's fine when screwing out the deodorant but it doesn't work when screwing the deodorant back down. It's definitely not a big deal, and the deodorant can be pushed back down if needed.
(*update May 2018 – after using the deodorant for a while I found that it didn't rub in as well as when I first used it. To combat this, I applied the deodorant as normal and then rubbed it in fully using my fingers. Without doing so, it caused white patches on my clothes.)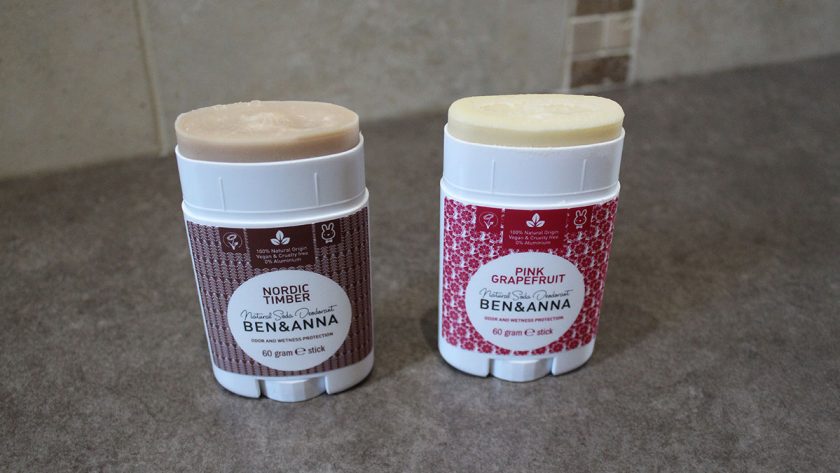 Overall though, we've been impressed with Ben and Anna deodorants. I love that they're natural, vegan and cruelty-free AND they actually work.
While my brother Ben said the scent of Nordic Timber was nice, he prefers a fresh scent when it comes to deodorants so will be trying out the Persian Lime next time. I'll be sticking with the Pink Grapefruit!
Verdict
A great deodorant that's 100% natural, free from nasties and that works!
Pros
Lasts all day
Easy to apply
Nice range of scents for men and women
Effective during exercise
100% natural and some organic ingredients
Cons
Feels a little rough when first applying it
Difficult to screw it back down
Takes a little bit more to wash off properly
Sometimes needs to be rubbed in using fingers
4
100% natural & effective
More info
At the moment, Ben and Anna's deodorants can be found in stores across Europe, UK included, and online. Each stick costs about £10 and lasts several months. I've been using mine every day for six weeks and I'm not even halfway through!
(*Update June 2018 – I've recently finished my stick of deodorant. So in total one stick lasts around three months if used daily.)
For more info and to buy click here.
Disclosure: I only recommend equipment and products I love from companies I trust. I was gifted a deodorant to review but have not been paid to review any of the products listed above and am under no obligation to give positive reviews.