The Cold Climbs Jacket/Fleece is one of the latest offerings from the Berghaus range. Made from Polartec® Classic 300 fabric, it's designed to be a versatile warm layer that works well on its own, on top of another layer or with a hard shell on top for when it's really cold.
Berghaus Cold Climbs Jacket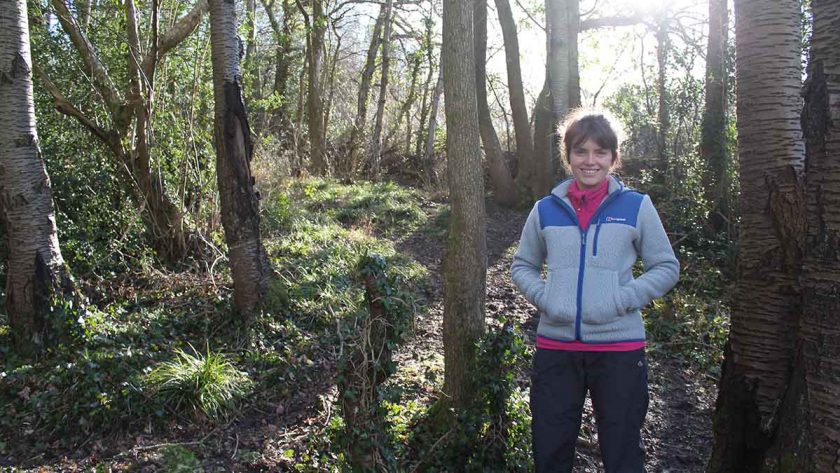 What's Polartec®?
For those new to the fleece lingo, Polartec® is a brand of synthetic textiles, made from polyester fibres, that's specifically been designed with thermal insulating properties. What's great about these textiles is that they not only keep you warm but they are also relatively lightweight and fast drying. Polartec® Classic 300 fabrics are the heaviest option in the Classic range. Fleece jackets with 100-weight ratings are lightweight and highly breathable, 200-weight ratings are mid-weight and ideal for layering while the 300-weight fleece is significantly loftier and heavier. They're designed for use on very cold excursions.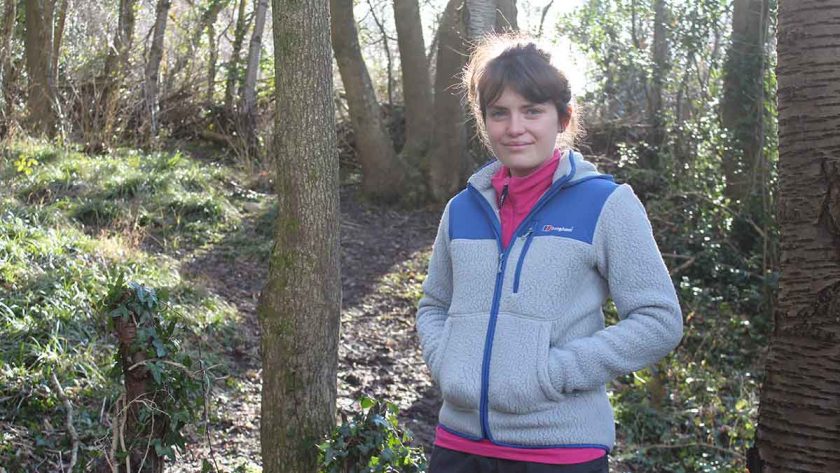 Despite being the 'heavier' option, the Cold Climbs Jacket isn't heavy with the women's weighing around 600g and the men's 690g—comparable to the weight of a hoody. I'd say this is an average weight for a thermal jacket of this calibre.
The fit
Dependent on the brand, I usually opt for either a size 10 or size 8 garment. In this instance, I opted for the women's size 8. For a reference point* my measurements are as follows:
Hips: 34.5″
Wasit: 26.5″
Chest: 31.5″
Arm length: 20″
*This may help other women decide on a size. ** See here for the men's size guide.
As you can see from the pictures, the jacket fits pretty well on the shoulders and the body. While the sleeves were slightly long for me, coming in at 22″, the cuffs fitted comfortably just over my wrists.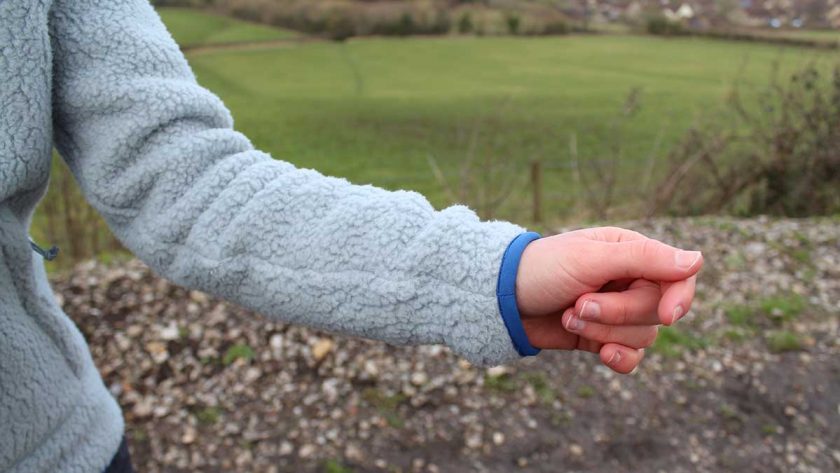 The front section of the jacket finished just over my hips, while the back extended down and finished just across the bum. From the base of my neck to the bottom, the jacket measured 24″. I liked this design as it prevented the jacket from riding up at the back, especially when wearing a rucksack, but allowed freedom of movement when walking.
Another neat feature, designed specifically for when wearing a rucksack, are the reinforced shoulders. The extra fabric across the shoulder helps prevent a rucksack from rubbing and also makes the jacket a bit more durable.
Another nice addition to the jacket is the hood which features the Polartec fleece on the inside. This hood actually made a big difference on one particularly windy day and did a good job of keeping the warmth in. One downside though is its size. For me, it was slightly too shallow. This was especially true when my hair was tied back in a ponytail. When my hair was down, the hood did fit over the ears but stopped short at the front of my head. Personally I'd prefer the hood slightly bigger, with toggles to adjust its size.
Another slight downside was the fit on the hips. I find this an issue with most jackets I try on. There's ample room everywhere else, but the hips always come up a little tight. Go a size larger, and everywhere is too big. So I felt the sizing was right, but the cut on the hips was a little tight for my shape. I was able to layer a light fleece underneath the jacket, but anyone with bigger hips may find it difficult.
Extra features
In terms of extra features, the jacket is relatively basic. However, there are two hand pockets and one chest pocket. Each is lined with a durable netted material and are a good size for your hands, keys, phone and a compass. You could also probably fit a map in the chest pocket if you folded it up tight.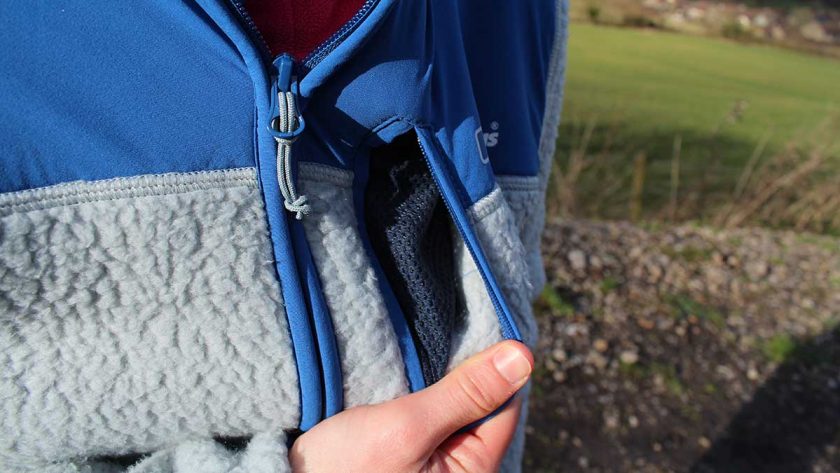 Performance
In terms of performance, I was impressed with the jacket. While some may argue 300-weight fleeces aren't suited to active pursuits, the Berghaus Cold Climbs Jacket combines the right balance of warmth and breathability. It works well as a mid layer with a hard shell on top during long winter hikes but also performs well as an outer layer with a light fleece underneath. I've been wearing mine in temperatures around 2°- 4° and have felt comfortable. Berghaus say it's ideal for "Scottish mountain gullies or ice climbing in alpine valleys," so I'd imagine the jacket's temperature comfort rating could be even lower.
The fleece material itself is soft and actually a little stretchy, which really improves its functionality and makes things like scrabbling over rocks, climbing and general movement much easier. While not waterproof or water repellent, the jacket does dry relatively quickly (within an hour or two) depending on the downpour. It doesn't perform well when wet, but it certainly can't be expected to. I always carry a waterproof layer with me anyway during longer hikes.
An additional bonus for me is that all fabric used in its making are Bluesign® approved. The Bluesign® system sets and controls the standards for environmentally friendly and safe production in the textile industry. This means that everything with a Bluesign label is the most environmentally friendly, socially conscious version of itself.
The only real downsides for me were the fit in regards to the hips and hood. However, this may not be an issue for someone of a different shape.
At £140, the jacket isn't cheap. But I would say it's worth the price if you use it regularly and with Berghaus' lifetime guarantee you know you're buying a good quality piece of kit that will last.
Verdict
Overall I was impressed with Berghaus's latest addition. It performs as intended, both in terms of warmth and breathability, and has a few extra functionalities which some other jacket fleeces don't, like the active stretch in the fabric, the reinforced shoulders and the chest pocket.
Pros
Warm and breathable
Stretchy material = great for moving around
Overall fit is good
Pockets and hood are useful
Bluesign® approved
Cons
Hood a little small
Close fit around the hips
Little expensive
4
A warm, breathable jacket for winter
More info
For more information on the Berghaus Cold Climbs Jacket see here for women's and here for men's.
Likewise, check out my review of the 'Best winter jackets made without down for 2017/18'.
Disclosure: I received a jacket from Berghaus to review but I have not been paid to review any of the products listed above and am under no obligation to give positive reviews.