Packable backpacks are one of the most useful purchases to buy when travelling. Most fold up super small so they can be packed in your luggage or handbag and carried around until needed. They make great day packs for exploring the wilderness, a city or even for carrying your shopping home.
At present, the majority of packable backpacks on the market are not waterproof. While some offer a level of water resistance, I find having a waterproof bag useful—especially in changeable climates. So finding a backpack that ticks all of the boxes (packable, durable, waterproof, and comfortable) can be hard. That's why I've compiled this list. Seven quality backpacks to suit every kind of adventure. Plus three of my picks have been created using recycled materials, which is a big win in my book.
Here's my list of the best packable backpacks for travel:
Pacific Northwest Sea to Sky Pack
Held in a pocket-sized pouch, the Sea to Sky backpack unravels to form a standard sized backpack that can hold up to 24L. Made of lightweight and durable CORDURA® material, the main 24L compartment is completely waterproof and doubles as a dry sack. The front zipper is also water resistant and reflective.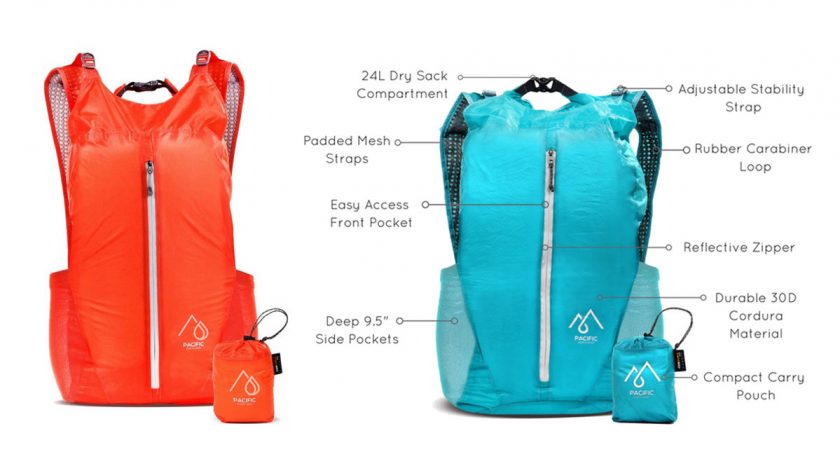 Alongside the essentials, the pack also has some very useful additional features. Designed specifically for rugged adventures, the straps are padded and lightweight and the sternum strap is adjustable and removable. Likewise, it comes with an integrated 95dB whistle, ideal for emergency situations, and multifunctional deep side pockets for a water bottle or other accessories.
Available here.
Matador FreeRain24 Backpack
The Matador FreeRain24 is very similar to the Sea and Sky Pack. It also folds out to a standard sized backpack which can hold 24L, is made of lightweight and durable CORDURA® material and also features a fully waterproof main compartment. However, it does have slightly fewer features (i.e the sternum strap and whistle), which makes it more suited to travellers over hikers. That being said its minimal design appears to work in its favour, as it continues to be one of the most popular packable day packs suitable for all weather conditions.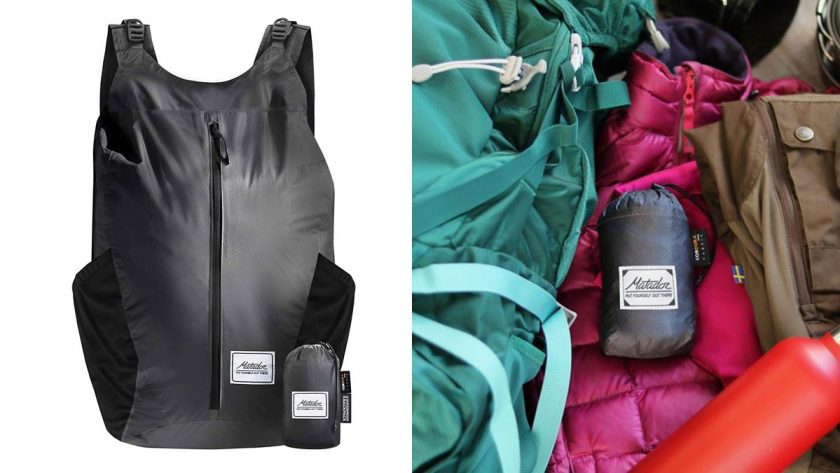 Available here.
Tortuga Outbreaker Daypack
The Outbreaker Daypack is one of the few packable backpacks that also contains a dedicated internal laptop sleeve and tablet sleeve, making it the ideal choice for the travelling commuter or anyone who uses their laptop on the go. While the bag doesn't pack down as small as my previous picks, it does fold flat and is relatively lightweight, weighing around 500g. It can hold up to 21L and features several different compartments (including a front zippered pouch and a water bottle pocket) and padded adjustable shoulder straps.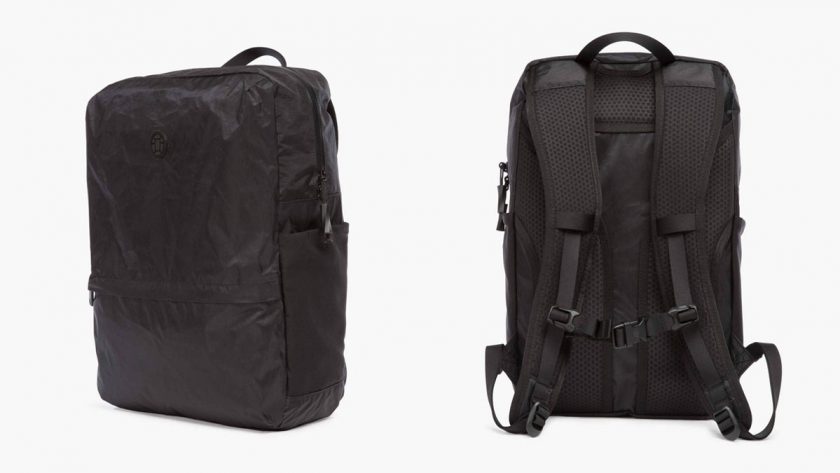 Available here.
M-24 Rolltop Backpack
This rolltop backpack from M-24 is made from recycled truck tarpaulin. It's fully waterproof and can fit up to 20L in its internal compartment. It also features an internal sleeve compartment which can carry a tablet or 15″ laptop. I love that this bag reuses old materials in interesting ways, and while this bag doesn't fold into a carry case it does flatten down and can be carried in your luggage.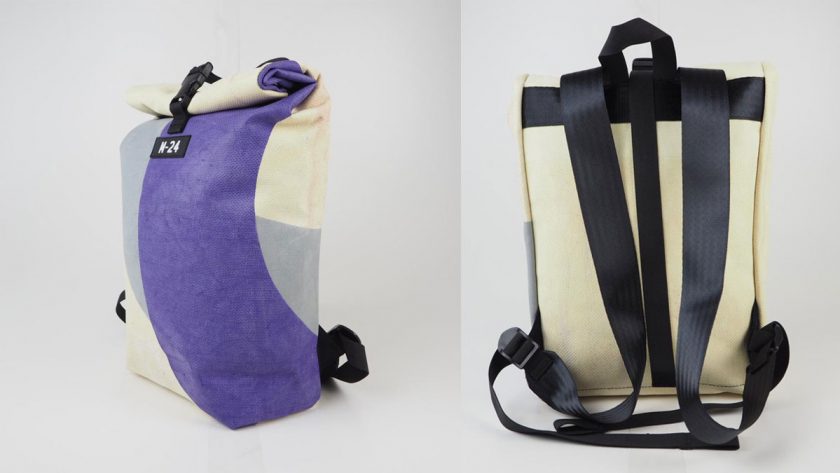 Available here.
ORTLIEB Light Pack Pro 25
The ORTLIEB Light-Pack Pro 25 is an ideal backpack for day hiking, travelling and watersports. It's designed like a dry sack, featuring one main compartment, and is fully waterproof. It weighs only 385g, can carry up to 25L and folds down to the size of a water bottle. It's got adjustable shoulder straps, a sternum and a thin waist strap, and the back support can be inflated for a more comfortable carrying feel.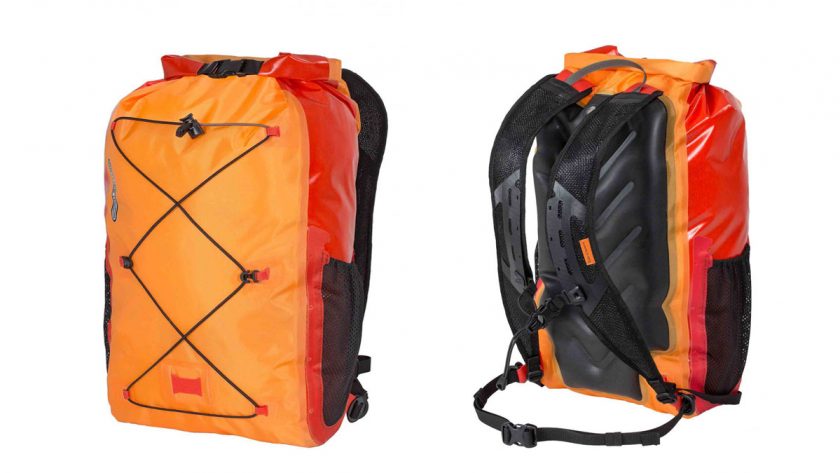 Available here.
Looptworks Going Rolltop Backpack
The Going Rolltop backpack is one of the latest creations by US brand Looptworks, a company that upcycles discarded materials into limited edition products. This bag features a variety of compartments, including an internal sleeve that can fit a 15″ device. The bag can also be expanded to suit different loads thanks to the adjustable loop strap and can be flattened and stored in your luggage. While the bag isn't advertised as waterproof, the material has been DWR coated meaning it'll keep the rain out in most conditions. Plus what's great is that, according to the brand, every bag saves over 4000 litres of water. That's the amount of water it would have taken to process the materials to make the bag. Instead, this one is made from excess material that would have otherwise been thrown away by another outdoor brand!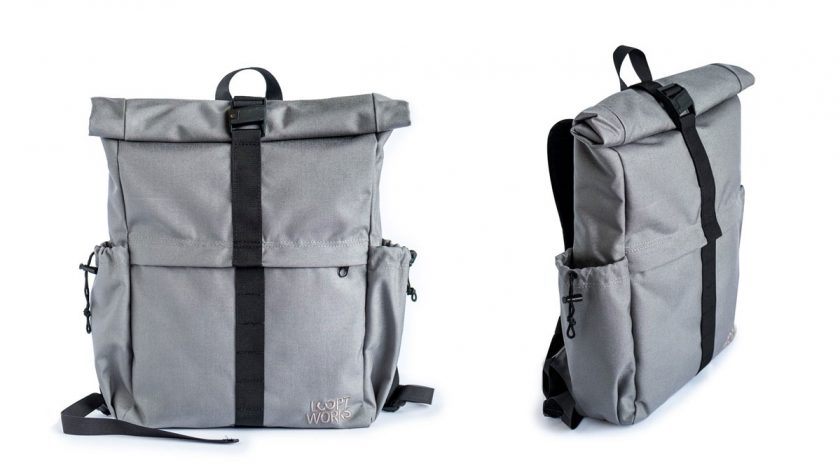 Available here.
Lefrik Eco Foldable Backpack
The Lefrik backpack is one of the few lightweight backpacks that's made from recycled materials and packs down really small. Weighing 370g, it features adjustable shoulder straps, internal compartments and also side handles—which allows you to carry it like a handbag. What's neat is that the bag can be folded down into its front pocket. This means you don't need to carry around a separate carry case! One downside is that the bag is only water resistant, not fully waterproof. But its cool design and the fact it's made from recycled PET makes it a worthy contender on the list.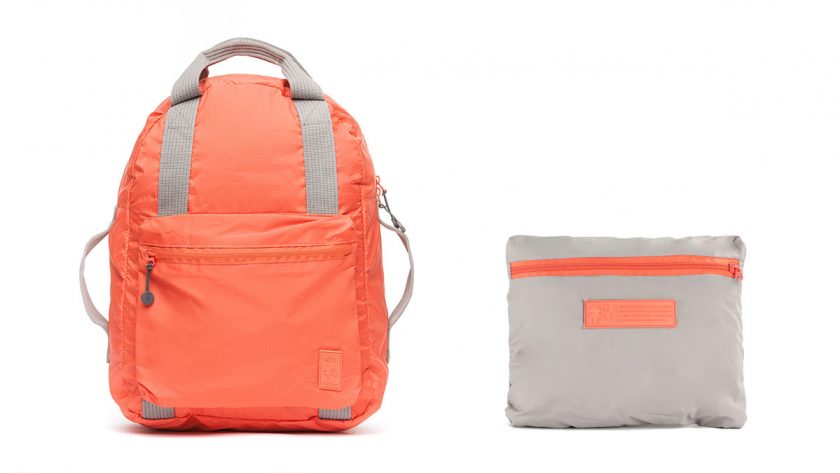 Available here.
Looking for more eco-friendly gear?
See my list of Best eco winter jackets made from recycled plastic.