A couple of weeks ago I shared my review of the KeepCup, a reusable BPA free coffee cup that comes in barista standard sizes. While I was impressed with the clever design, the fact it didn't keep drinks warm for long periods reduced its usability. While that was never the KeepCup's intention, it set me on the task of finding a drinks container that could. I wanted a travel mug that I could use on the go, during long road trips and while camping. For this purpose, I needed something fully spill proof, light, portable and thermally insulating and after some research, I came upon the Contigo West Loop travel mug.
Contigo travel mug
Contigo is a Belgium company that specialises in thermal mugs and water bottles. Launched in 2009, their products are now distributed worldwide. Their range of thermal mugs is quite extensive and varies in shape and size (from 300ml to 1200ml). I chose the West Loop mug for its ergonomic design and 470ml size—small enough for use on the go and big enough to quench my thirst for several hours.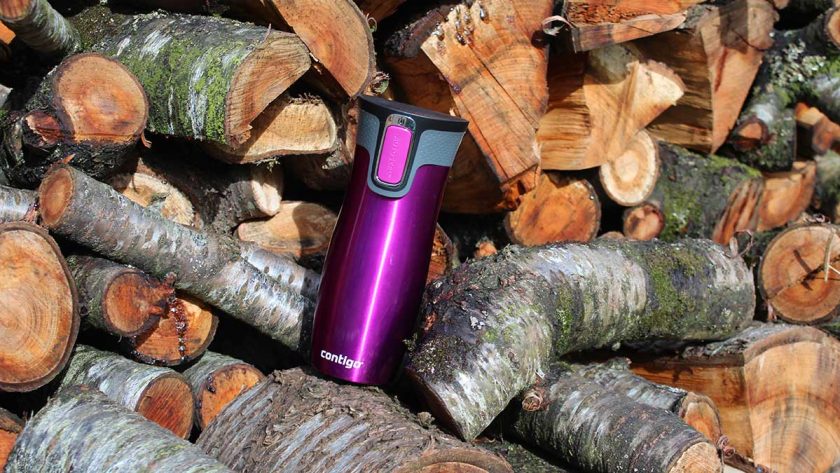 What's it made from?
The mug features double stainless steel walls, vacuum-insulated, with a screw top made from BPA-free polypropylene and silicone.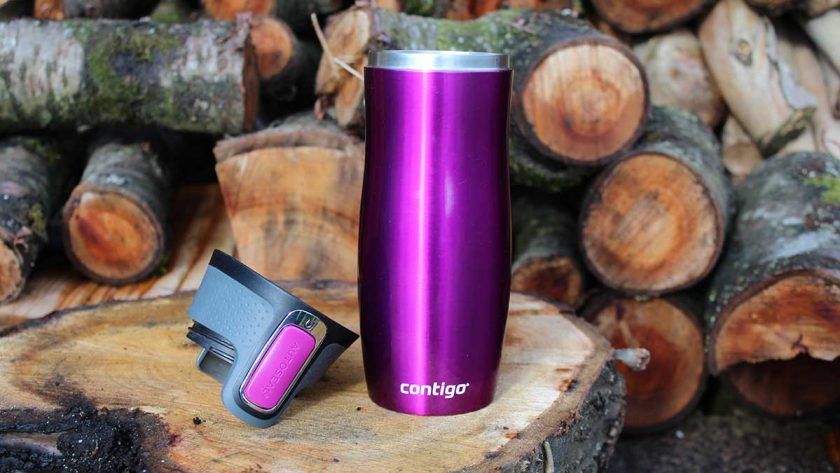 First impressions
On first impressions, I was really impressed with the mug. It felt extremely sturdy, lightweight and easy to hold. The screw top was easy to screw on and off and fits securely over the top.
Clever features
The lid itself features several clever features including an AUTOSEAL function, a lock button and a cleaning mechanism. The AUTOSEAL function in the lid ensures the mug is 100% spill-proof and leakproof. In order to drink from the mug, you need to press the large AUTOSEAL button on the lid. This opens the sealed mouthpiece. When you release the button, the mouthpiece closes. It's a neat function that's super easy to use with one hand and actually works. As well as this, the lid has a locking mechanism which when pressed locks the mouthpiece shut. It can't be used to lock the mouthpiece open.
Another clever addition is the cleaning mechanism. When pushed, the interior of the lid opens slightly making it easier to access and clean the nooks and crannies inside.
(After drinks, especially coffee, there does tend to be some build up inside the lid so I clean mine after every use. I do this by soaking the mug and lid in warm soapy water for 5-10 minutes. I then use a small brush to clean the mug and the grooves in the lid.)
The soak also helps remove any residual tastes in the mug. On a couple of occasions, I left a herbal tea inside the mug for several hours and then quickly rinsed it and re-filled with a coffee. On these occasions, there was still a residual taste and smell of herbal tea in my coffee—not ideal. This problem was overcome after soaking the mug for a few minutes.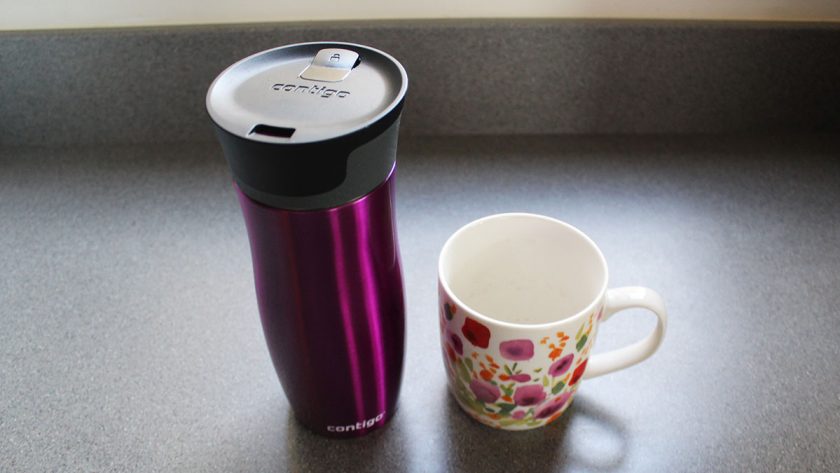 Performance
As well as being spill proof, even when being turned upside down, the mug does really keep liquid warm. I've been using it inside for several weeks and the drinks are still hot four to five hours after being made. I also conducted a test where I placed boiling water in the mug and put it outside in 4°C. While it had cooled, the water was still warm after four hours.
I really can't fault this mug apart from the fact that perhaps it does too good a job. But is that really a critique? This mug is great if you want to drink the contents a few hours after pouring it. But you'd scold your mouth if you want to drink it immediately or probably within the first hour. But it's hardly a fair criticism given the mug is designed to insulate on the go. If I want a drink now, use a normal cup…right?!
While I've yet to test the mug's ability to keep drinks cool, given that it's certainly not warm enough outside, the brand claims it can do so for 12 hours. I'll try and test it for myself during the summer and will post an update.
Usability
The mug itself is pretty versatile and can be used in most scenarios—at the office, at home, on the road, outdoors and while camping. The only difficulty maybe for coffee shop visits. At 20cm tall, the mug is likely to be a little too big for some brewers. You could get around this by asking them to pour the coffee in after it's been made but if you're after a coffee shop specific mug, I'd look elsewhere.
Price
The price of the mug varies between shops but is usually between £20 – £30. I'd say it's well worth the money as it is good quality, performs well and is durable. Likewise, you can also buy replacement lids for around £11, if necessary, which prolongs the longevity of the mug.
Verdict
The Contigo West Loop travel mug is a great quality mug that performs exactly as intended. Its design is both sleek and functional and fits neatly in a backpack or in most car cup holders.
Pros
Sleek design
Easy to hold and use in one hand
Spill-proof
4 hours+ hot
Heat doesn't come through the walls
Cons
Needs a thorough clean after every use
Too large to take to the coffee shop
4.7
Keeps drinks hot for hours
More info
For more information on the Contigo travel mug, see here. RRP: £20-£30
Likewise, check out my review of the new ThermoNet range from BUFF®. Headwear that's made from 70% recycled PET bottles.
Disclosure: I have not been paid to review any of the products listed above and am under no obligation to give positive reviews.