Evolv was born in 2003 out of a dream to create the best rock climbing shoes in the US. The first Kaos and Bandit models were handcrafted and built in a 500 square foot garage by the two owners in South California. 18 years later, they sit among the best climbing shoe manufacturing companies in the world and work with many top athletes in the design and development phase of their products.
Evolv vegan climbing shoes
While not a vegan-specific climbing shoe manufacturer, they do offer a good range of vegan climbing shoes to suit different abilities. My first climbing shoe was the Evolv Kira—an excellent all-around beginner shoe with a slightly down-cambered technical toe profile. Perfect to help your feet adjust to the close-fitting nature of a climbing shoe without sacrificing comfort; ideal for the first six months to a year of climbing, depending on how often you climb.
While these shoes were a perfect introduction to climbing, I soon realised that in order to match my progression, I needed a different shoe. I was looking for an all-round shoe suitable for indoor and outdoor sport climbing that would not only hold my weight confidently on smaller ledges and grooves, but with a slightly more downturned profile to tackle steeper climbs.
Evolv Geshido Velcro Women's vegan climbing shoe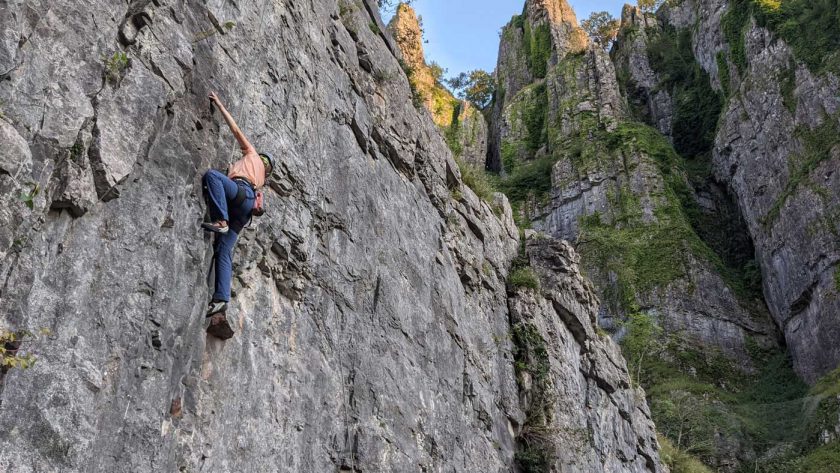 After much research and trying on a couple of options, including the BOREAL Crux—another great vegan option, but more suited to those with Roman or Egyptian toes—I settled on the Evolv Geshido. The relatively new model released in spring 2021 came in a lace or velcro option. While lace enables you to adjust your fit with greater precision, I went for velcro as I prefer the ease of taking them on and off.
I usually take a UK size 5.5 or 6 in a street trainer and fitted the Geshido UK 6 perfectly. The Geshidos are said to suit a narrow foot; however they accommodated my feet, which are slightly wider, and my Greek toes perfectly. I initially thought these would be too tight after getting too used to the comfort of the Kira's (while climbing shoes should fit very snug, pain shouldn't mean gain.) However, after a few sessions of wearing them, the synthetic upper did stretch a little to mould to my feet, and I adjusted to the closer fit quickly. Bear in mind synthetic uppers don't stretch as much as leather uppers—an advantage as they will in turn keep the shoe feeling tight and secure for longer.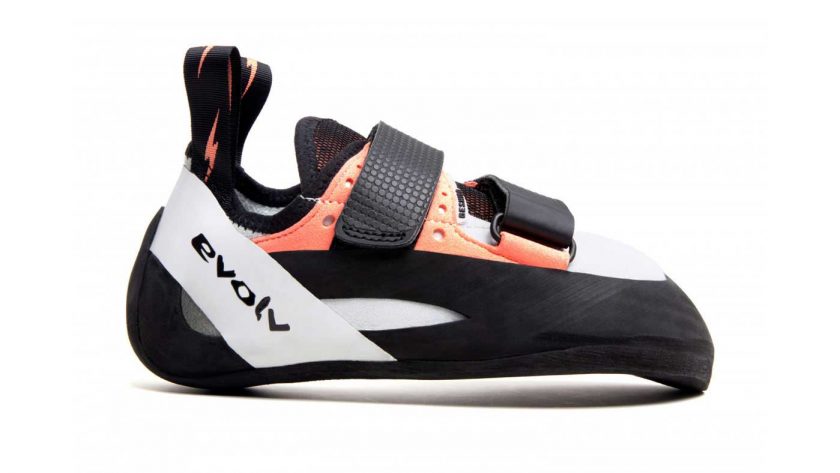 The Geshido is a downturned technical shoe designed for climbers that want to excel on all types of terrain from moderately overhanging, to vertical, to off-vertical faces for long periods of time. They are unlined and are constructed with a single vegan synthetic upper and a two strap hook and loop closure system.
Covered in Evolv's TRAX-SAS rubber, ideal for high and aggressive toe hooks, the split sole has 4.2mm SAS rubber making an ideal balance between friction and durability.
After the first two or three sessions of using and getting used to the shoes, I dramatically saw the difference in my climbing and my confidence—especially when climbing outdoors. The sharp edges of the shoe, pointier toe box, and sticky rubber meant I could stand up with confidence on tiny rocky ledges and small lumps on the wall. I also felt more confident smearing the wall, enabling me to reach and access alternative holds.
The 1.2mm full-length plastic mid-sole certainly helps with technical climbing, enabling you to channel power into small footholds. The downturned profile and thinner heel rand also helped me to pull off some challenging high heel hooks, enabling me to overcome a particularly challenging route over a large rocky bulge in Cheddar Gorge.
Final thoughts
Overall, I'm really impressed with the Evolv Geshido. They are the perfect balanced shoe for a climber who likes technical vertical climbing but also wishes to try and develop their overhang skills. Vegan or not, they are a solid, durable climbing shoe for all. After using the shoes twice a week—for both indoor and outdoor climbing—across three months, the TRAX rubber is still sticky and there isn't any real sign of wear or tear…just a little dirt.
Likewise, after breaking in for a few sessions, the shoe remains tight but dare say even comfortable, enough to wear continuously for a one-hour indoor session and probably longer if needed.
If this shoe is right for your foot type, it's a must-buy. Especially if you're an intermediate climber looking to climb harder and across a variety of routes.
Evolv Geshido Velcro Women's vegan climbing shoe
Verdict
Vegan or not, the Evolv Geshido Velcro is a solid and durable climbing shoe for intermediate climbers. After using the shoes twice a week—for both indoor and outdoor climbing—across three months, the TRAX rubber is still sticky and there isn't any real sign of wear or tear...just a little dirt.
Pros
All vegan material
Quality construction, durable
Sharp edges and sticky rubber that lasts
Profile perfect for small ledges AND for tackling overhangs
Cons
Not suitable for particularly wide feet
5
All-round performer for intermediate climbers