When looking at places to go on holiday, Tenerife wasn't the first place that came to mind. Having a bit of a party island reputation, I wasn't sure what else it could offer. But after discovering that it's one of the best places to see whales and dolphins in the wild I was quick to book my flights and after a weeks holiday exploring the island (this March), I can officially say my preconceptions were wrong. Tenerife has a lot to offer all types of adventure-seeker. From its marine life (dolphins, whales, rays and turtles all frequent its waters year-round) and sandy beaches, to its rugged pine forests and the lunar-like wilderness of Teide National Park (home to the third largest volcano in the world,) there is plenty to explore and see.
To get the most from the island, I highly recommend travelling around it. We flew into the island's South Airport and stayed at Costa Adeje. This was a great base for water activities, including whale watching and snorkelling with turtles. But we hired a car for three days to explore the rest of the island. As the island isn't that big, this gave us ample time to see some of the highlights. (I'll be writing about these highlights in my 7-day itinerary shortly.)
How to get around with a car
For those with a driving license, a car is by far the best way to get around Tenerife. It offers a greater degree of flexibility and means you can explore places not accessed by public transport. On the whole, the roads are easy to drive and most are in a good condition. However, some roads do get quite narrow in the towns and they are very windy in the mountainous areas. So extra caution is needed. Bear in mind, Spanish rules apply and cars drive on the right.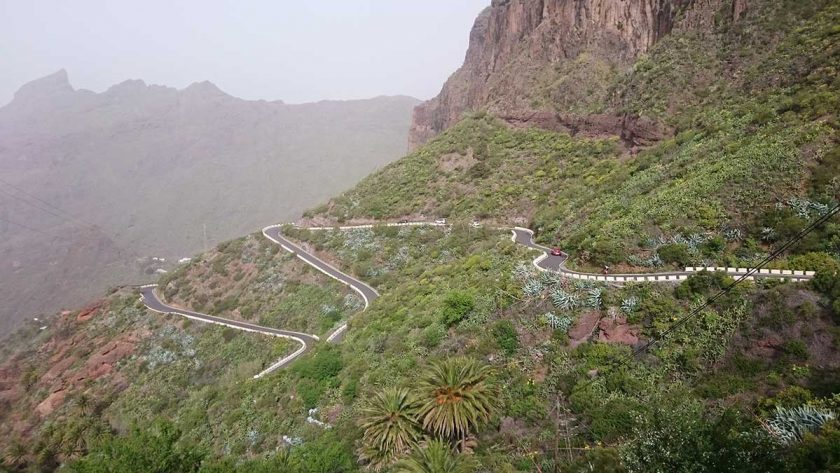 It's also pretty easy to park your car for free. There's often free on road parking in towns and some car parks are also free of charge.
Car hire in Tenerife
We hired a car at Costa Adeje with Rent a Car Canaries. They also have offices throughout the island. We were able to book a car online to pick up the next day. While they do accept late bookings (like ours) I'd recommend booking in advance if you know what days you want the car for. (The minimum age to be able to rent is 24 and at least two years driving experience.)
The company picked us up outside our apartment block and took us to the local offices where we paid for the car and picked it up. On returning the car, the company then dropped us back at our apartment block.  The service was great and it was easy to hire the car. We just needed to show driving licence, passport and a credit card (in the name of the driver). The company also took a €100 holding fee from the card, which was returned when we returned the car.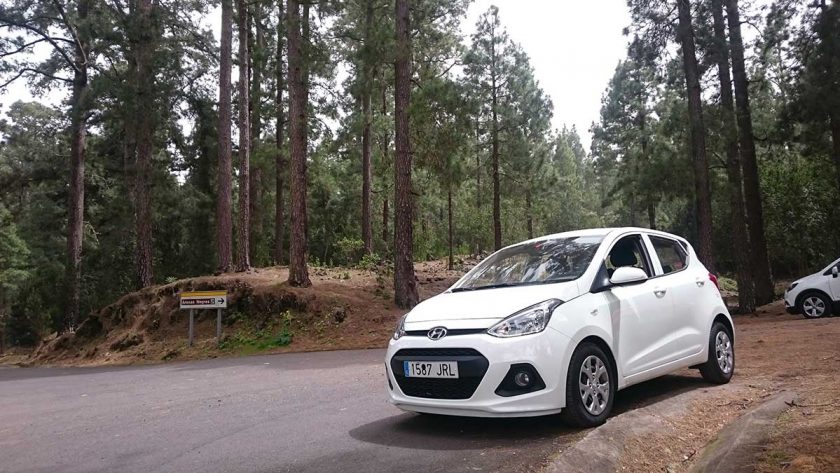 Car hire tips for Tenerife:
Opt for the highest level of insurance cover (just to allow for peace of mind.)
You have the option to add the additional insurance, WTC, to cover wheels, tyres and glass for just €3 per day + tax (13,5%)
Opt for an automatic car (one less thing to focus on.)
Check on the excess / opt for insurance without excess (aka insurance with no franchise.)
Remember to return the car with a similar amount of petrol/diesel in as when you picked it up (otherwise, you'll be charged.)
Check the car over for scratches and make the company aware of anything before you take it.
If you plan beforehand, there are companies who will cover the excess on your car at a much cheaper rate.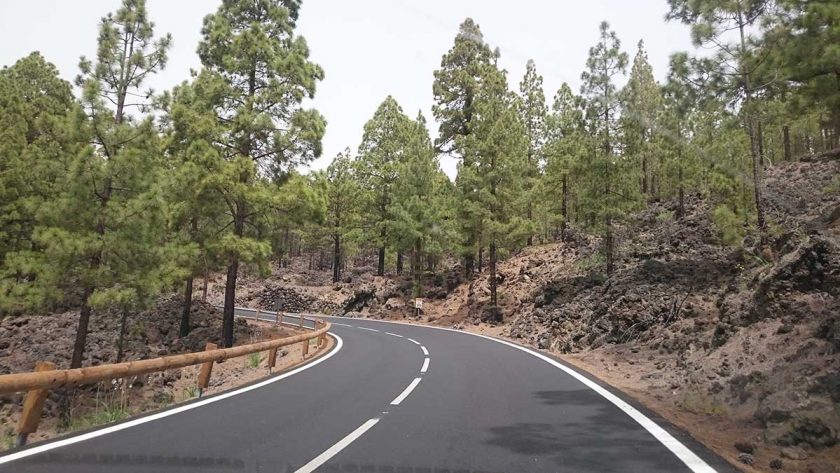 How to get around without a car
If you don't fancy driving, or you're unable to drive, then fear not. Tenerife does have a pretty good public transport network. While you will be limited on where you can go and it may take a lot longer, you are able to explore much of the island by bus.
The bus network in Tenerife is called Titsa and its website has all the information about buses and timetables. We also found Google Maps to be pretty handy when travelling by bus. If you input two different locations Google comes up with a list of buses you can take and timings.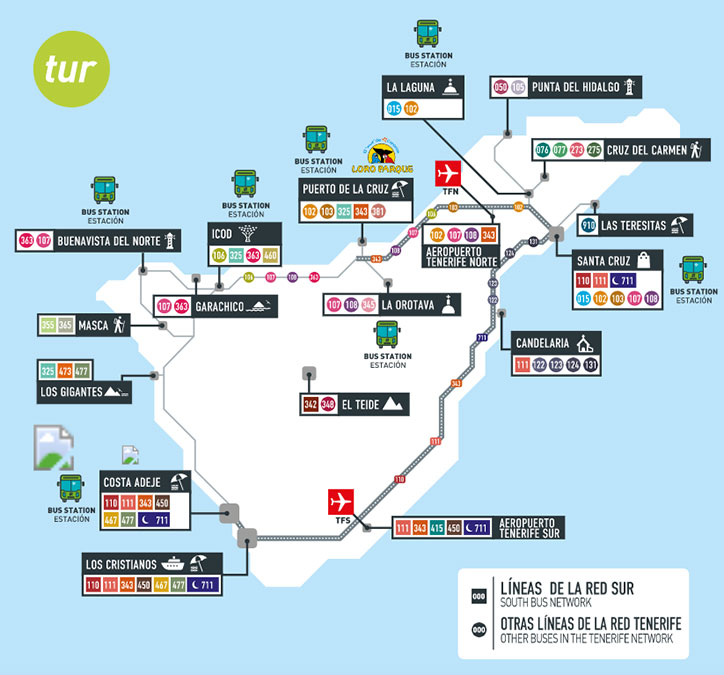 You can buy tickets on the bus.
While staying in Costa Adeje we got the bus to Los Christianos several times. The journey cost €1.45 for a single.
Buses are regular and mostly on time.
Mount Teide by bus
There are also two buses which take you to the Teide National Park visitor centre (Parador) and the Mount Teide cable car. These are:
Line 348: Puerto de la Cruz (C/ Hermanos Perdigón only Stop) – Teide
Line 342: Costa Adeje – Cristianos -Teide.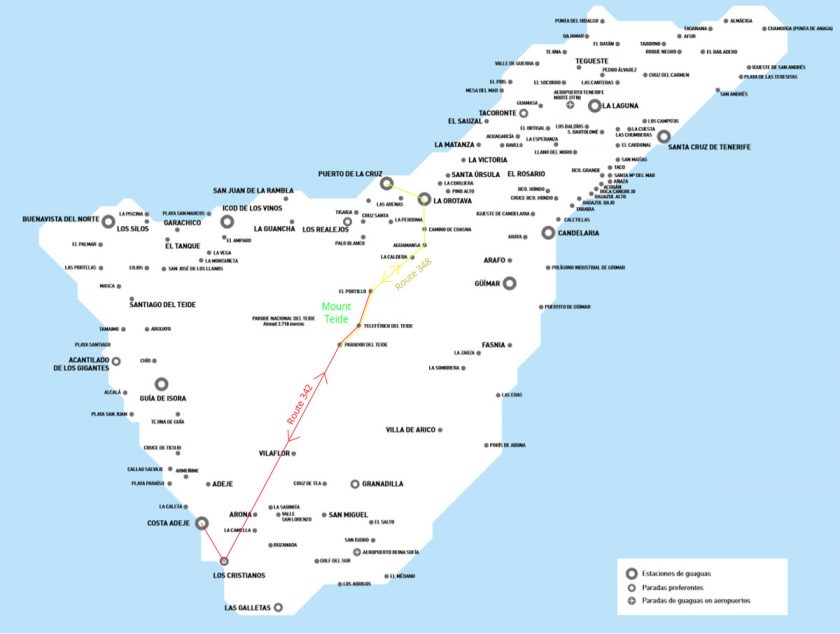 You can buy these tickets 48 hours in advance here.
Make sure to check the timings of the bus as they only do one round trip a day.
I'd also recommend getting to the stop early to make sure you get a seat.
The 342 service runs from Costa Adeje bus station at 9:15 am and returns at 3:40 pm sharp from the cable car station and 4 pm sharp from the Parador visitor centre.
The 348 services run from Puerto de la Cruz at 9:30 am and returns 4:05 pm from the cable car.
You can also buy a ticket for the cable car on the bus which costs €37 for the bus fare and cable car. According to others, if the cable car cannot run (high wind, etc.) get your bus ticket stamped and the bus driver will refund your €25, on the return journey. Though I have no experience of this.
To climb to the summit of Mount Teide, you need a permit which you need to apply for beforehand. The cable car will bring you to 200m below, and there are several walks you are free to do from here if not.
You can also access most of the major 'hidden gems' by bus, including Masca, Los Gigantes and La Laguna. These involve changing several buses, so just check the timetable on the Titsa website.
Hop in a taxi
Alternatively, there is the option of a taxi. However, these aren't cheap. You could mix getting the bus and then a taxi if you need to split your journey. From Costa Adeje, you can get the 477 bus to Los Gigantes and then get a taxi to Masca. It will cost you around €23 one way, but it may be a lot less stressful.
Whatever you plan, enjoy your trip! Let me know your favourite place you visited in the comments below ↓