The worst part about a holiday for most people is the airport. Whenever I go, I see people pulling their arms off with giant cases, stagnating in large queues to check in bags and fumbling at the security gate trying to organise their liquids. Since an unfortunate trip to Europe several years back which involved a broken case and three weeks of carrying a ton of unnecessary clothes from hostel to hostel, I vowed to try and pack as lightweight and economical as possible.
So I bought a hard shell carry on case, which complied with all airline hand luggage rules and maximised my allowance, and learnt how to pack only the necessities. Yes, there are still moments when packing for a holiday that I wonder if I have enough, but most of the time I still return having worn only 80% of the stuff I've packed. Learning to pack light has been one of the most useful travel skills I've learnt. It means:
I save money on flights (you don't need to pay to check in a hold bag which can be £20+ each way.)
I skip the check-in queue.
I don't have to wait to collect my luggage when landed.
My luggage is lighter and easier to carry.
I don't struggle with knowing what to wear, as my outfits are already planned before I pack.
FYI: Packing light only works if you have access to a washing machine on holiday. Travel washing liquid can be used to hand wash items, but it's easier and quicker if you can chuck them in the washing machine. Many self-accommodation rentals come with washing machines, as do hostels. I always check this before booking. If you don't have access to a washing machine, this packing list can be adjusted slightly to suit you for one week with the addition of extra underwear.
How to pack light for a 2 week holiday
So before you pack, I recommend getting a cabin bag that complies with all airline regulations and maximises your packing. Most major airlines allow a 55cm x 40cm x 20cm bag with a 10kg weight restriction, though airlines like Thomas Cook and Emirates have a slightly lower weight allowance. I'd recommend checking this before flying, but FYI I've never had my hand luggage weighed before. I opted for the 5 Cities ABS hard shell. See a quick review of the bag below ↓↓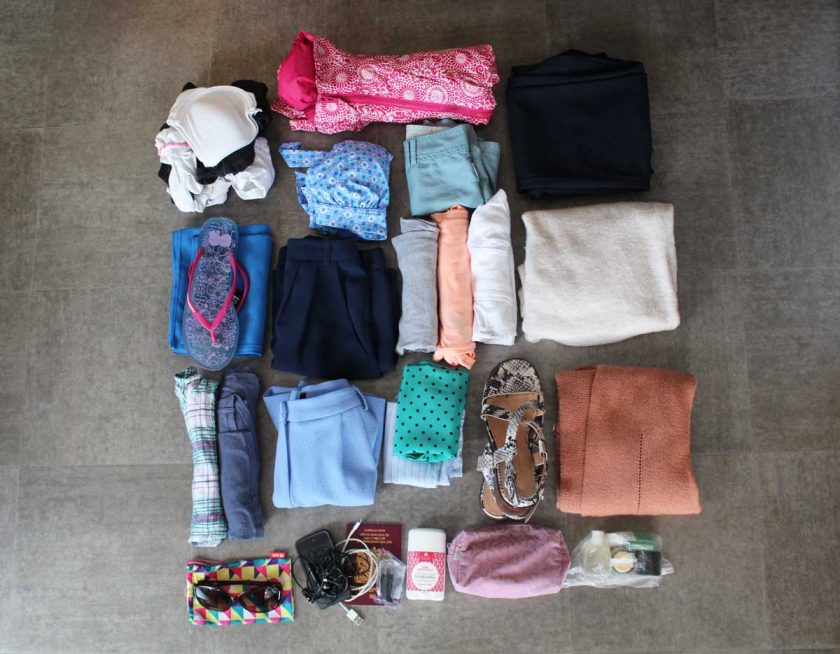 In terms of what to pack, you'll need:
Essentials
Passport
EHIC card (medical insurance card)
Mobile phone
Plane tickets
Travel insurance details
Euros & credit card
Clothes for all weathers
Trousers x 1
Jumper / Cardigan x 2
Shorts x 2
Skirt x 1
T-shirts x 3
Floaty vest tops x 2
Swimming costume / bikini x 2
Pyjamas x 1
Rain mac in a sac x 1
Sandals x 1
Flip flops x 1
Bra x 1
Pants x 5
Socks x 5
Toiletries
Deodorant (I recommend Ben & Anna natural deodorant)
Face cream (decanted into a small pot)
Makeup (SPF moisture tint, mascara and eyeliner)
Coconut oil (used as makeup remover, body and hand cream)
Shampoo (travel size)
Body wash (travel size)
Sunscreen
Toothpaste & toothbrush
Electricals
It is important to acquaint yourself with the guidelines governing electronic devices. Every country and airline may have its own specific regulations, so it is crucial to conduct thorough research in advance. For example, if you are wondering "can you bring batteries on a plane" it is advisable to consult the regulations outlined by the Civil Aviation Authority of the country you are travelling to or the airline you have chosen. By doing so, you can ensure compliance and a smooth travel experience.
Here are some essentials you may consider taking with you:
MP3 player & charger
Phone charger
Adapter plug
Straighteners
Extras
Sunglasses
Suitcase lock
Drawstring backpack
Hair comb
What to wear on the plane
Think smartly about what you wear on the plane. It isn't classed as hand luggage, so if you layer up you can take more stuff.
Coat x 1
Fleece x 1
Jeans x 1
Long sleeve top x 1
Scarf / Pashmina x 1
Trainers x 1

Hand luggage and tips
The best way to pack clothes is by rolling them individually.
Roll shorts and trousers lengthways and place in the vertical grooves of the case.
Pack your liquids in a clear bag before arriving at the airport.
Cut down on toiletries and buy body wash, sunscreen etc out there.
Pack light and wash pants/socks etc when needed.
Put socks and pants in gaps in shoes.
Put phone, MP3 player and wallet in your coat pockets.
Am I allowed hand luggage and a handbag?
While some airlines allow you to bring hand luggage and a handbag, such as Ryan Air, some, like Easyjet, do not. If you're allowed an extra handbag make use of this space by packing some snacks/food for the journey.
5 Cities Hard Shell case
So I opted for the 5 Cities case due to its size and durability. It's been a great case so far, very strong and sturdy and its four spinner wheels move 360° which makes it easy when changing direction quickly. The wheels are also really quiet which is a bonus. The case itself weighs 2.5kg which means I can pack up to 7.5kg of luggage inside it to compile with regulations, which is plenty and the case is easy to wipe down and clean. The only negative is the padlock which comes with the case. It's useless and easy to break so I'd recommend getting a metal one to replace it. The case itself costs around £25 – one of the cheapest and best quality cases out there.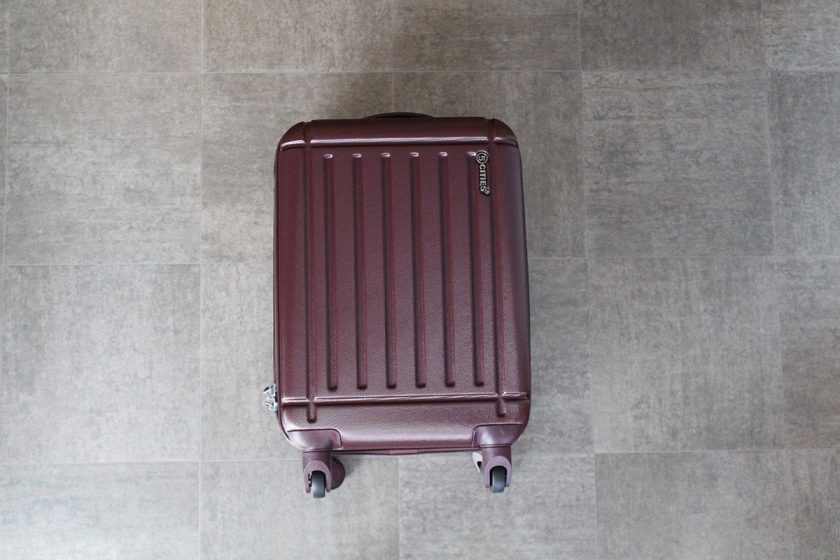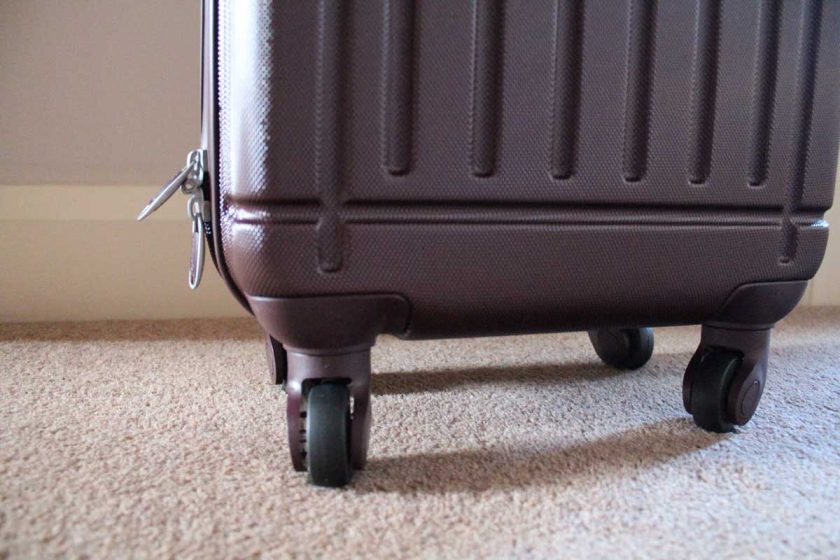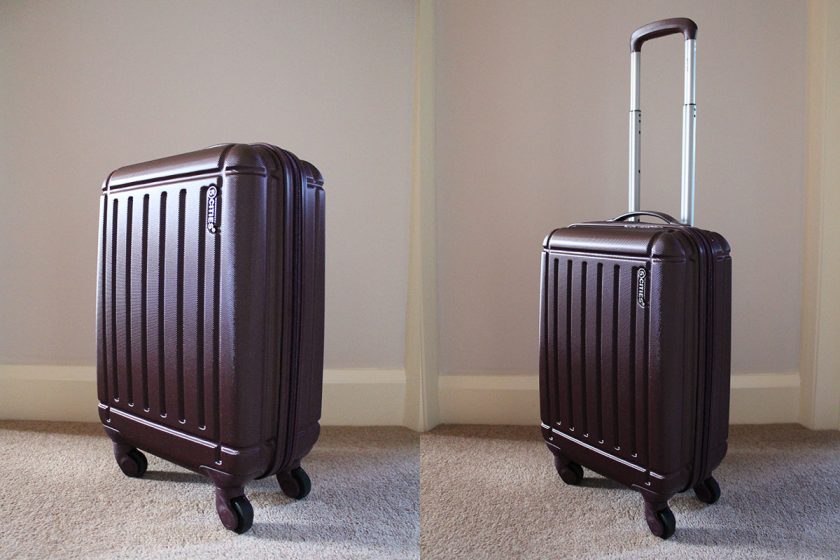 Travelling Europe extras
For more ideas and tips on travelling Europe, see my guide to 2 weeks in Italy. It includes my itinerary through Italy from Venice to the Amalfi Coast, travel tips and the best places to stay in each city.