As you know disposable coffee cups cause a lot of waste and many are not recyclable. So in the interest of sustainability I was keen to get my hands on a good quality coffee cup that I could use on a regular basis. After some research, I came upon the KeepCup.
What is KeepCup?
KeepCup is an Australian brand that launched in 2009. Its reusable coffee cups are designed to replicate those found in coffee shops and come in barista standard sizes.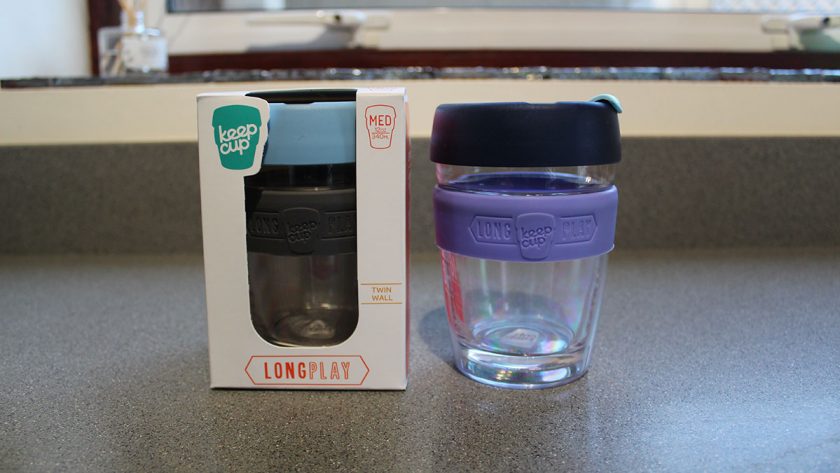 What's it made from?
All KeepCups are made from tempered glass and feature a removable BPA and BPS free plastic (polypropylene) lid, mouthpiece plug cover and a non-slip band made from either cork or silicone. They come in single wall or double wall varieties and five different sizes: 4oz, 6 oz, 8 oz, 12oz and 16oz.
My review
I opted for the double wall medium sized cup, which holds 12 oz (340ml)—roughly equivalent to a standard sized cup. I chose double wall as it promised to be more durable and retain heat a little better than its single wall counterpart.
One thing to note is that the KeepCup isn't designed to insulate. A lot of reviews have marked down the cup because it doesn't retain heat that well. But to be fair to the brand, that isn't the cup's purpose. Instead, it's been designed to replace a takeaway coffee cup.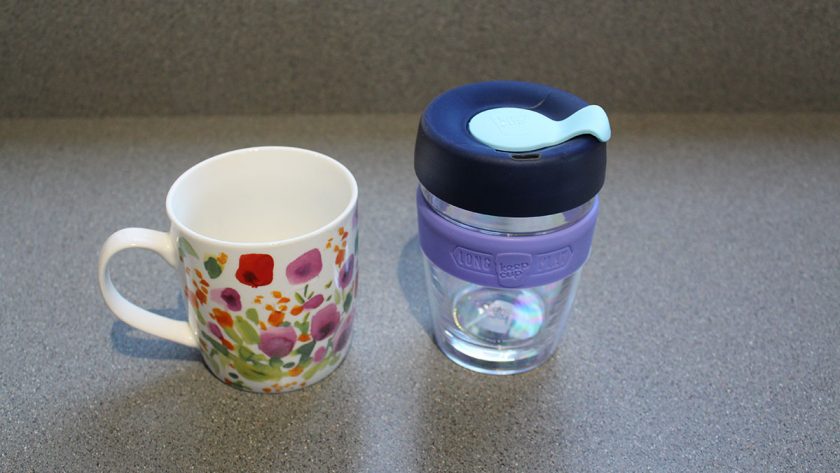 In this regard, it works well. The body of the cup is robust and lighter than a ceramic equivalent. It may be a little heavy/large to carry in a small handbag, but a rucksack would be fine. The lid is relatively easy to remove (by pulling it off) and fits securely over the cup. The adjustable mouthpiece plug is also a nice addition and can help prevent some spillages when walking to and from the kitchen/coffee shop.
Some other reviews have mentioned that the cup spills its contents, but I've used it for the last six months and haven't experienced a spillage while drinking from it. I would, however, recommend keeping the cup upright when walking with it. If you tip up the cup, some liquid can spill through—this is despite having the mouthpiece plug on it. KeepCup acknowledges this, stating it's a "splash proof vessel, not a sealed container."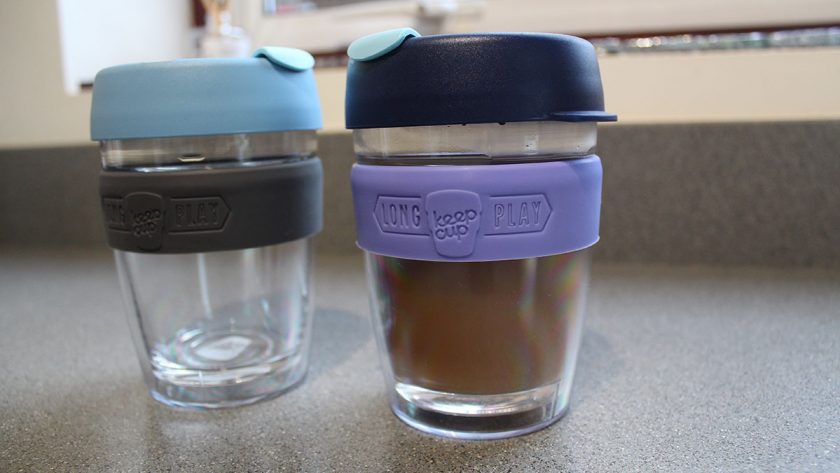 One of the best features of the cup is its design. I like that the glass body is transparent and the materials are durable. KeepCup states that each component comes apart, can be cleaned and can be replaced. This not only makes the cups fully customisable but also improves their longevity.
While this is true, I did find the silicone band hard to remove and as a result cleaning around it was difficult. KeepCup recommends taking the cup apart every week to give it a full clean and remove moisture from the twin walls. Removing the silicone band makes this difficult, but all of the other components were easy to remove, clean and replace.
Likewise, another slight downside is the fact that the lid and mouthpiece plug is made of plastic. However, they are made from polypropylene which is one of the most widely recycled plastics and they are BPA and BPS free. Furthermore, they don't smell or affect the taste of the contents. The sipping hole is also a decent size which helps you take in the beverage's aroma (especially true of coffee) and therefore taste the full flavour.
In terms of heat retention, the cup kept my drinks warm for around 30 minutes. I'm a quick drinker so this provided ample time for me to enjoy my drink. Likewise, the double wall allowed me to hold my cup straight after pouring boiling water into it. Something that can't be said for most takeaway cups.
Price
The cups start from around £7 ($9.50) for the smallest size up to £23 ($31) for the largest size. While they aren't cheap, you are investing in a good quality BPA free cup. Likewise, according to the brand, "if you use a KeepCup for a year instead of disposables, you will have saved 3kg of plastic." That's money well spent.
Verdict
The KeepCup is a nicely designed reusable cup. I like that it comes in barista standard sizes and it's made from good quality, durable materials. It doesn't retain heat that well, but that's not its purpose. Likewise, it could be slightly lighter, which would make it easier to transport. But that could mean sacrificing the quality of materials. So overall I was impressed with the KeepCup. Great for trips to the coffee shop, around the office, or even at home.
Pros
Made from good quality durable materials
Fully customisable design
Ideal for coffee shop visits / around the office / at home
Can hold the drink straight after pouring (double wall)
Cons
Silicone band is hard to remove, making a full clean difficult
Isn't designed to insulate
Perhaps a little heavy / bulky for some small bags
A little expensive
3.8
A durable cup ideal for coffee shop visits
More info
For more information on the KeepCup and its range, see here.
Likewise, check out my review of the new ThermoNet range from BUFF®. Headwear that's made from 70% recycled PET bottles.
Disclosure: I have not been paid to review any of the products listed above and am under no obligation to give positive reviews.