There's a misconception that vegans can't be good runners. That avoiding meat, dairy, and other animal products means your body lacks the nutrients for top performance.
But the truth is, it's perfectly possible to fuel yourself to reach and even surpass all your running goals on a vegan diet. World-class runners like Scott Jurek, Rich Roll and Kate Strong are vegans.
That being said, it's still important to set your diet up in such a way that it fuels your exercise rather than sapping your energy.
Here are the top tips for vegan runners that'll get you performing better than you ever expected.
Nutrients your body needs for running
Your body needs a combination of protein, carbohydrates, and fats not just for running but for basic subsistence. But if you want to feel good and perform well while you run, you'll need to pay more attention to the combination in which you consume them.
Carbohydrates are the body's main source of fuel. The sugars in carbohydrates get stored in your muscles as glycogen, which your body draws on when it needs more energy.
You should be getting between 40% and 65% of your calories from carbohydrates in order to keep your glycogen stores at capacity.
Protein is also essential, especially for vegans. It plays an important role in building muscle, key for runners, then getting enough protein in your diet is a must. 20% to 25% is a good total to aim for.
Fats are also important in your diet. They help your body absorb vitamins and minerals, balance hormones and keep you feeling full.
The benefits of a vegan diet for runners
The good news is that whatever diet you're on, there's a way to ensure that you're eating the right nutrients in the right amounts. But a vegan diet does have some notable benefits over other diets.
Alkaline diet
A plant-based diet is well known as an alkaline diet. Consuming acidic foods can have a negative effect on your digestive system, leading to heartburn and long-term digestive conditions.
Alkaline means it's easy on the system and much less inflammatory than other diets. An alkaline diet speeds up healing, halts the progression of disease, and keeps you healthier in general.
It also means you're 'lighter'—not weighed down with heavy foods. The increased health benefits lead to better performance while running.
Improved recovery
Recovery is an essential aspect of running, and the body requires the right nutrients to recover effectively. Eating a vegan diet that includes organic oyster mushrooms can help to improve recovery times after a run.
Mushrooms are rich in amino acids, which are the building blocks of protein. Protein is essential for muscle recovery and repair, and by consuming mushrooms after a run, runners can ensure that their muscles are getting the nutrients they need to recover quickly.
Low-calorie
One of the biggest bonuses of a vegan diet is that it's low-calorie. You can eat a lot of food for the caloric intake that's right for you—even a smaller runner who's eating 1500 calories or so will find that there's a lot of room for food.
You won't be hungry throughout the day if you eat the right foods. This means it should also be easier to lose weight if that's one of your reasons for running.
Lowers risk of disease
The anti-inflammatory, alkaline, and antioxidant properties of a vegan diet have been said to lower blood pressure and cholesterol levels, and reduce the risk of diseases like cancer, heart disease, and type 2 diabetes.
The fitter you are, the healthier you can be. But the healthier your food choices, the easier it becomes to get fit. It's a cycle!
Potential nutritional concerns for vegans
One of the biggest concerns for vegans—and vegan athletes in particular—is getting enough protein. Considering animal proteins tend to offer the most protein bang for your buck, vegans need to take extra care to hit the right amount of protein to fuel their performance.
Other concerns that receive less attention include calcium, iron, vitamin D, vitamin B12, and omega fatty acids.
The good news is that you can supplement with all of these, but it's still a good idea to calculate how much you're getting on a daily basis and attempt to increase it naturally through whole foods.
Nutrition tips for vegan runners
Follow these tips to make sure you're fuelling yourself for performance.
Get enough protein
The generally accepted protein intake—according to the Dietary Reference Intake—is 0.36 grams of protein per pound of body weight.
However, this refers to the average person who isn't exercising. For runners, it's recommended to at least double that to account for muscle healing and growth. Aim for 0.6 to 0.8 grams of protein per pound.
It's a good idea to try and have protein in every meal, including snacks. If you really struggle to hit your numbers, try adding a scoop of plant-based protein powder to your daily intake.
Eat the right foods
The biggest key to being a successful athlete on a vegan diet is to eat the right foods. You want to fill up on nutrient-dense carbs that will provide you good energy and an array of vitamins and minerals. We recommend:
Starchy vegetables
Legumes
Whole grains
Fruits
We also highly recommend adding superfoods to your diet wherever you can. Hemp seeds, chia seeds, matcha, spirulina, and cacao can add more nutritional value than you may realise!
In terms of what NOT to eat, sugar and processed carbs kick off an inflammatory response that can make you feel worse and hamper your athletic performance.
Get enough calories
Considering the vegan diet is made up of mostly low-calorie foods, it can be easy to inadvertently under-eat. Eating less than your body needs will definitely lower your performance, so don't be caught out by this.
We recommend using a calorie-tracking app to make sure you're hitting your caloric intake.
Track your nutrient intake
You can also do this using a calorie-tracking app. It helps to know your protein, carbs, and fat split, and you can play around with it to find what works for you.
You can also keep an eye on your other nutrients, so you know if you're getting enough or need to supplement.
Be careful with supplementation
You don't need to avoid in-race supplementation if you're a vegan. While it's true that many energy gels and drinks aren't vegan-friendly, you can find vegan options.
You can use coconut water as an alternative to sports drinks, or you can make yourself your own drink with a touch of fruit juice, a hint of sea salt, and water. This adds a bit of flavor and gives you an electrolyte boost.
Stick to low-fibre foods before a run
Vegan diets are typically high in fibre, but take care to choose lower-fibre foods before a run. A high-fibre pre-run snack can lead to stomach troubles on the rod or trail!
Meal prep
Being prepared is half the battle won. Meal prep on the weekend so you know your week's meals are sorted, and then you don't need to worry about it again! You'll also be less likely to fall into the trap of eating junk because it's convenient.
Conclusion
Some of the world's best runners are vegan! Interestingly, a vegan diet seems to be popular among ultra runners, leading to a natural assumption that it gives you prolonged energy.
Being vegan has undeniable benefits. But you'll only see the positive impact on your running if you do it the right way. Try these tips and see how your performance improves!
Pin this post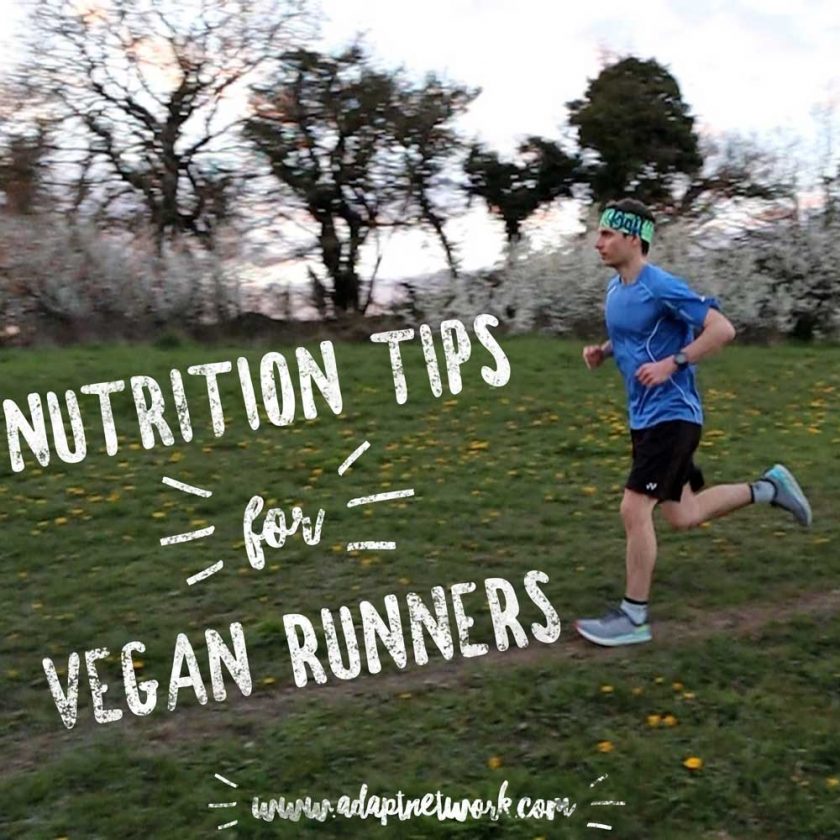 This article was written by Ben Drew from 'The Wired Runner'.