As an eco-conscious vegan, I have been on the search for an effective natural deodorant for over five years. Where the market was once quite stark, it's now thriving with many natural alternatives claiming to provide long-lasting coverage. I've tried many on the market, but so far the only one I've found to work well is Natural Deodorant Company (Natural Deo Co).
I've used this brand for many years and, while not 100% perfect, it has been the best on the market for natural ingredients, pleasant scent and lasting coverage.
Being a bit of a 'natural-deo-know-it-all', when Proverb reached out to me about its new natural deodorant, I was excited to test it out but sceptical. So many brands make promises and don't live up to them. However, Proverb has completely delivered and more.
Proverb refillable natural deodorant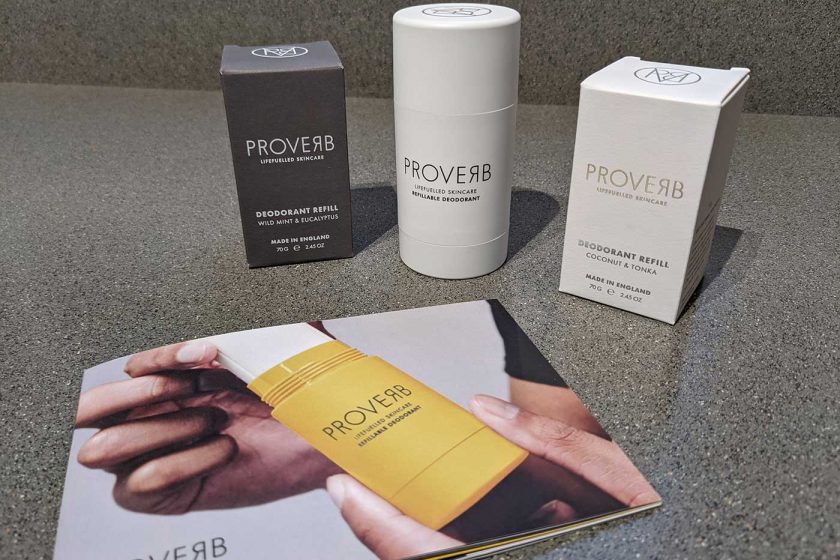 Proverb was launched by UK couple Kirstie and Luke Sherriff. Luke, a professional UK rugby player, got wind of the news that aluminium and the many chemicals in conventional deodorants are bad for our bodies. It not only blocks sweat glands, negatively affecting our body's natural temperature regulation, but can also affect our endocrine (hormone) system.
It was from here they decided to launch their own natural skincare brand that not only used natural ingredients but performed under pressure.
They launched their first 'refillable' deodorant in 2019, through a crowdfunding campaign, and the brand has continued to expand and sell facial scrub, moisturiser and more.
Packaging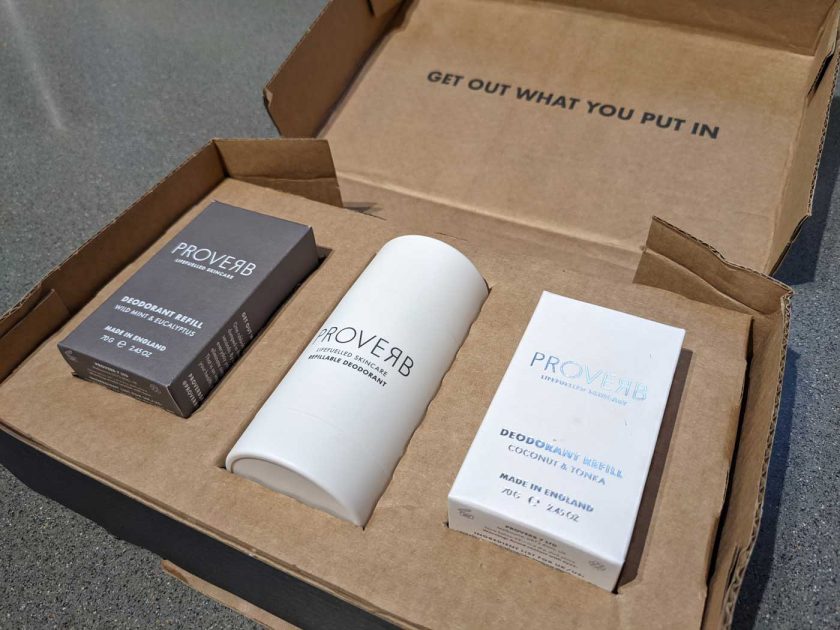 Whereas Natural Deo Co's deodorant is packaged in a glass container with a metal lid, Proverb offers a refillable solution in a sturdy and sleek plastic container.
Long term, this is a really neat solution, but only if you know you like the deodorant. As a first-time user, I was concerned that if I didn't like the deodorant, the refillable solution would be pointless. Perhaps Proverb could offer a zero waste sample pack for first-time consumers?
Then again, once you have the container, you then buy separate refills saving on packaging and waste. Reusing is better than recycling!
Proverb appears committed to reducing its footprint and has looked extensively into its packaging materials. It offers a free recycling solution for the case and the small PET plastic wheel on the base, if it should ever break. The brand's co-founder has written a really good blog which goes into more detail.
Scents
There are three refills 'scents' to choose from: Wild Mint & Eucalyptus, Coconut & Tonka and Unscented.
The first two scents come in either a 'core' or 'active' option. Core is for everyday wear and active is for those people who work out and sweat a lot.
I opted for the Coconut & Tonka active option (I always opt for the active option with Natural Deo Co.)
The refill had a strong but pleasant natural scent. The tonka added a vanilla like musty smell that felt quite feminine.
I also tried a sample of the Wild Mint & Eucalyptus, which again had a pleasing but natural fragrance. It had a freshness to it, from the mint, with classic eucalyptus undertones, slightly herbal, forest-like.
Both scents would and could appeal to all genders—it's just a matter of preference.
Ingredients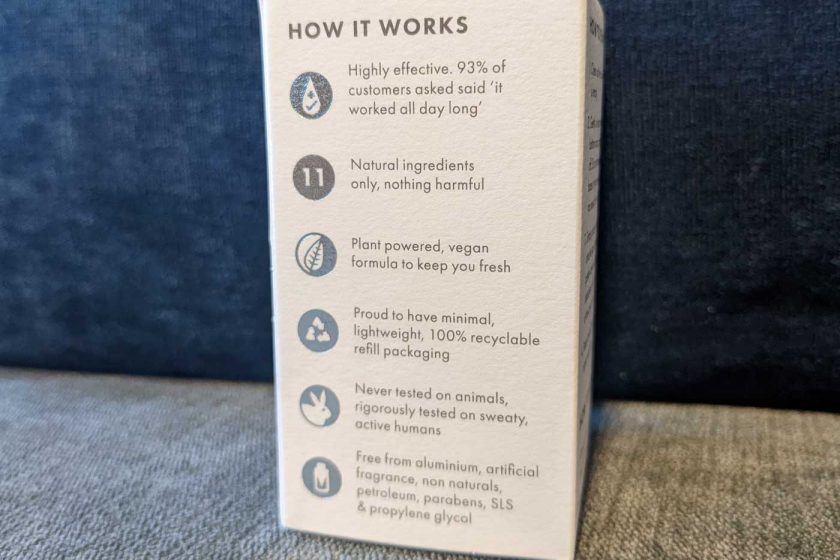 On reviewing the ingredients list, I was pleased to see no nasties or harsh chemicals. The brand uses natural active ingredients like sodium bicarbonate, corn seed flour, tapioca starch and fruit wax to create a very effective yet smooth formula.
Unlike Natural Deo Co, whose formula can feel a little grainy, this formula was really smooth and just glides on. The fruit wax also really adds to the deodorant's staying power. At the end of the day, I felt a slight waxy residue under my arms. This came off with a bit of extra washing, an easy trade off for a deodorant that can last all day.
The deodorant also contains candelilla wax. This is a regular sight for most vegans as many 'vegan' products, like lip balm, use this as an alternative to beeswax. However, I recently discovered that some un-ethically sourced candelilla wax is being used in mainstream beauty products. So I wanted to check in with the brand to find out about their supply chain.
Here's what Kirstie said:
The candelilla wax [we use] originates in Mexico. We dig deep when we start working with a supplier and [their transparency and ethics] are one of the major factors we look at when we choose who we work with.

Proverb stands for statements of truth and in truth unless you are on the ground every day with them [the suppliers] you can never be 100% [sure] they are not deviating from the promises. We have the same with Himalayan mineral crystals we use in our spa products, ensuring they [our suppliers] have no Pakistan mines with children in.
Kirstie also sent me their suppliers' ethics statement, which had been assessed by the UN Global Compact and confirmed that the appropriate safety equipment and training was provided to all farmers and a fair price was paid.
I was pleased to see Kirstie's answer. She replied promptly with the necessary certification and was 100% honest. Unless you are on the ground 24/7, there has to just be a level of trust between consumer, brand and supplier. Regardless, it seems like Proverb is trying to be as ethical and honest as a brand can be, in this sometimes mixed up, modern world.
How Proverb refillable deodorant performs?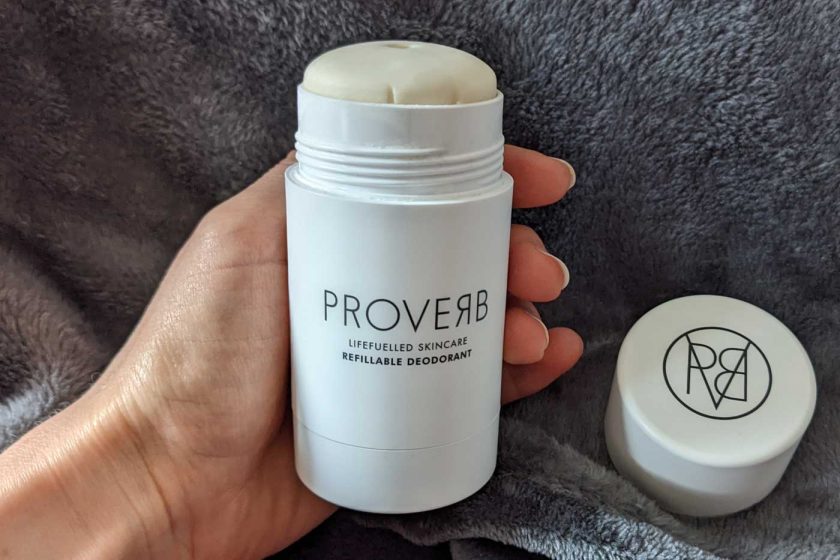 I used the deodorant on a daily basis for six weeks; at home, at work, on my regular 10k running route, indoor rock climbing, etc.
I was really impressed with how it performed. It was easy to use, being a more conventional roll-on deodorant, so no messy fingers. The formula was silky smooth with a nice natural scent. On a working day, the deodorant lasted all day and even after my regular sweaty 10K runs, the deodorant had lasting power and masked the sweat really well. There would be no need to reapply unless you immediately had a shower/bath after exercise or would like to freshen up.
In terms of performance, it out competes the active range from Natural Deodorant Company. It lasts longer and is more effective in masking the smell of sweat.
Plus, it's easier to use, no mess, less packaging (as long as you refill) and it's ideal for new converts who are seeking a natural alternative but with the same application process as conventional roll on. All in all, I'm very impressed!
Proverb refillable natural deodorant
Verdict
In terms of performance, Proverb natural deodorant is one of the best deodorants I've ever used. It's clear that the brand is taking steps to be as ethical as possible and the refillable solution is great for reducing plastic waste.
Pros
Great scent, suitable for all
Natural vegan ingredients
Strong lasting power
Refillable
Free recycling solution for the case
Cons
Slight waxy residue after use
No zero waste tester pack for new customers
4.8
Effective & easy to use