I'm a big fan of fruit and nut bars and make my own almost every week. They are such an easy snack to make and I enjoy changing up the ingredients and trying out different combinations. This particular recipe is one of my favourites as it's delicious, easy to make and packed full of nutrition. The combination of pecans and dates makes for a wonderfully caramel-like flavour while the puffed amaranth, oats and peanut butter add texture and a nutty flavour.
Amaranth is an awesome protein-rich grain which is full of fibre, magnesium, phosphorus and iron. It's great for bone health, has been proven to reduce inflammation and also aids digestion. On top of this, it's also gluten-free. So if anyone has an allergy to gluten, it's easy to make these bars gluten free by using GF oats.
I also make a variety of these bars just with oats. Sub out the amaranth and use 120g oats instead. The texture of the bars is a lot smoother and the flavour is slightly richer.
Make them for yourselves and let me know what you think in the comments below! ↓↓
Ingredients
(*makes approx 20 bars)
120g dates (blitzed in processor)
60g dried apricots (blitzed in processor)
80g pecans (blitzed in processor)
60g oats
30g puffed amaranth
1 tsp cocoa powder
1 tbsp peanut butter
3 tbsp plant milk
Method
Add all of the ingredients in a bowl.
Using your hands, mix the ingredients thoroughly—ensuring they are well combined and evenly distributed.
The mixture should stick together easily. If not, add a little more milk and mix again.
Once ready, press the mixture firmly into a 20cm square pyrex dish.
Store in the fridge for one hour.
Cut into bars. The mixture should make around 20.
Store the bars in an airtight container in the fridge until ready to eat. (Will store for 1-2 weeks.)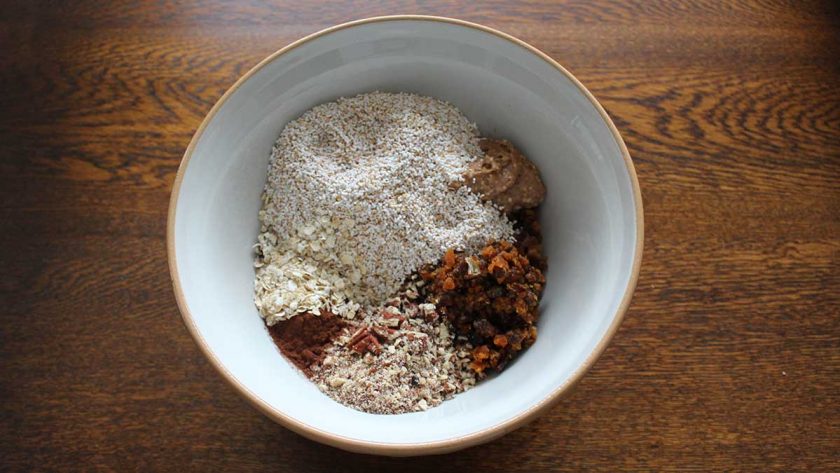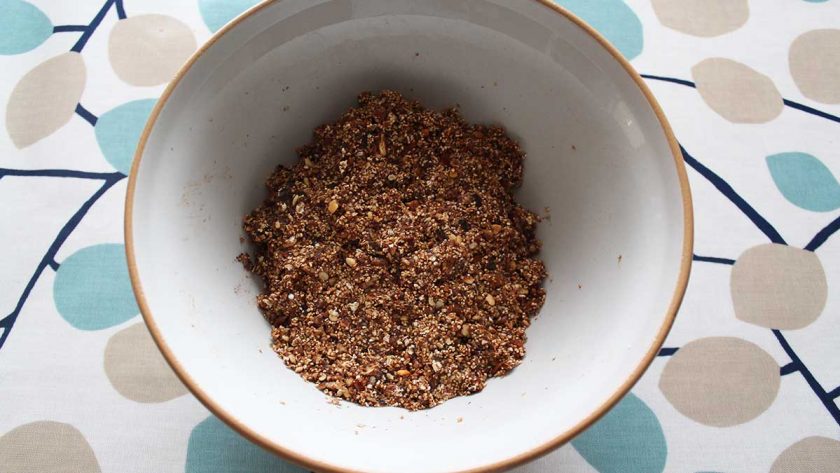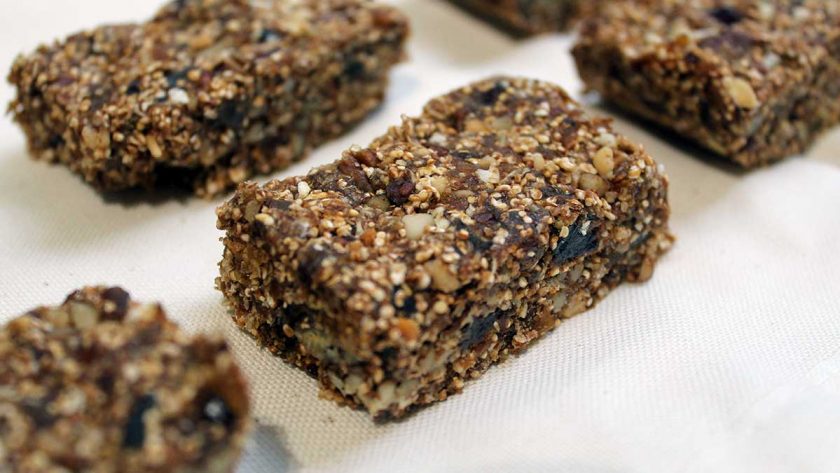 Et voilà! Easy peasy.
If you enjoyed these, try my no-bake energy bites with peanut butter and dates! The addition of chocolate makes these ideal for everyday energy boosts or as a treat.