Leading a sustainable lifestyle can sometimes be difficult. Especially when we're bombarded with non-reusable plastic packaging and harmful pollutants in many of the products on our supermarket's shelves. A big change for me was swapping all of my plastic food bags for sustainable alternatives. (See my guide on this here.)
Switching to eco alternatives
When backpacking, I used to think it convenient to put all my food (nuts, dried fruit, lunch etc) in sandwich bags. While I did wash the bags out and reuse them, they didn't last long and I had to throw them away. Making the switch to sustainable alternatives was surprisingly easy. Plus it saved me money in the long run and saw my landfill contribution dramatically drop.
Another big food storage issue is freezer bags. Conventional freezer bags are made from plastic, but I've come across one that's totally plastic-free, self-seals and is re-usable! Meet the Stasher bag.
Stasher bags
Stasher bags claim to be the first and only airtight, self-sealing, reusable, non-plastic bag in the world. What's really useful about it is that it's multi-purpose. You can cook dinner in them (in the microwave and oven), use them for kitchen storage, (including in the freezer) and even fill them with cosmetics for your travels. Just wash them in the dishwasher and you can use them again and again, for whatever purpose you choose.
While not strictly Ziploc, the bags also feature a pinch-press airtight seal that keeps food fresh and prevents any spills coming out. On top of that, they are plastic-free and are made from 100 % pure platinum, food-grade silicone.
Some people argue the silicone is no better than plastic because it doesn't readily biodegrade, but in this current market it's a better alternative. Many experts state that silicones do not leach harmful chemicals and as such are non-toxic and safe for contact with food and drink. The same can't be said for all plastic packaging and bags. Plus one silicone bag could save hundreds of plastic bags in its lifetime. That's a lot less going to landfill.
For everyday use, the Stasher bag seems a useful alternative especially for holding my backpacking snacks. It could even be used to create your own boil in the bags, but I'd have to test this out first.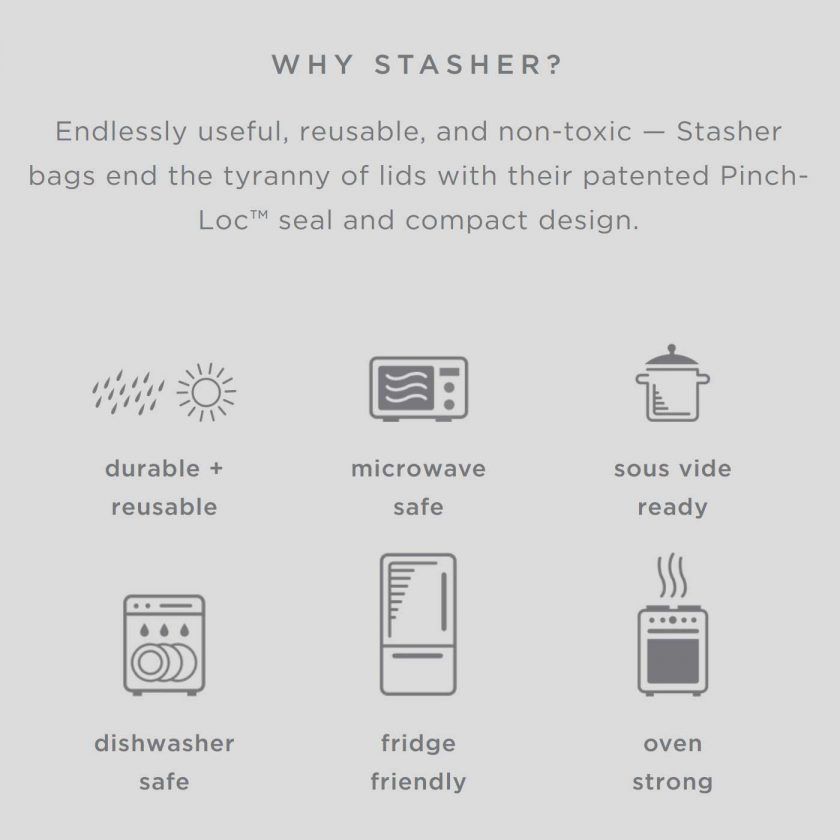 For more info on Stasher, see here.
How to live a zero waste lifestyle
Also, see my guide to 'sustainable alternatives to plastic bags for food storage' and 'eco alternatives to wet wipes'.