Last year, I spent the summer travelling through Italy with two of my friends. I'd been to Italy once before as a child but recall little apart from climbing the off-kilter staircase inside the Leaning Tower of Pisa. So now, 15 years older and drawn by the romantic ideals of this sun-drenched country, myself and friends planned a two-week road trip which started in Venice and ended in Naples.
The Trip
Planning a road trip is often the most difficult part, especially when there are so many wonderful places to choose from and limited time. We found it difficult fitting in everything we wanted to do in two weeks, but after much consideration, our route was set at:
Venice >> Bologna >> Florence >> Rome >> Pompeii >> Sorrento (Amalfi Coast) >> Naples.
This route factored in most of the major cities and historical spots, with two to three days stopping time at each. Likewise, each destination could easily be accessed by one or two train trips.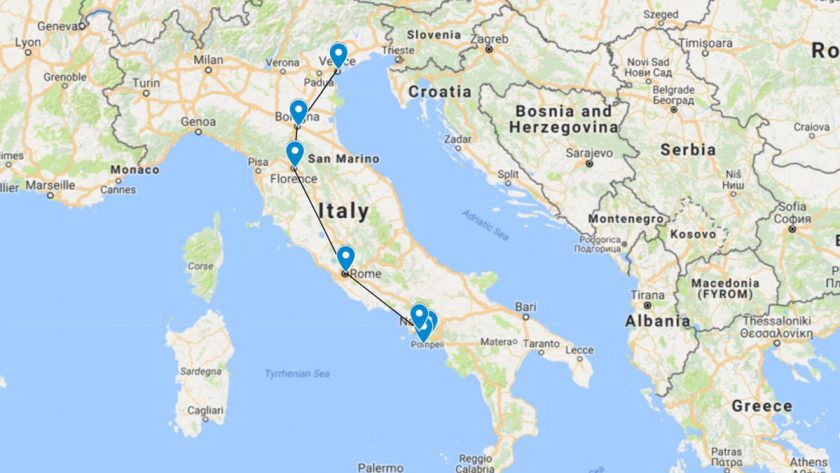 Train vs car
If you're planning a trip around Italy, I'd highly recommend taking the train. The country's main service is 99x better (ok, slight exaggeration) than that in the UK, giving that it runs smoothly and is a lot cheaper. We took the train to every destination, amounting to almost 500 miles, and it came to around £100 each. A comparable trip in the UK would cost at least double.
For three people, this also worked out cheaper than hiring a car and was less stressful. We could just chuck our luggage on, grab a seat and watch the countryside roll by, rather than battling the busy roads and attempt in vain to get a parking space in the city.
The only advantage of having a car is if you want to explore the off beaten track. The train line stops at Sorrento and so you need to get a bus to explore the Amalfi Coast. Bus tickets can usually be bought at local corner shops, with one right next to Sorrento's train station. For us, the bus was an easier option as the roads around the Amalfi are incredibly windy and it's very difficult to park a car.
Booking train tickets
We booked most of our trains online through Trenitalia and collected our pre-paid tickets at the station. You can also easily buy the tickets at the station, but we booked a few days in advance for each trip to ensure we got seats.
From Pompeii onwards, you can only buy tickets at the train stations. From here, the trains also get smaller though still pretty reliable. From Pompeii to Sorrento the ticket only costs around £2.50, while Sorrento to Naples costs around £8 for a faster train. You can find the Circumvesuviana train schedule here.
After you buy your ticket on these smaller trains make sure to validate it at the ticket validation boxes. They are easy to find around the station.
Railcard or single tickets?
When buying train tickets you have the option of buying singles from one destination to the next, or you can buy a railcard called the Eurail Italy Pass. The Eurail Italy Pass is valid only on trains in the Trenitalia network and offers unlimited rail travel on a certain number of days within a one month period.
The Trenitalia network runs up to Pompeii but doesn't include routes to Sorrento or Naples. As such, it worked out cheaper for us to buy single tickets. However, this railcard maybe something you want to explore if your route is different.
Booking accommodation
When it comes to booking accommodation, I'd say there are three options:
hostel
hotel
Airbnb / similar scheme
If you're looking for maximum luxury, then hotels are the way forward. But if you're on more of a budget (as we were) there isn't a huge difference in price between hostels and Airbnb. As there were three of us it turned out we could rent an Airbnb for the same price if not cheaper than three spaces in a hostel. Plus we got a lot more for our money in the Airbnb including a kitchen, which allowed us to make our own breakfast and lunch to take out, more rooms and better bathroom facilities.
I'd definitely recommend booking accommodation as early as possible, as you get a better pick of the bunch. The price in each city varied, but you can get a nice place in a good location for around £30-£45 each per night (price on three people sharing an entire home). If you're a solo traveller then a hostel would probably work out cheaper. (Watch out for additional charges with Airbnb which can include a cleaning fee and a service charge. These vary dependant on the accommodation.)
Best places to stay in each city
Like every city, each city in Italy has different areas. These include student, suburban, nightlife and more family-centric areas. It's worth doing your research on the areas before choosing accommodation. For our trip, we tried, on the whole, to opt for accommodation that was relatively close to the city centre (within walking distance or short bus/tube ride) but that was in a quieter location (away from bars and nightlife).
In Venice, we stayed to the south-east of San Marco near the Arsenale boat stop. The streets in this area are slightly less touristy and therefore quieter and you are still within 15 minutes walking distance of the famous San Marco Piazza and Doge's Palace.
Bologna is known as a student city. Due to this, it has a popular nightlife with quite a few bars and clubs scattered through the city particularly to the east, around Piazza Verdi. This area is a go-to place for Bologna's youth but as a tourist, I'd recommend staying in the west of the city around Piazza San Francesco. It feels a lot safer at night.
In Florence, we stayed in the north of the city in the district of San Jacopino. It's a quiet area, with a small pizzeria, supermarket and bakery. We got a bus every day into the main historic centre which took 10 minutes. FYI make sure to buy bus tickets before you board the bus. Once on the bus, you must validate your ticket using the validation machines inside. You can buy bus tickets from most corner shops and tobacconists.
In Rome, we stayed about 10 minutes walk away from the San Giovanni metro station (south-east of the city). This area was much less touristy and had plenty of amenities including local bakeries, supermarkets and cafes. The tourist attractions were easily accessed via the metro, from San Giovanni, within 10-30 minutes.
In Pompeii, we stayed to the north—behind the large Catholic church which dominates this small city. Pompeii itself has a very small city centre—basically a town square with a large church and a few streets of shops and restaurants. The ruins lie to the west of the city and are easily accessed on foot.
In Sorrento, we stayed in the south of the city (away from the port) which was around 10 minutes walk to the main square: Piazza Tasso. This area was still extremely central but slightly cheaper. Sorrento is built on a slope and the small city and its port are easily accessed within 15-20 minutes walking distance.
In Naples, we stayed in the Arenaccia neighbourhood. This was a great location for us as it was within walking distance to the historic centre (15 minutes) and a short 15-minute taxi ride to the airport. The neighbourhood was busy with lots of shops and cafes but wasn't overly noisy in the evenings.
Packing list
We travelled during the peak summer months so it was relatively easy to predict the weather. If you're travelling during a different season, I'd recommend checking the temperature averages and adjusting this packing list accordingly.
When travelling from place to place, you want to pack as light as possible. Choosing the right travel bag is also really important. I opted for a 60L rucksack which provided ample room for clothes, toiletries, electronics and extras. My rucksack was a lot easier to carry than a suitcase, especially upstairs and its soft malleable exterior meant I could fit it into awkward luggage spaces on the train.
Tips for packing light:
Roll up all your clothes individually before packing them
Put pants and socks in your shoes/cavity areas
Keep your essential documents in a sealed ziplock bag
Opt for a travel towel rather than a normal sized one
Dispense your toiletries into travel-sized containers before travelling. Keep these in sandwich bags to help prevent any spills.
Bring handwash/detergent so you can wash pants and socks out on the go.
Being vegan in Italy
As you probably well know, eating out as a vegan can sometimes be hard. Not least when you're abroad. Known for its cheeses, cured meats and ice creams, I was worried I'd be stuck on the shelf eating a pre-packed rice cracker (*reminiscing about an awful experience in France.) But to my great surprise, Italy is amazing for vegans! One of the best in Europe, UK included.
Surprisingly, having a dairy intolerance is quite common in Italy and so shops, cafes and restaurants have been inadvertently catering for vegans for years. Over the last years, things have continued to improve and most supermarkets (even the small ones) now stock dairy-free milk (soy, almond and hazelnut included), a good array of bean and meat-free burgers and SFV snacks! All of the cafes I ventured into offered soy milk and there were a number of ice cream parlours throughout which offered dairy-free ice cream too.
Coming up
With this in mind, in my next blogs, I'll be listing some of the best cafes and restaurants to try in each city. I'll also be offering my advice on the must-see places and things to do off the beaten track. Stay tuned for my first installation.
If you're planning a trip around Italy and have any more questions, let me know in the comments below. I'd be happy to help 😀 ↓↓