Planning and packing food is one of the vital parts of preparing for a backpacking trip. But as well as packing enough to sustain you through the whole trip, you need to ensure you're packing the right types of food. It's thought you burn between 300 – 600 calories every hour while hiking, so with all that calorie burn you need to be eating nutrient and energy dense foods to fuel your body and mind and to keep you energised throughout the trip.
What types of food should I take hiking?
During intense and prolonged exercise, our body needs a range of nutrients to function properly. Carbohydrates (aka sugars) are one of the main sources of energy as our body can quickly break them down. But make sure you eat the right type of carbs. While simple sugars like a chocolate bar, sweets or fruit, may give you that initial energy boost, you'll quickly hit that spike and feel your energy levels plummet. Instead load up predominantly on complex carbs like oats, whole grains, vegetables and beans. These foods slowly release energy into your body, sustaining you for longer.
For best results, I mix my carb intake. I start my day with overnight oats (I add cacao powder, cacao nibs, seeds and dried fruit in for flavour and added nutrients.) Between breakfast and lunch, I switch between snacking on roasted beans and dried fruit like prunes and apricots, and then at lunch top up on a whole wheat bagel or wrap.
Another important food group is fats. After your body burns through carbs, it moves on to your fat reserves. During a prolonged hike, it's super important to consume the right type of fats and for me, that means eating a variety of nuts. Things like walnuts, almonds, cashews and pecans make for fantastic snacking as they are not only rich in good fats but they are also laden with other important nutrients like omega-3, calcium and minerals. If you're not a big fan of nuts, try roasting them using a variety of herbs or spices. I don't know anyone who doesn't like maple roasted almonds!
Protein is another important food group. Your body needs this to repair cells and to produce important molecules in our body like hormones and enzymes. Unlike carbohydrates and fat, your body does not store protein which means we need to consume adequate amounts every day. As well as high in good fats, nuts are also packed full of protein and I also snack on roasted beans and homemade energy bars which contain puffed amaranth or quinoa.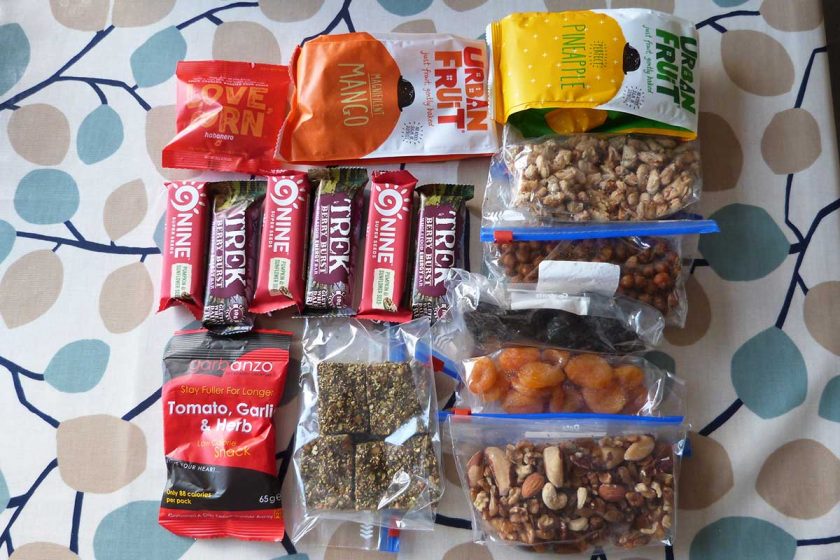 On top of these three main food groups, your body needs a variety of other nutrients to function properly like calcium, magnesium, potassium etc. When you're at home, it's easy to consume a varied diet, full of these things, but when you're backpacking it takes a little pre-thought. One of the main problems is that you can't take many fresh vegetables, usually the staple ingredient in most vegan meals. However, some fresh veg isn't off the cards, especially if you're only backpacking for 3-4 days. I've found sturdy veg like carrots, celery and bell pepper usually last fine, as well as fresh apple and bananas. (Pack them at the top of your pack so they don't get squashed.)
You can also benefit by packing some sun-dried tomatoes or peppers and some olives. These foods are lightweight and easy to pack and taste amazing on a bagel, or on crackers—especially three days into the hike.
On top of these things, I also pack dark chocolate—delicious and full of magnesium, yeast extract—a great source of B vitamins and B12, dried seaweed—for iodine and iron, and some soy/nut milk—for an extra calcium boost.
Below I've listed a menu of the foods I take and eat during a four-day hiking trip. I've followed a similar menu up until five days, but for longer trips, I do prefer to have a hot meal either a boil in the bag or something I make myself using a stove. None-the-less, this is a great and easy to follow menu which I follow for most short trips, especially when I'm packing light and during the summer.
4-day backpacking menu
Day 1
Breakfast: Quinoa porridge eaten at home.
Lunch: Wrap with a sliced vegan burger, hummus, spinach, cucumber, spicy tomato salsa. (Made at home)
Dinner: Wrap and oat crackers with rest of sliced burger, pesto, sundried tomatoes and fresh veg. I add some nuts and roasted beans for extra flavour.
Dessert: Dark chocolate or snack bar.
Day 2
Breakfast: Overnight oats and dried fruit.
Lunch: Seeded bagel with peanut butter and banana.
Dinner: Couscous and crackers with pesto, seaweed, sun-dried veg, fresh veg and sliced vegan sausage (pre-cooked and sliced at home.)
Dessert: Dried fruit.
Day 3
Breakfast: Overnight oats with banana and peanut butter.
Lunch: Energy bars, rest of pre-cooked vegan sausage, nuts, fresh fruit.
Dinner: Wholemeal wrap and couscous, pesto, rest of sun-dried veg or fresh veg and seaweed. Nuts and roasted beans.
Dessert: Raisin bagel with jam and dark chocolate.
Day 4:
Breakfast: Overnight oats.
Lunch: Wrap with peanut butter and jam. Last of energy bars.
Then home for hot food!
Each day I also snacked on trail mix, dried fruits, seeded oat crackers, and homemade energy bars or protein bites. I also had a portion of yeast extract/marmite on a wrap or cracker around lunch or dinner time.
Extra: Another easy way to get extra nutrients is through superfood shakes. Amazing Grass does these useful single serve sachets which contain a mix of powdered superfood ingredients like wheat grass, barley grass, spinach, spirulina and broccoli as well as maca, beet, carrot and acai. You can add them to your water for a quick and easy nutrient boost. Plus the flavour covers up the nasty taste of purified water.