Backpacking meals don't need to be complicated! You can easily make your own from products you find at your local supermarket. See my ultimate guide to backpacking food ideas here [Video].
Sometimes, however, it pays to be a little creative with your meal prep. This recipe is brought to you by Amy Reece, a fellow vegan backpacker and US-based blogger at Bear Plate. By utilising some ready-made staples, she creates some delicious and really nutritious meals perfect for backpacking and camping trips.
(This recipe includes products only available in the US. I've added some UK substitutes but the cooking time and instructions will vary.)
Vegan Backpacking: Bean and Rice Burrito
Minute Rice is a staple of mine since it's so lightweight, inexpensive, and versatile. It's a much better option than regular rice due to the shorter cooking time and the small amount of fuel needed to prepare it. Combining Minute Rice and dehydrated beans is a great way to make a burrito filling while you're on the trail.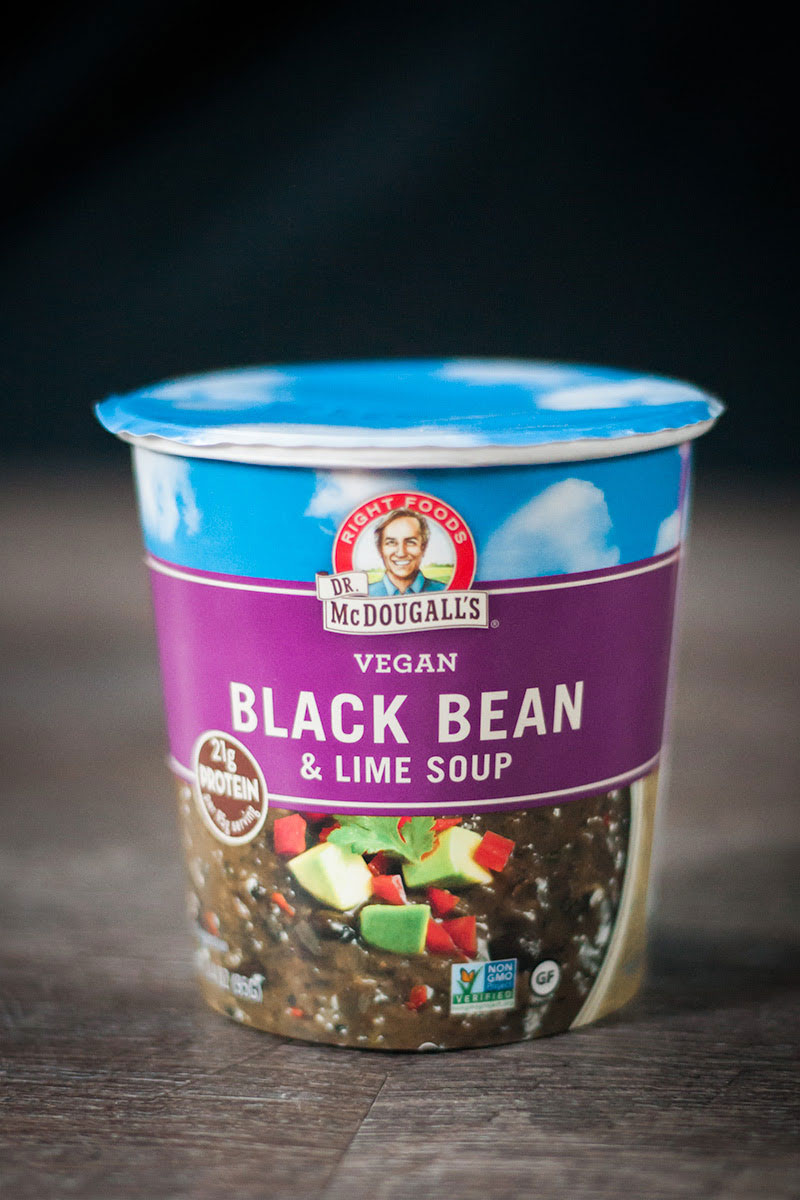 (Minute Rice is a US brand of instant rice. If you're UK based, use quick cook rice or boil in the bag rice instead. Follow the packet cooking instruction. Cooking time will be slightly longer.)
Can't find vegan dehydrated beans? Here's my trick… I used an instant vegan black bean soup mix to make these burritos! This vegan black bean soup mix by Dr. McDougall's is available in the health food sections on many US grocery stores.
(Unfortunately, I've yet to find a UK alternative. You could use a tin of refried beans instead.)
How to Make a Vegan Bean and Rice Burrito
Not only are these burritos easy to make, but they are also incredibly filling and contain little fat and loads of protein. They are a perfect way to refuel after a long day of hiking.
Warning, this recipe makes a lot! If you aren't planning on sharing you might want to split the dry mixture into two portions.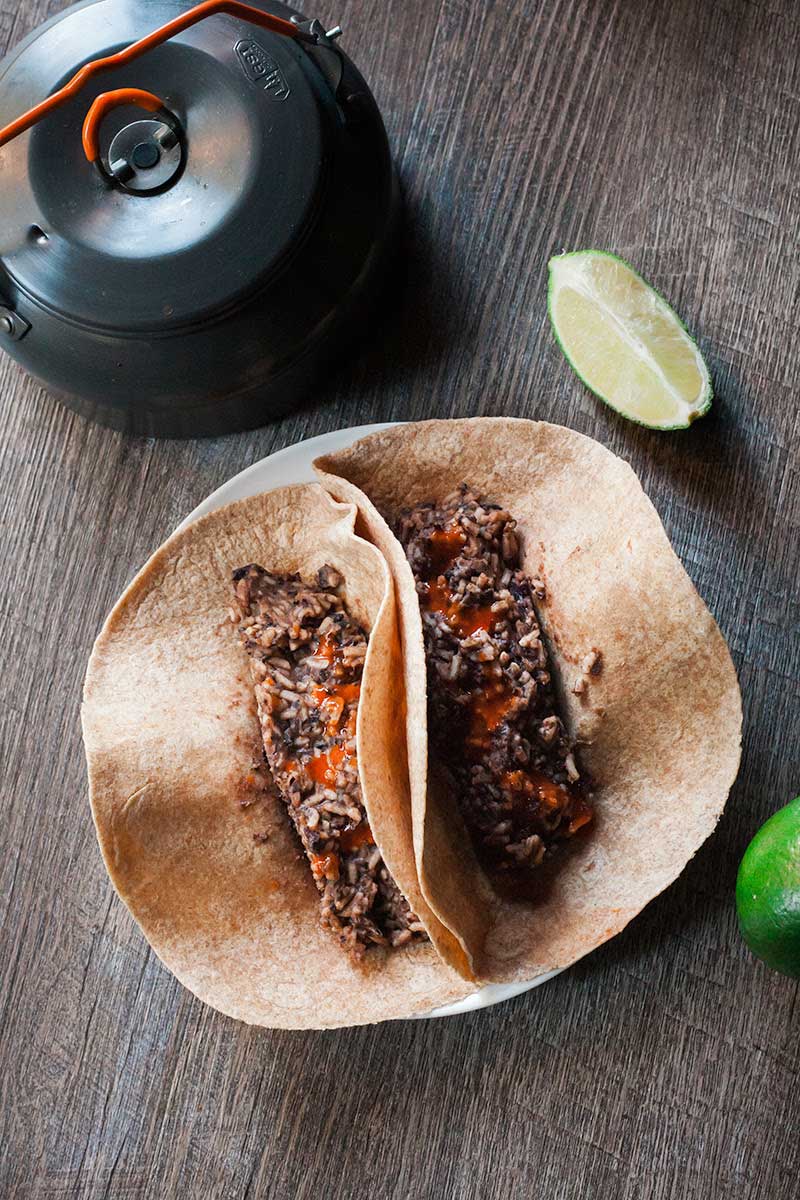 Ingredients
(Yields: 2 servings)
One container Dr. McDougall's Black Bean Lime Soup mix
1 cup white Minute Rice
1 tsp dried chopped onion
1/2 tsp cumin
1/2 tsp paprika
1/2 tsp chilli powder
1/2 tsp garlic powder
1/2 tsp salt (or to taste)
1 1/2 cups + 2 Tbsps boiling water
Gluten free wraps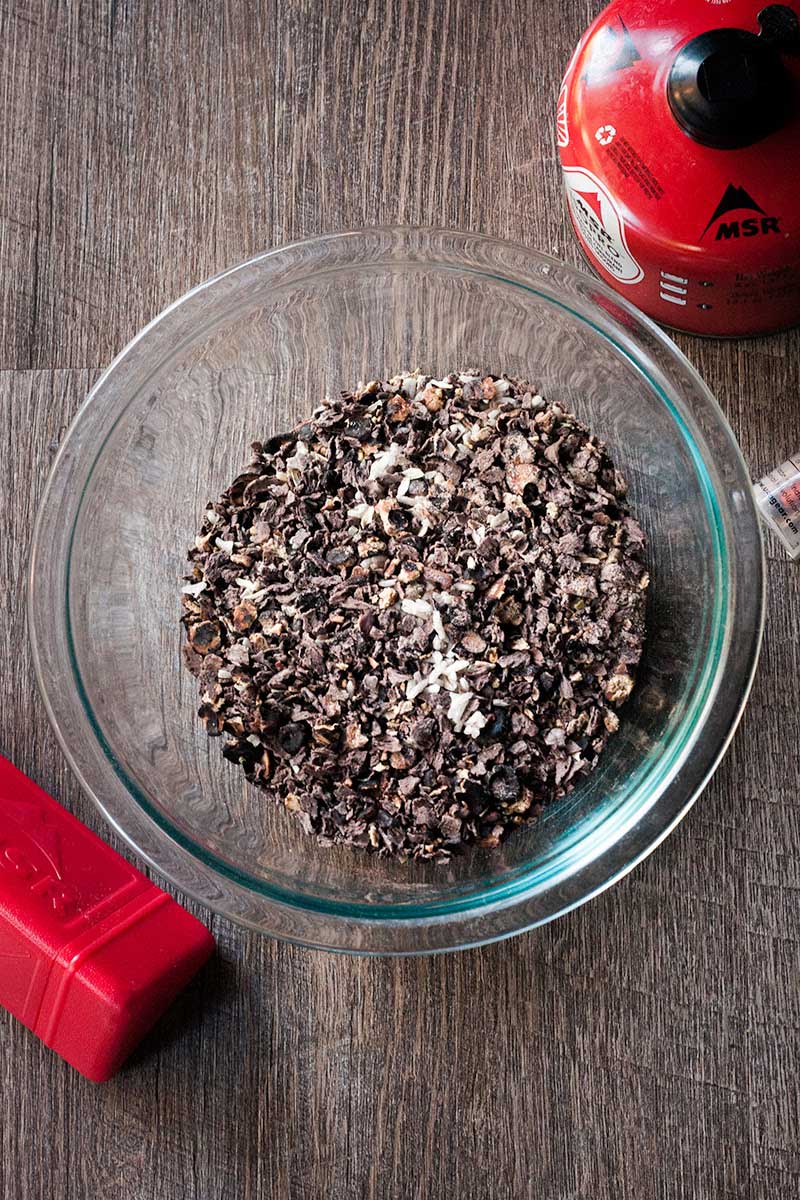 Method
(Prep Time: 1 min / Cook Time: 15 mins)
Empty the contents of the soup container along with the seasoning packet into a large bowl. Add the remaining dry ingredients and store in an airtight container.
To prepare, add 1 1/2 cup boiling water, cover and wait 10 mins. If the mixture is too thick, add a Tbsp or two more water until it reaches the desired texture.
Serve up.
Looking for more food inspiration?