For this recipe, I've teamed up with fellow Ethical Bloggers member Claire Lyons. Claire runs the Frugal Family blog which explores how to live an ethical lifestyle on a budget. Claire's tips cover everything from "Greening up your business," cleaning the home and also inspiring children to live an ethical lifestyle.
How to make vegan cookie dough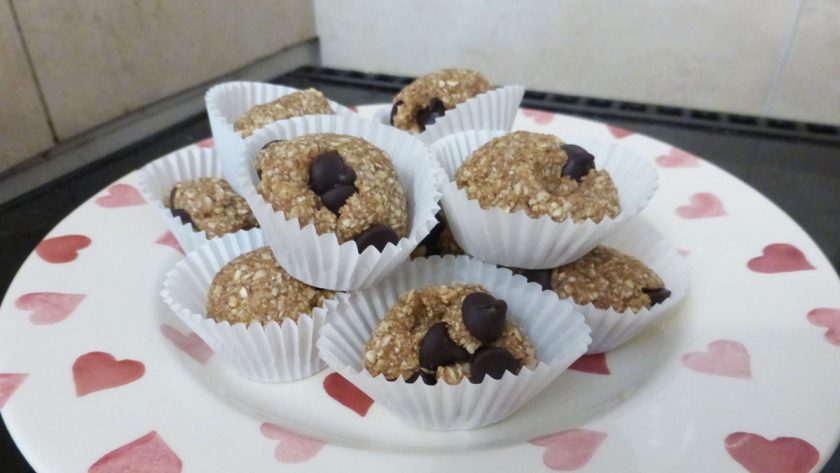 Ingredients
1 cup gluten-free rolled oats
½ cup raw cashew nuts
¼ teaspoon salt
½ teaspoon cinnamon
3 tablespoon maple syrup
1 tablespoon vanilla extract
¼ cup of dairy-free chocolate chips (you can also use dried cranberries)
(*makes approx 12)
Equipment
Food processor
Spatula
Measuring spoons/cups
Mini muffin cases/greaseproof paper
Method
Put all the dry ingredients (excluding choc chips) into the food processor and pulse into a fine powder.
Add the wet ingredients and pulse again, it will become a very sticky dough ball.
Scrape out the dough into a bowl and add the choc chips
Mix and then using your hands, roll into 12 little balls. (We sometimes find the chips don't stick in well, so you can add them to the food processor if you're not worried about 'seeing' them.
This is quick and easy, but the 'balling' is so very messy. If you have a melon baller you may find it less messy. Mini muffin cases are the simplest container, but you can let them dry out a bit on some greaseproof paper – they also freeze very well.
Enjoy!
More backpacking food ideas
My favourite 10 min recipe for energy bars: Puffed amaranth, date and pecan bars.
The ultimate vegan guide to backpacking food: see here.