Finding a wool-free walking sock can be tricky at the best of times, let alone when you're looking for one to keep you warm and blister free during those winter hikes. A lot of thermal hiking socks use merino wool, but these vegan-friendly ones use a range of specially crafted synthetic textiles to keep you warm and dry. They work just as well, if not better than their wool counterparts. So much so that many non-vegans swear by them.
So what are you waiting for? Grab a pair, get back out on that trail and enjoy the frosty weather. Maybe even start a snowball fight!
My list of the best vegan hiking socks for cold weather:
Thirty 48
The HK Heavy Series provides a good level of warmth while hiking in cold weather and fits well in both hiking boots and snow boots. Made from 85% acrylic wool (vegan), 12% anti-bacterial and wicking poly, 2% spandex and 1% nylon, they are comfortable to wear and help keep your feet dry and blister free.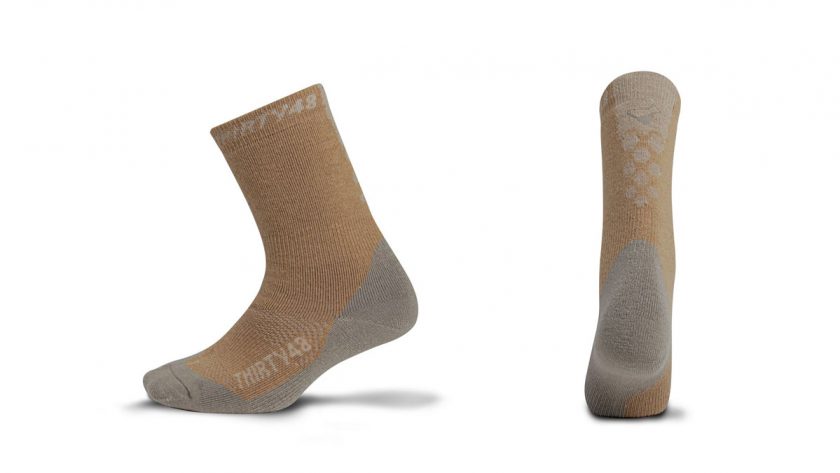 Available HERE.
Lorpen
The T3 All Season Trekker is a heavyweight hiking sock designed for winter. It's made from 50% Coolmax®, 25% Tencel®, 15% nylon and 10% Ea. LYCRA®. These textiles help remove moisture from your feet to keep them warm and dry. Another benefit is that Tencel® is one of the most environmentally friendly regenerated fabrics. It's made from wood cellulose and is the reason behind the sock's softness and absorbency.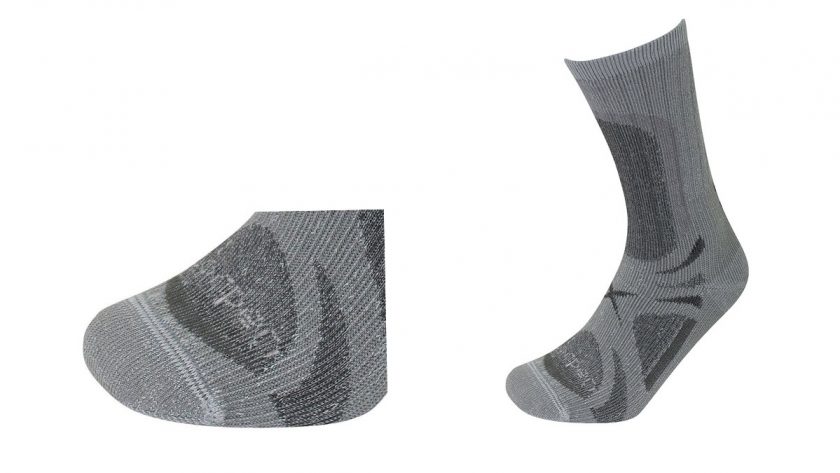 The T3+ Inferno Expedition POLARTEC® has been specifically designed for extreme mountaineering and extended exposure in cold weather climates. They are crafted from two layers of Polartec® Power Stretch® fabric with a PrimaLoft® insulation core. The best option for extreme conditions.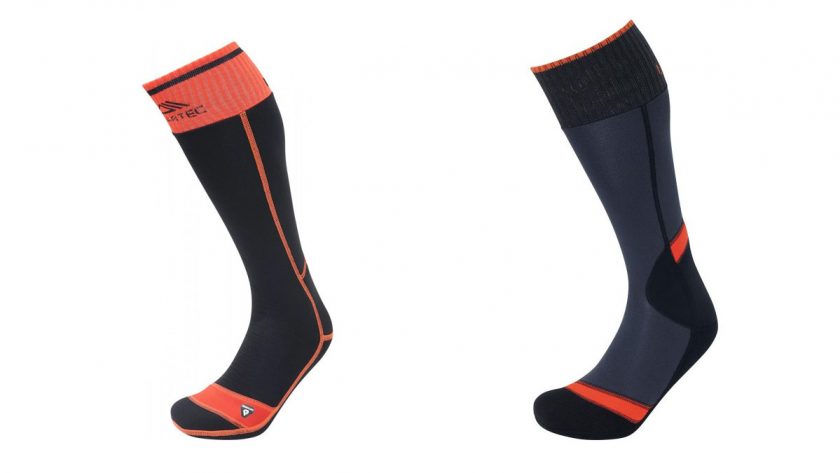 La Sportiva
LS's Mountaineering Socks are made from 85% polyester, 10% polyamide and 5% elastane and feature anti-shock zones on the heels and balls of the feet. They are suitable for trekking and mountaineering and offer a good level of breathability while keeping the foot warm and dry.


Available in MEN's & WOMEN's
Darn Tough Vermont
The Thermolite® Over-the-Calf Socks are designed specifically for skiing but could be worn for extra warmth during winter walks. Featuring padding at the shins, along the bottoms and around the toes, these midweight socks are incredibly durable and wick sweat effectively. Crafted from 51% nylon, 45% Thermolite Polyester and 4% Lycra® Spandex.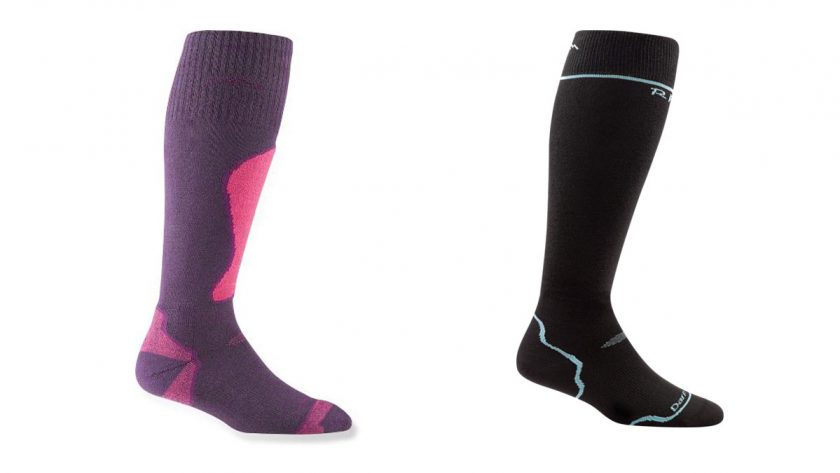 Available in HERE
The Coolmax® Full Cushion Boot Sock is a great all-season sock that can be used during winter. It's Coolmax®: construction removes sweat from your skin, which helps prevent blisters and keeps you dry and warm. The sock sits mid-calf for added protection and warmth, but you may need a sock liner underneath during really cold weather.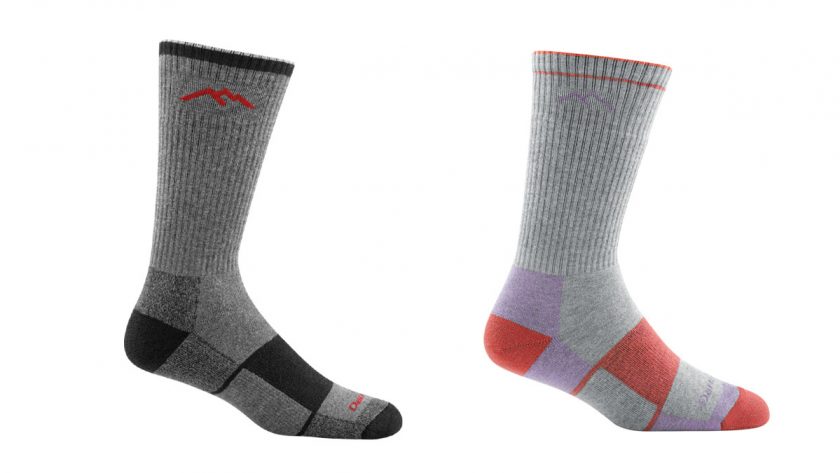 Available HERE.
Wrightsock
The Adventure Crew Sock is a double layer sock made from Dri-Wright®, polyester, nylon and Lycra®. The twin layers help prevent blisters and wick away sweat. They are mid-weight, easy to pack and durable and provide a good level of warmth when worn in cold weather—including snowy conditions.
Windriver
The driWear Thermal Socks are a heavyweight sock made from natural and patented synthetic materials (50% cotton, 33% polyester, 16% X-Odor (10% cotton, 6% micro polyester), 1% spandex.) They include driWear™ technology which is a yarn that wicks away moisture to keep feet dry.  They provide a good level of cushioning and keep your feet warm in below 0°C temperatures. Great for snowboots or larger shoes.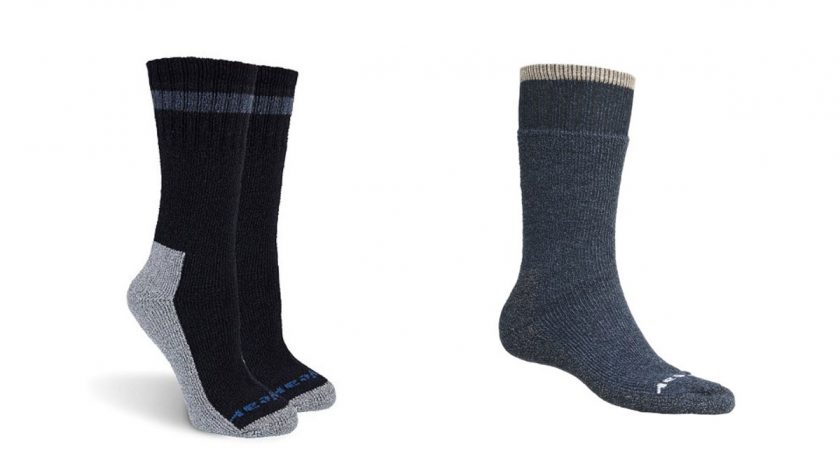 Jackpine Socks
The Two Four Sevens are designed for everyday use, but also make great walking socks in cold weather. They are comfortable and breathable, made from 60% MaxDry™ polyester, 25% combed cotton, 10% nylon and 5% spandex. They feature a double cushioned footbed to increase comfort and absorb shock as well as reinforced elasticated panels to ensure the sock fits close and doesn't slip or bunch. Good for reducing the risk of blisters.
Another bonus is that with every pair purchased, the company commits to planting a tree through the Eden Projects charity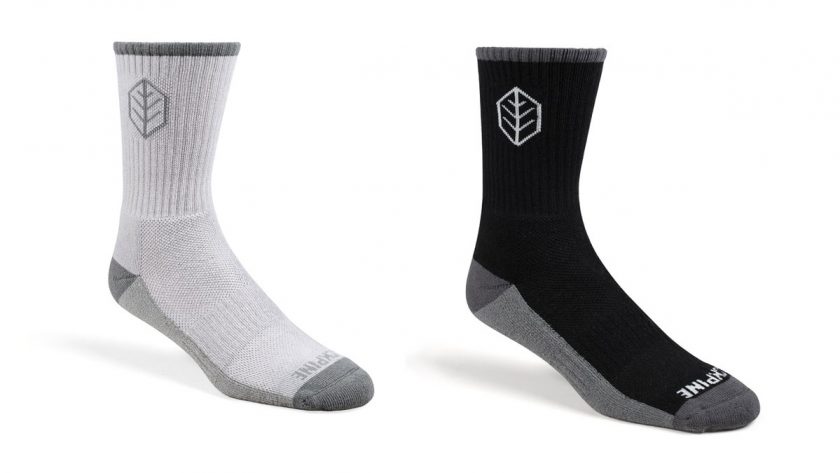 Available HERE.
More info
Found the perfect winter walking sock? Now find the perfect boot with my ultimate list of 100% vegan hiking boots and walking shoes. Or my guide to the best vegan winter/snow boots.