It's always exciting to come across new bloggers who are passionate about the same things as you. A few weeks ago I was really pleased to come across Steina, an Icelandic adventurer who writes all about the outdoors, travelling and vegan food on her blog www.steina.is. Steina and her family love to go camping, and I was thrilled when she wanted to create a guide for all you vegan adventurists about camping with the family. Enjoy!
A vegan's guide to family camping
One of our favourite activities as a family is travelling. We try to travel as much as we possibly can both abroad and domestically. When we travel within Iceland, we usually go camping as it allows us to experience the area in a whole new way. You not only get to see all the attractions, but you also get to experience nature first hand, hear the sounds of the night and if you're lucky, enjoy a starlit sky.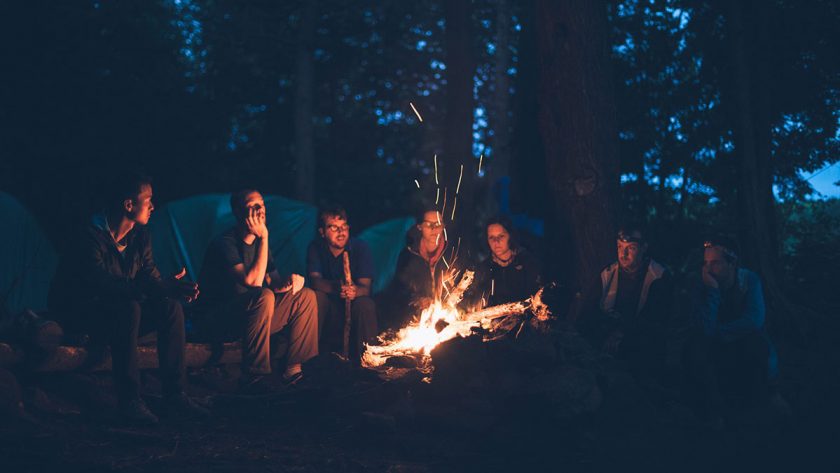 For me, there is a kind of mystical energy that comes with camping. It feels like the world has stopped and you can almost leave all your worries and responsibilities at home. Sitting outside a tent in the company of good friends, hearing the children play until they're tired enough for their mug of hot cocoa before bed is just so pleasing. When you're camping the only thing you really need to worry about is your next destination and your next meal.
In our camping trips, we cook almost all of our food ourselves and it doesn't have to be complicated. All you really need to make the magic happen is one portable gas stove and a good BBQ (we like the WEBER Q1200).
For food items, I always bring my spices in reused sprinkles jars. That gives me the opportunity to cook whatever I want, whether that be Mexican, Indian or Italian inspired dishes.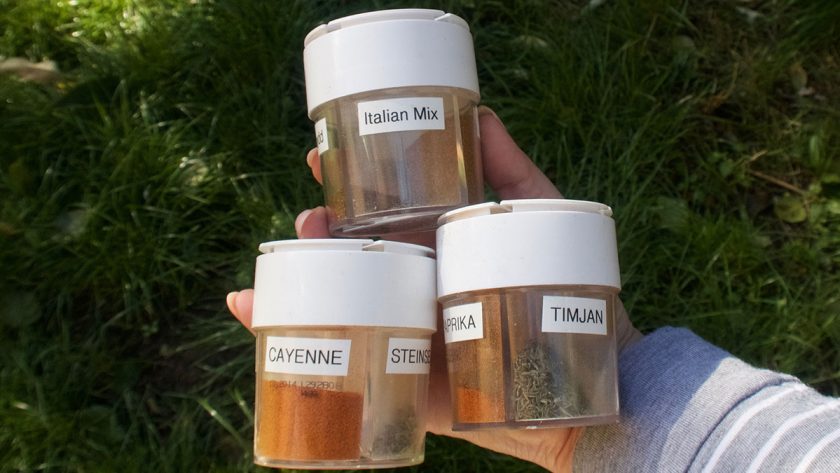 TIP: Planning a menu is a good idea to stay organised while camping. You know exactly what you need to bring and what you might need to stock up on next time you find a shop.
Here are some examples of how you can enjoy tasty vegan food while camping.
Breakfast
For breakfast, we usually opt for some vegan cereal with dairy-free milk or a dairy-free yoghurt. Oatmeal would also be a good choice; it's warm and filling and you feel nourished until lunchtime. Oats can be enjoyed hot or cold, sweet or savoury, and they can be easily customised to suit any taste. You can buy bulk oats, cook them and store in the fridge for up to five days, which makes them a great option for a family camping trip. For a quick and healthy breakfast, simply top cooked oats with fresh fruit, nuts, and yoghurt.
Another option would be making a toast on the BBQ. To make it extra fancy you could also heat up some beans to go with it. Just carefully place a tin of beans on the BBQ and heat it up. Just be careful when you take the can off the BBQ so you don't burn yourself.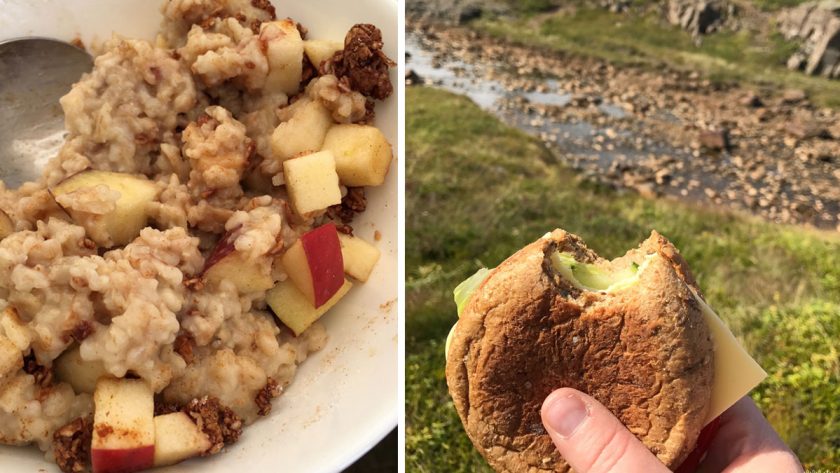 Lunch
When camping we tend to go for a sandwich for lunch or something we can eat on the go. We love to take day trips exploring the surrounding areas of our campsite. Usually, we pack our essentials in the coolbox and make sandwiches, wraps or salads to enjoy with a nice view.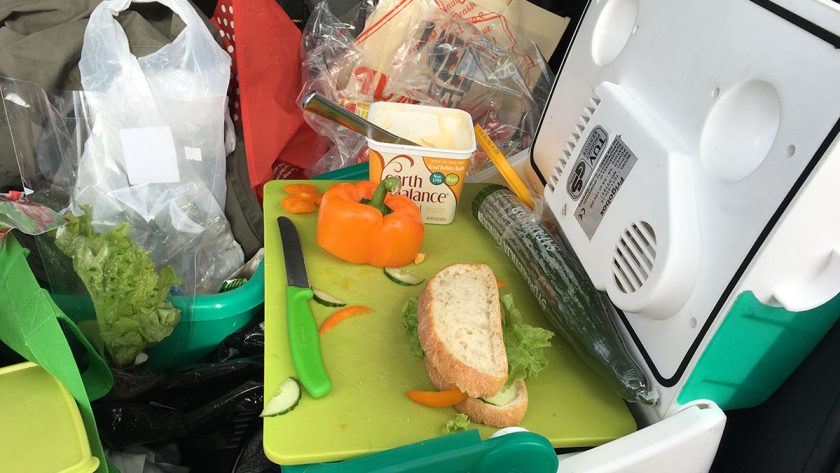 Lunches do not need to be extravagant, a simple sandwich with dairy-free butter, hummus or vegan mayo along with some lettuce, dairy-free cheese, peppers and cucumber will go a long way. Other ideas would be to prepare wraps, salads, hummus dips, chickpea"tuna" salad, dairy-free yoghurts.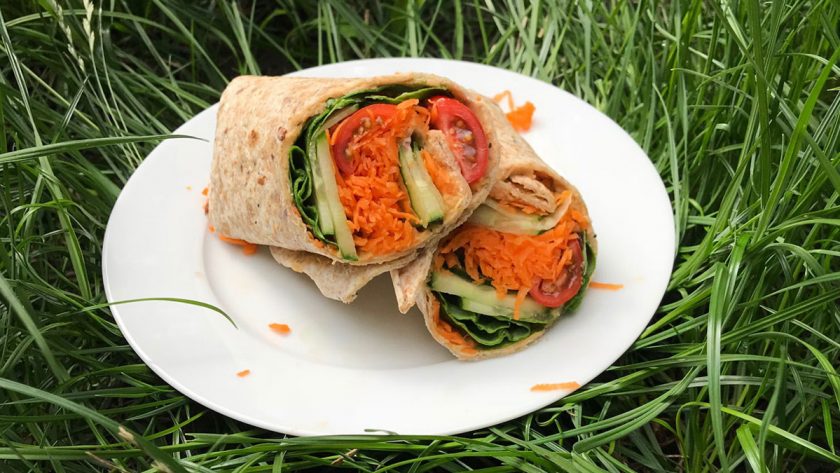 For heated lunches, you could bring the portable gas stove with you and heat up a soup, instant noodles or a pasta dish. But personally, I stick with the cold options and eat a hot meal for dinner.
Dinner
Cooking a nice family dinner can be a bit tricky while camping but not impossible. With one portable gas stove and a BBQ, I have managed to make so many different meals. My favourites are burgers, hot dogs, lasagna (yep!), tortillas, beans and rice, chilli and grilled vegetables. We put just about anything on the BBQ as long it is big enough to not fall through the grate.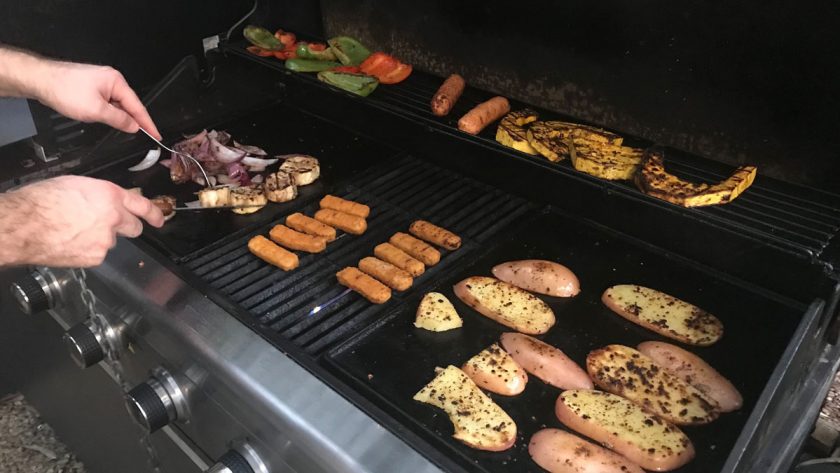 Snacks
Camping trips with family and friends is usually a snacking festival. I think it's just as important to have a snack, either in the car while sightseeing or hanging around the campsite. Nuts, granola bars and various fruits if you want to be healthy but for the naughty ones, biscuits, crisps and ingredients to make vegan smores are essential.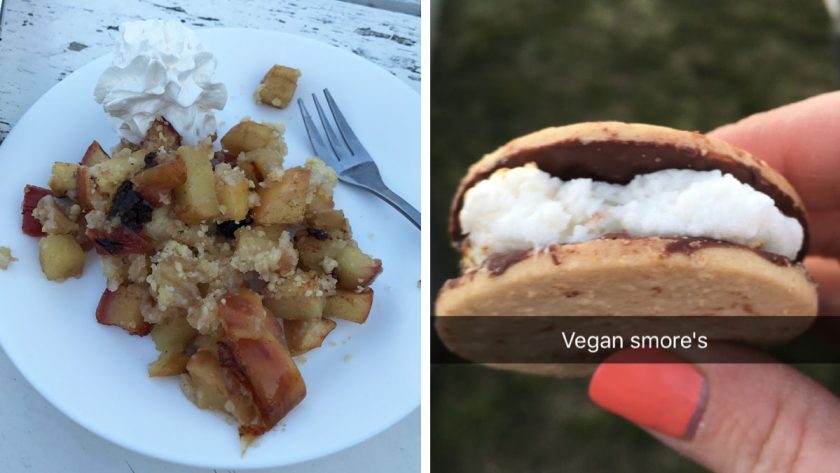 Baking while camping is also pretty simple, apple crumble can easily be baked on the BBQ as well as cupcakes.
As a last treat, I'm giving you one of my easiest camping recipes. It takes only about 30 minutes to prepare and can also be brought frozen from home to make things even easier. It will keep for a few days if kept cool in an airtight container.
One pot camping chilli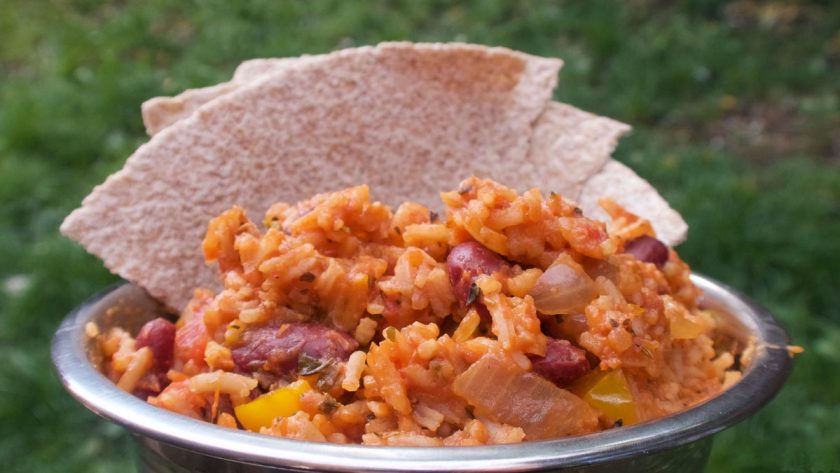 Ingredients:
2 tbs vegetable oil
1 onion
2 cloves of garlic
1 bell pepper
1 can of tinned tomatoes
1 bottle of tomato passata
1 can of water (use can of tomatoes as a measuring tool)
1 vegetable stock cube
1 tsp paprika
1/2 tsp cumin
1/2 tsp chilli
2 tbs Italian herbs
salt and pepper to taste
1 can of kidney beans
1 cup rice
1.5 cups water (for the rice)
Method
Sauté onion, garlic and bell pepper in the oil and add the spices when the vegetables are soft.
Add the tinned tomatoes, tomato passata, stock cube, kidney beans, rice and extra water and allow to simmer until most of the water has evaporated (about 15 minutes).
Turn off the hob and allow the chilli to cool with the lid on until the rice is fully cooked.
Enjoy with some tortillas, bread or just on its own.
HAPPY CAMPING!
Guest article by www.steina.is