In February 2020, I climbed Kilimanjaro. I went with a group, raising money for charity, and joined a tour organised by the local Marangu Hotel.
When booking a tour, make sure the provider is registered with KPAP (Kilimanjaro Porter Assistance Project.) This organisation ensures that porters are treated fairly and ethically on the trek and that they don't carry too much weight. The project also advocates fair wages and offers educational opportunities to the mountain crew.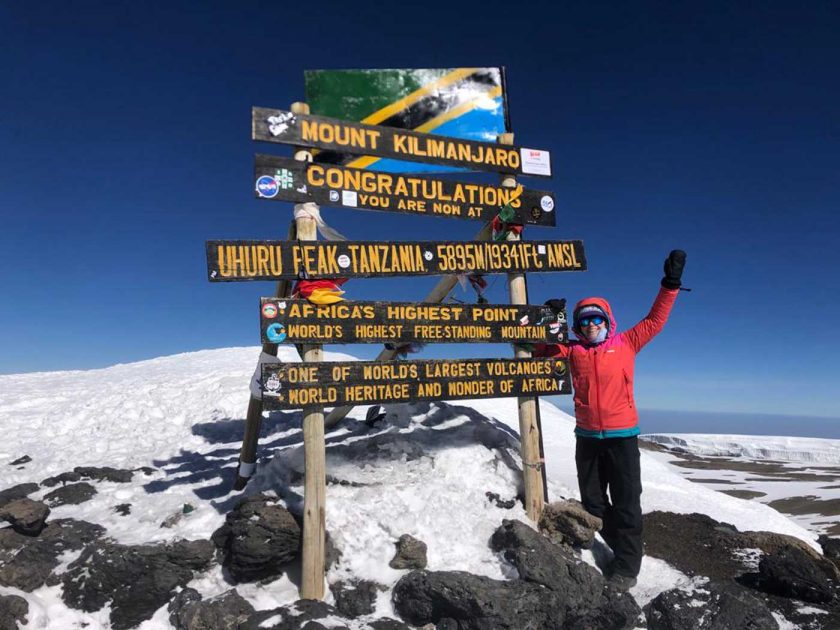 Before my trip, I had read a few blogs on what to pack and wear, but with limited luggage space (due to KLM airline restrictions) and needing kit that would be suitable for 35°C to potentially -25°C temperatures, I was unsure how I would fit everything in.
Since completing the trek and getting advice from my fellow trekkers on what they wished they'd brought/ left at home, I've decided to compile this list to help my fellow vegan trekkers.
What to pack
Firstly, check the airline baggage restrictions. With KLM, I was allowed a 23kg bag and a piece of hand luggage. This turned out to be plenty.
BAGS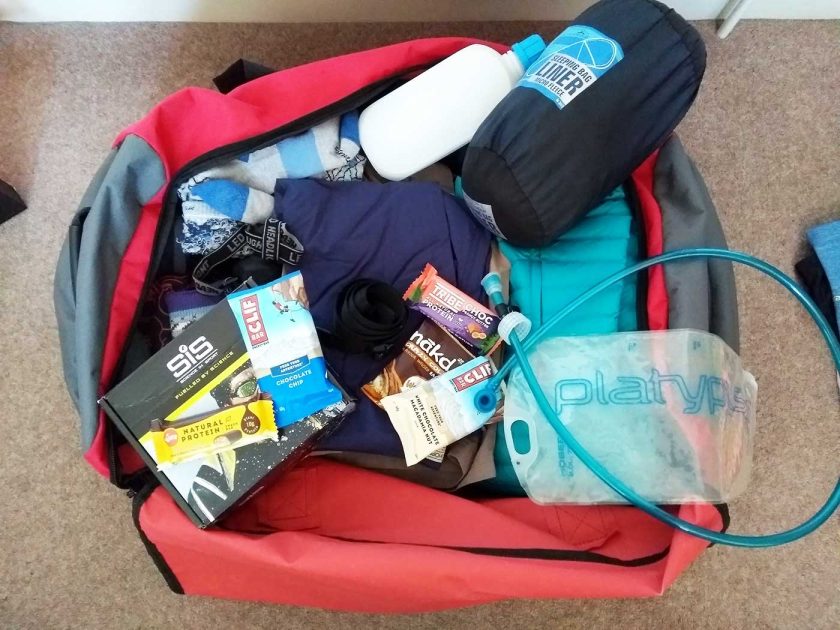 Extra-Large Duffle Bag – (use as your hold luggage bag – everything can be placed inside here. Make sure the dimensions comply with the airline baggage restrictions)
Large Duffle Bag – (this bag will be given to your porter to carry and needs to hold all the kit that you'll need up the mountain including sleeping bag, roll mat, clothes and snacks. Max weight is 15kg. I opted for the EUROHIKE Transit 90L Cargo Bag. Pack this flat inside your larger duffle bag for the plane journey.)
25L Rucksack – (day pack. You'll carry this up the mountain and it will include clothes you need that day, i.e. waterproofs, hat etc, essential medication and snacks.)
Plastic ziplock bags – (In Tanzania, plastic carrier bags are banned. However, zip lock bags are allowed. I used these bags to carry my medication, toiletries and snacks.)
CLOTHES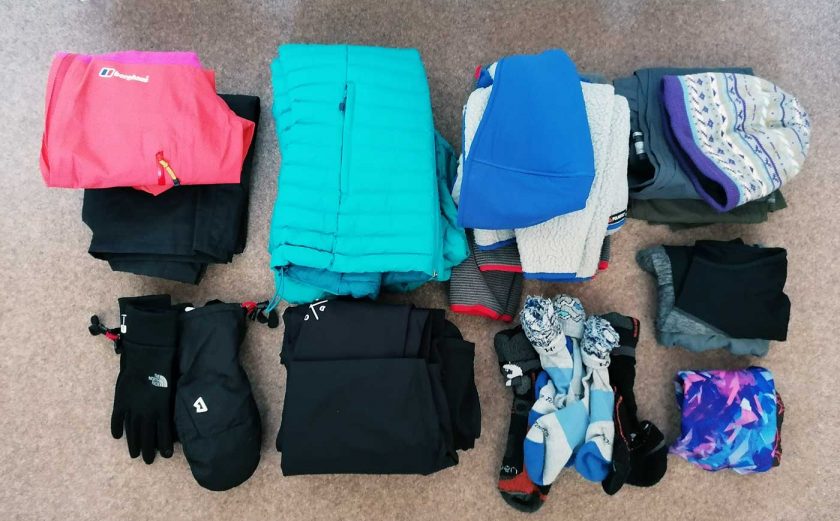 Walking boots – (Will's Vegan Shoes Hiking Boots)
Waterproof windproof jacket
Waterproof trousers
Winter thermal jacket – (Berghaus Nula Micro Jacket)
2 x pairs of long walking trousers – (Craghoppers Kiwi Pro Stretch Trousers)
2 x fleeces
2 x long-sleeved lightweight tops – (Berghaus Voyager Long Sleeve Tech T-shirt)
2 x thermal leggings – (Dope Snuggle Base Layer Pants)
2 x thermal long-sleeved tops – (Peter Storm thermal baselayer)
5 x pairs of socks – (3 x Darn Tough CoolMax and 2 x Lorpen T3 All Season Trekker Socks)
2 x sport bra
5 x underwear
1 x large brimmed sun hat
1 x thermal hat – (Sealskinz waterproof cold-weather hat)
1 x thin gloves – (The North Face Etip Gloves)
1 x mittens – (Mountain Equipment Moutain Mitt Gloves)
1 x buff/ scarf – (BUFF® ThermoNet headwear)
ADDITIONAL GEAR
4/5 season sleeping bag – (Snugpak is one of a few brands that create season 4 and 5 sleeping bags with a synthetic fill)
Fleece sleeping bag liner
Roll matt
Inflatable roll matt – (optional)
Inflatable pillow
1L water bottle & 2L Camelback style bladder
Walking poles
Head torch & spare batteries
Trainers – (or shoes for the campsite)
Camera / GoPro
Bum bag – (optional) – (A fellow traveller used one to store easy to access items like tissues, snacks and her camera)
Sunglasses – (I opted for a £35 polarised pair from Bloc)
MEDICAL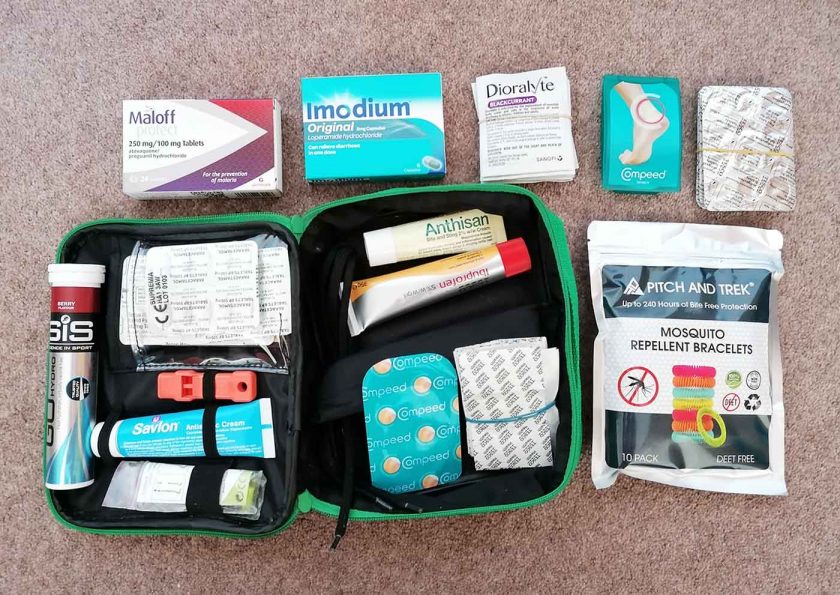 Malaria tablets (I used Maloff Protect)
Anti-altitude sickness tablets – (I used Diamox)
Paracetamol / pain relief tablets
Compeed blister plasters & regular plasters
Insect repellent – (I normally use a natural DEET free repellent called Incognito, however, I opted for a DEET repellent for this trip due to higher-risk nature of the location. However, I was reluctant to use these chemicals on my skin and so limited my usage by wearing long clothes for the whole trip.)
Mosquito repellent bracelets
Dioralyte
Imodium – (FYI, I couldn't find a vegan version. The standard Imodium contains lactose. I reluctancy brought some in case, but luckily didn't have to use it. Please let me know if you've found a vegan alternative.)
Hydration Tablets – (HIGH5 / SIS are good brands)
Savlon – (antiseptic cream)
Anthisan cream – (soothe any insect bites)
Ibuprofen gel
Nausea tablets (optional)
Tick removal tool
Feet and hand warmers – (essential for summit night)
TOILETRIES
Suncream
Wet wipes (compostable)
Face cream
Deodorant
SPF lip salve
Natural vaseline alternative (I used a shea butter balm. This was a lifeline as my nose kept running, due to the altitude, and got very sore)
Medical scissors and tweezers
2 x toilet roll
Small travel towel & soap – (you get given a bowl of water to wash in at each campsite)
Aloe vera foot gel – (a treat after a long days walk)
Hand sanitizer
FOOD & SNACKS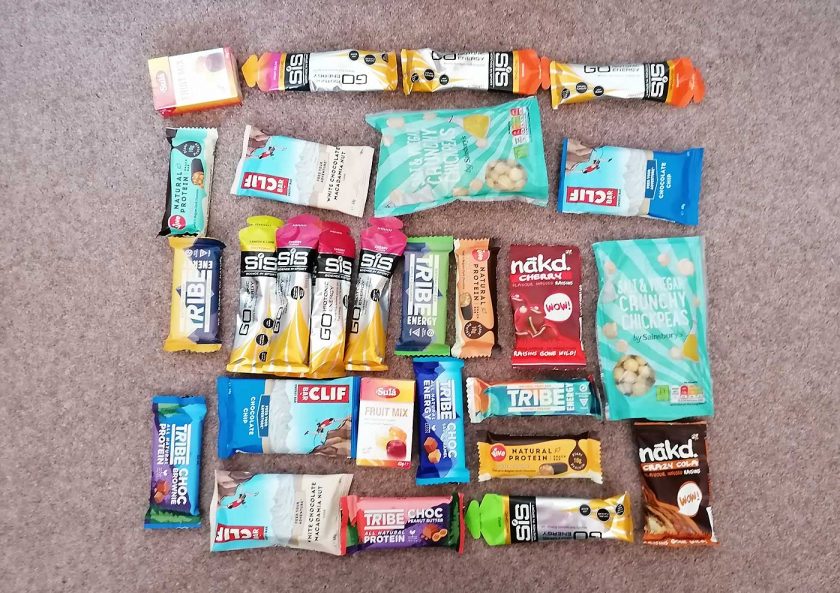 At camp, you'll be given breakfast, a packed lunch for the day and dinner. The mountain crew were amazing at providing for my vegan diet and I had bean stews, chapatis, porridge, soy milk and pasta dishes each day. Just be sure to inform your crew in advance. As such, you just need to bring additional snacks for each day.
10 energy/protein bars – (Exclusive offer: Try TRIBE for £2)
Energy Gels – (I used 3 for summit night)
Dried fruit & salted nuts
Salted chickpeas
Fruit drops/sweets
Vegan jerky
Other ideas: 10 best lightweight hiking snacks
TOP TIPS I WISH I KNEW IN ADVANCE
On summit night, carry your water bladder in your jacket. It'll freeze otherwise. FYI: hydration tablets lower the freezing temperature of the water
Ask to borrow kit, like sleeping bags, liner and mat, from friends, family and even your trip provider. It could save you a lot of money
I really craved savoury snacks over sweet ones
I wore long-sleeved tops and light trousers for the whole trek. This reduced sunburn and prevented getting bitten in lower altitude
Altitude can induce a period for women. Take sanitary items just in case and a zip lock bag to carry rubbish.
At camp, the toilets are long drop. Compostable wet wipes were handy.
It can reach -25°C on the summit. On summit night I wore 2 thermal tops, a long-sleeved top, 2 fleeces, my Berghaus Nula Jacket and waterproof jacket. On the bottom, I wore thermal leggings, trousers and waterproof trousers and one pair of Lorpen socks with heat warmers in my socks and gloves. I'm generally quite cold, so wasn't at risk of overheating. Wear fewer layers if you overheat easily. It's a tricky balance between keeping warm and not overheating but bear in mind the pace is very slow
Valuables: We were able to leave our valuables at Marangu Hotel however you may wish to bring a zip lock bag for important possessions on the trek
QUESTIONS?
Ask me in the comments below and I'll do my best to answer.