Xero Shoes is a minimalist footwear brand founded in 2009 by husband and wife duo Steven Sashen and Lena Pheonix. Steven is actually a Masters All-American sprinter (one of the fastest men over the age of 50 in the US) and former All-American gymnast—and he was the visionary behind the company's range of 'barefoot' shoes.
While it's based in the US, the company ships globally and its range includes both minimalist trail running and hiking shoes as well as sports sandals.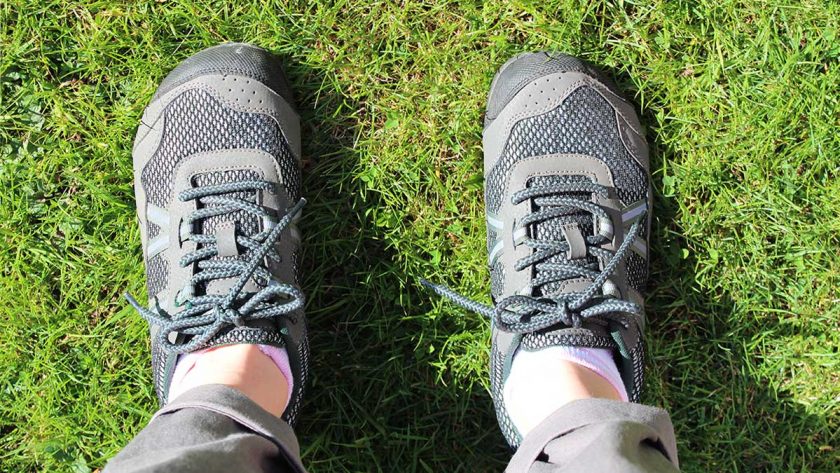 So what's minimalist 'barefoot' footwear about?
Minimalist footwear is all about reconnecting the wearer to that organic barefoot experience—basically how most people walked/ran before the introduction of the modern athletic trainer. The idea is that less cushioning and support from your shoes means you'll engage your feet more and strengthen the muscle fibres that get neglected when you're wearing modern sport trainers. With stronger accessory muscles in the foot, it's thought injury rates would drop and running efficiency would improve. Plus, while traditional running shoes tend to encourage runners to strike the ground with the heel first, putting a lot of pressure on the body, minimalist shoes don't.
Inspired by the Tarahumara tribes, known for running hundreds of miles in paper-thin sandals (known as Huaraches), the minimalist movement sprung up about a decade ago amongst dedicated runners seeking to recreate this barefoot experience. It continues to be popular today in certain circles.
Most minimalist shoes have a very thin flexible sole, are lightweight, and don't have an elevated heel. Their low to the ground design encourages natural motion and feel.
Xero Shoes Review
So after finding out about minimalist footwear, I was really keen to try some. I'm not a running buff, but love to hike and do dabble in some trail runs. So, I was excited to come across Xero Shoes, who alongside its running shoe (the Prio), offers the Terraflex. The Terraflex is the ultimate combination shoe. I was told it's ideal for running, trails and hiking and offers more grip than the Prio. The brand also offers a specific casual hiking boot called the DayLite Hiker for those just into walking. But I opted for the Terraflex and excitedly waited for its arrival.
Sizing
While some US retailers do stock Xero Shoes, being in the UK I had no choice but to buy online. Luckily the company has its own UK online stockist, which makes delivery and exchanges a lot easier. But buying shoes online is always tricky—mostly because of the size. While Xero Shoes do have a size guide for each of its shoes, I feel it could have been more detailed. Perhaps with a print out shoe size template (like it supplies with it sandals). This would be especially helpful for the Prio and Terraflex because the brand recommends you buy a 1/2 size larger than your normal shoe size.
(To find the right size, I spoke with both Lena and Stephen via email—who are incredibly helpful by the way. If you're unsure, I'd recommend you do the same.)
I normally vary between a UK size 5.5 and a 6, and my feet measure 24cm in length. But after factoring a half size up, I actually found the UK 6 (US 8) very slightly too small in the length. As such I opted for the UK 6.5 instead (US 8.5.) These were a better fit and because of the wider toe box, my feet had plenty of room to flex and move. If needed, there's also enough room to wear a thicker pair of socks —ideal for winter weather.
Performance
On first receiving the shoes, I was impressed with the style and the quality of its materials—which are all vegan-friendly. They were lightweight, soft and the thin sole was flexible but looked sturdy. I also liked the thick laces and the additional reflective strips around the shoes—ideal for any evening runs.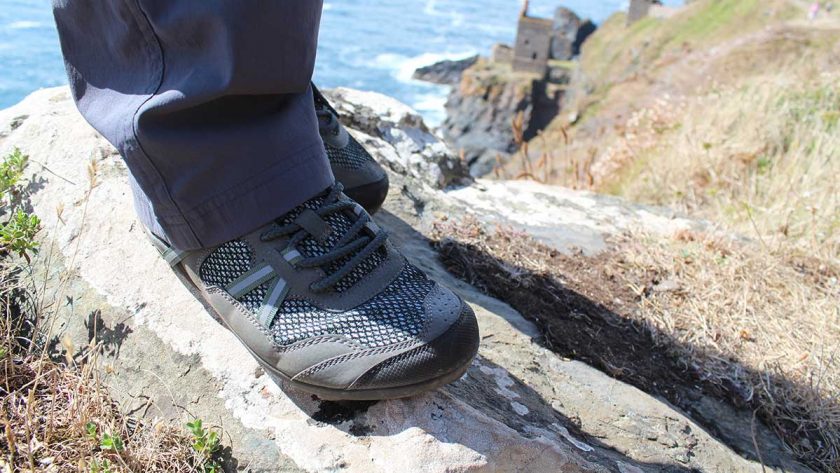 After the first few days of wear, I was really impressed with how comfortable they were. You don't have to break them (unlike many trail shoes,) and they fit like a slipper! Without the traditional raised heel support, you do feel closer to the ground. But it was actually nice feeling the changing terrain under your feet (that 'barefoot' experience) and the flexible sole provides ample protection over rocks, gravel and hard ground.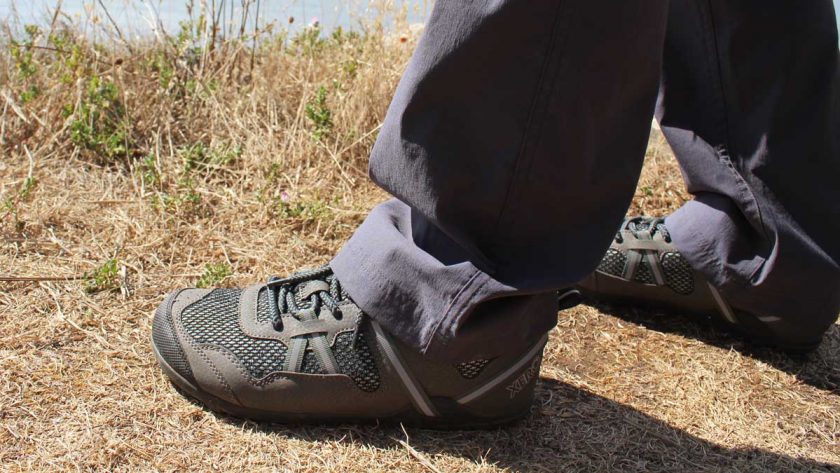 After wearing them for several weeks across various terrain, I was pleased to find my initial thoughts hadn't changed. It was really refreshing to be wearing such a lightweight pair of shoes, that still provided the same amount of grip comparable to many hiking boots. They were also really breathable—my feet didn't overheat or feel very sweaty. While some people wear these without socks, I wore a thin pair of hiker trainer socks. You can add thicker socks, if needed, during the colder weather.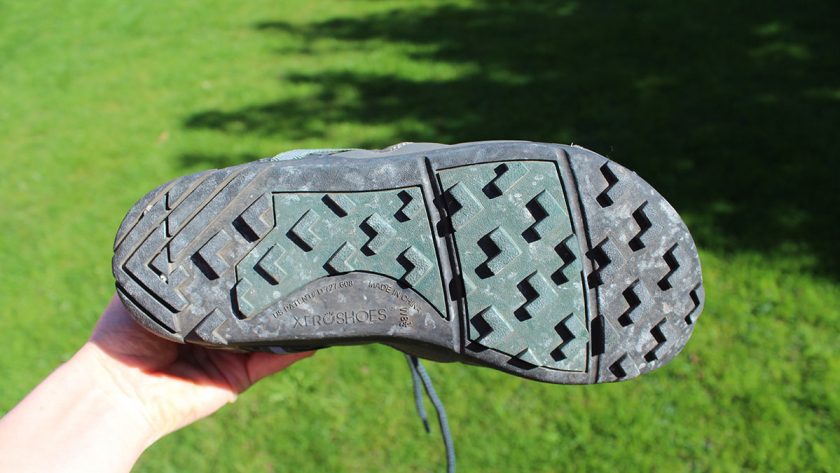 As seen above, the soles feature lugs which provided great grip across both wet, sandy, rocky and muddy terrain. I was really impressed by this, and they seemed to be able to handle even the toughest trail and steepest ascent and descent on my hiking travels.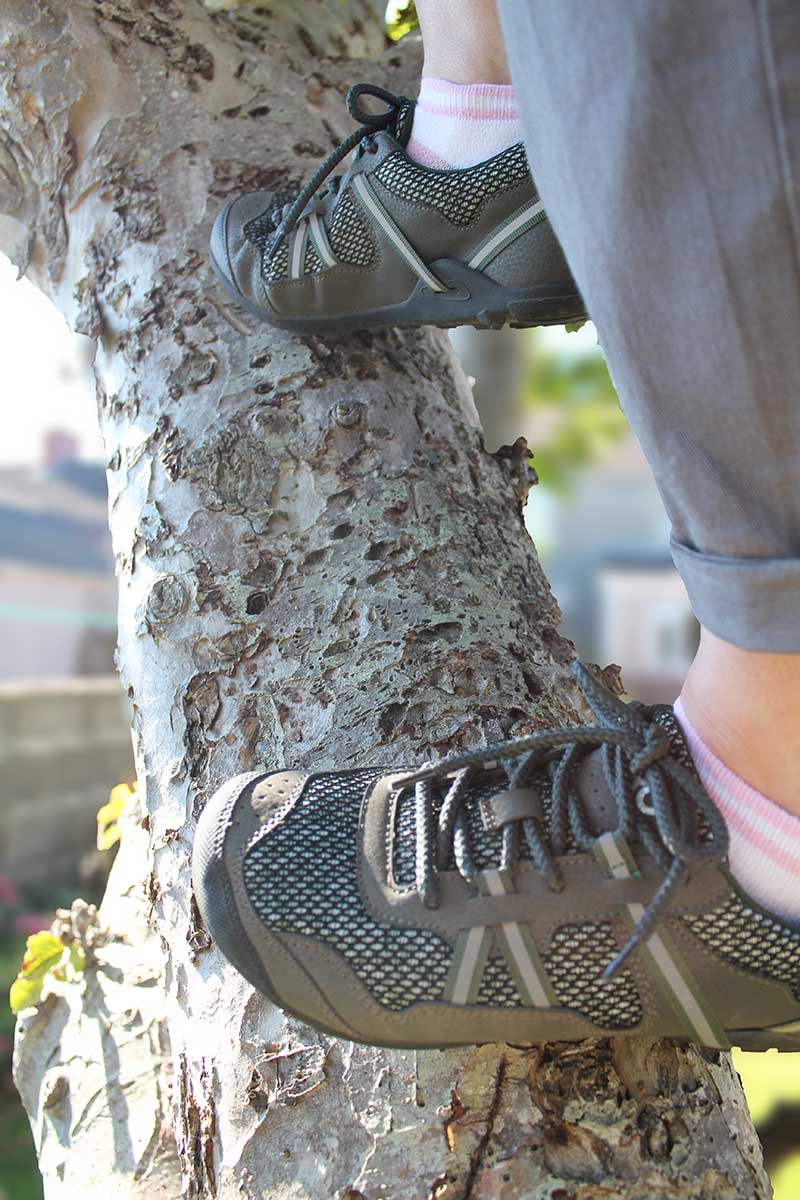 One downside is that the Terraflex isn't waterproof. That being said, many trail shoes aren't and the uppers did dry pretty quickly after a heavy downpour.
Overview
Verdict
While the Terraflex is not as light as some of the other minimalist shoes, it's a fantastic combination shoe. It's light enough to run in and tough enough to hike all day in. Its soft upper and low to the ground construction still gives the flexibility and sensory feedback that many minimalist runners and hikers crave. Plus, the shoe does have a little padding around the toe box and heel so it's an ideal shoe for anyone transitioning into minimalist barefoot shoes and doesn't want to plunge into the paper thin alternatives. For anyone who hasn't worn minimalist shoes before, I'd recommend slowly transitioning into them—increasing the amount you wear them over time. After being used to traditional athletic shoes, the 'barefoot' experience is a little different as you're activating parts of your body you don't normally use that much in that ultra-cushioned lace up. So overall, the Terraflex is an ideal shoe for hikers and trail runners. It got a great grip, really comfortable and gives you that sensory, close to the earth experience. They are perfect for trails and uneven terrain.
Pros
Very comfortable
Vegan-friendly
Great for running and hiking
Grippy sole
Nice balance between protecting your feet and allowing a barefoot feel
4.8
Lightweight shoe, grippy sole